New York Emmy nominated filmmaker Tirlok Malik was honored with the special Outstanding Achievement in the Multicultural Arts in Acting, Filmmaking, and Immigrant Advocacy at the International Film Festival Manhattan in New York held on October 22, 2015. IFFM shows films, which deal with social issues. The festival has the most diverse selection of world class films and a focus on social issues and advocacy as part of the programming and goals. Malik has made many films starting from Lonely In America, Khushiyaan, On Golden Years and many more. They all deal with the effects of migration in America. Malik has given chances to many new talents in front or behind the camera as well. Tirlok Malik said, "I am happy to be a part of this festival and I feel honored for this awards."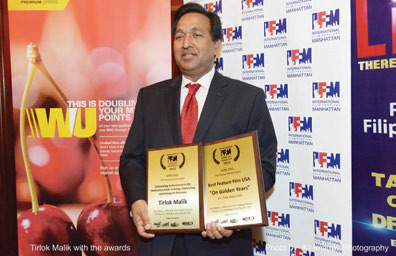 There was another award given to Tirlok Malik at the festival by winning the 'best film award for On Golden Years.' Luis Pedron, co-founder of the festival, said, "The film On Golden Years deals with social issues of retirement that millions of first generation immigrants face in their lives." Films from many countries such as Israel, Australia, Philippines, Sweden, Singapore, USA, etc. were shown at IFFM. Tirlok Malik accepted the award on the behalf of the whole team of On Golden Years. Malik said, "It was a team work to make this film."
The film On Golden Years is written and directed by New York Emmy nominated filmmaker Tirlok Malik. The film is produced by Golden Movies. The idea of the story is inspired from the book Seeking Roots by Iggy. Iggy Ignatius is also the codirector of the film. The film stars Ranjit Chowdhry, Jyoti Singh, Reeves Lehmann, Shetal Shah, Noor Naghmi, Tirlok Malik Shruti Tewari, Farokh Daruwala, Indu Gajwani, Prof. Indrajit S. Saluja, Lovllien Kaurr, Sandeep Suri, Iggy Igantius, Kamlesh Gupta and many more. The film has been shot at the Indian retirement community Shantiniketan in Florida. Other credits of the film are Director of Photography Christo Bakalov B.A.C., Music by Peter Lobo, Art Direction by Sunita Babber, Editing by Tom Knight and others.
Tirlok Malik has recently launched the website which is the first ever streaming of Indian American movies www.nritvfilmclub.com. The purpose of the website is also promoting the new talents. One can go on the website and become a member. Malik's dream is to create NRI-wood just like Hollywood and Bollywood. He invites everyone to join his vision.
www.nritvfilmclub.com.