STORY: The feisty Everly (Hayek) is an escort who works for a gangster named Taiko (Watanabe). Taiko finds out she has betrayed him (by working with the cops to bring him down) and wants revenge. She then finds herself trapped in an apartment where she has to battle wave after wave of Taiko's goons.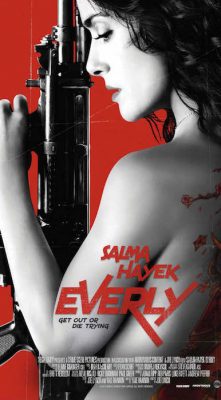 REVIEW: Salma Hayek in her barest essentials, oozing tough-girl sexuality? Check. Salma Hayek in the skimpiest of clothes and with all guns blazing while mowing down bad guys by the truckload? Yes indeed.
If you're a diehard Salma Hayek fan and want to see her in a role she's probably never done before, you'll get that here too. But while the blood, gore and body count
(not to mention some typical action movie style one-liners) goes through the roof here, the action fest does get a bit repetitive and monotonous after a point. This is also largely due to the fact that most of the fighting takes place in an apartment. Whether intentional or not on the part of the filmmaker, this closed-structure shooting adds to a sense of claustrophobia that is slightly reminiscent of 2002's Panic Room that also played out mostly indoors.
Apart from trying to break away from her captors, Everly is also worried about her family (mother and daughter). But there's a stream of creatively-named villains (eg, The Sadist and The Masochist), who are out to get her, courtesy a cruel game being played on her by Taiko.
It's almost impossible not to see Tarantino and Sam Peckinpah-style influences creeping in here. The action puts the 'G' in gratuitous. Also unexplained is how Everly becomes a commando-grade expert in the use of guns and cutting weapons, seemingly all of a sudden. Her transformation from victim to vixen is rocket-fuelled.
On the plus side, the action scenes are slick and stylish. But as mentioned earlier, too much of it does weigh a bit heavily on you. But all said and done, this is Salma Hayek channeling her inner GI Jane. It could have been way more ambitions though.