STORY: Take one seasoned Hong Kong cop (Chan) and throw in an American, Connor Watts (Knoxville), who has a habit for throwing cards and rolling the dice on casino tables, combine them with a shared motive to nab a mysterious crook and what do you get? An unlikely pair who, despite their differences, manage to work for a common cause.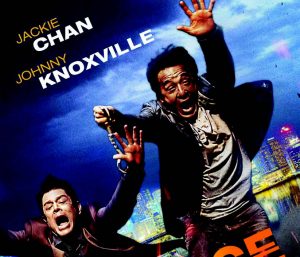 REVIEW: Jackie Chan is known for having made martial arts into an almost acrobatic form, as perfectly choreographed as a dance. Except that his rough-and-tumble maneuvers cause many bad guys to get their butts kicked. And you'll see plenty of that here. Chan's partner gets nabbed by the Chinese mafia early on in the movie. Before his partner perishes, he gives Chan his watch, asking him to look after his daughter (Fan). A promise that Chan swears to keep.
Along the way, and quite by accident, he literally bumps into Watts. The latter, true to his character sketch, is quite the dubious character. A rogue, by any other name. And so, they team up to travel through many countries, situations, and places, to finally arrive back at their common destination, which is Hong Kong. And there, they hope to nab the mysterious criminal known only as The Matador.
This movie is quite delightfully off its rocker. For example, where else will you get to listen to a Mongolian village singing a cover of Adele's Rolling In the Deep? And for that matter, where else will you actually get to hear Jackie Chan actually sing? The latter scene has him exercising his vocal chops while completely inebriated. And you'd be right in thinking that he would have to be in that kind of state to sing.
PLOT SUMMARY: Hong Kong detective Bennie Chan (Jackie Chan) has been tracking notorious crime boss Matador for over a decade, whom he believes to be Victor Wong (Winston Chao). When Bennie's late partner Yung's daughter Samantha (Fan Bingbing) gets into trouble with Wong's crime syndicate, Bennie must track down an American conman, Connor Watts (Johnny Knoxville), who gambles his way through Chinese casinos after being banned in Americas. However, Connor is kidnapped by a Russian kingpin to answer for cheating his daughter. Bennie races against the clock to bring Connor back from Russia to Hong Kong. Connor who has witnessed a murder in China is fearful for his life and hesitates, he nicks Bennie's passport and burns it. The unlikely pair is forced to take a scenic route and embark on a perilous adventure from the snowy mountains of Mongolia to the windswept dunes of the Gobi desert while both the Russian and Chinese mobsters are on their tail. Reaching China Connor leaves Bennie giving an evidence that could possibly lead to Victor Wong's Arrest. Unfortunately the plan doesn't go well and Bennie is arrested, later he escapes with Connor and follows a clue. He finds Matador was his supposedly expired partner Yung all along. Fight ensues and when it comes to saving Samantha from a sinking ship they work together and saves her from drowning. Yung commits suicide from overwhelming guilt and shame asking for their forgiveness. Connor goes back to Russia for seeing his child and finds out, the child is one of henchman's of the mob. Bennie retires to a serene ranch rearing Alpacas with Leslie.