STORY: In the dead of a Wyoming winter, a bounty hunter, John Ruth (Kurt Russell) is escorting his prisoner, Daisy Domergue (Jennifer Jason Leigh) to Red Rock to collect a 10-thousand dollar reward. The blizzard forces them to take shelter in a haberdashery along with other strangers. On getting acquainted, each of them wants to outsmart the other either with a bullet or pure wit.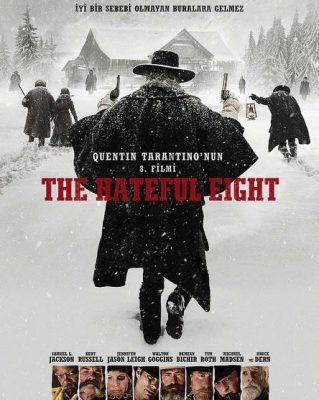 REVIEW: Tarantino knows how to tell you a great story with picture-perfect visuals. The snow-white Wyoming landscape is compelling. As a stagecoach struggles to keep itself from getting buried in the snow because of the blizzard, your eyes start to focus on the characters riding in it. The inhabitants of the coach– John Ruth and Daisy Domergue, a fugitive, who are cuffed together, along with another bounty hunter, Major Marquis Warren (Samuel Jackson) are forced to make a pit stop at a cabin. They also bring with them Chris Mannix(Walton Goggins), who has introduced himself to the people who gave him a ride, as the new sheriff of Red Rock.
Once inside, these strange bedfellows realise they already have a crowd for company. Minnie, the owner of the joint is MIA (missing in action) but there is Bob, who claims to be the new caretaker. Also present are Oswaldo Mowbray(Tim Roth) who introduces himself as the hangman assigned for Daisy's hanging and Joe Gage (Michael Madsen) who claims to be visiting his grandma for Christmas. Seated afar is Sandy Smithers (Bruce Dern) a General who is looking for a burial spot for his dead son. And of course there is one missing piece (or person) in the puzzle that is a mystery.
Though these are hardened men you find yourself invested emotionally in each of them because of Tarantino's terrific characterisation.
What ensues is a night of unrest. Even more chilling than the storm outside are the equations between the humans inside. As they go around introducing themselves, sharing cups of steaming coffee, downing alcohol or eating stew at the same table, they also indulge in a game of insult and injury because some of them discover that inadvertently their paths have crossed earlier! Turn by turn, they lay bare their `black and white' feelings. The narrative that plays out in six chapters is verbose and slow in the first hour. But once the dialogue ebbs, bullets fly thick and fast. There's enough bloodshed here to fill a small rivulet.