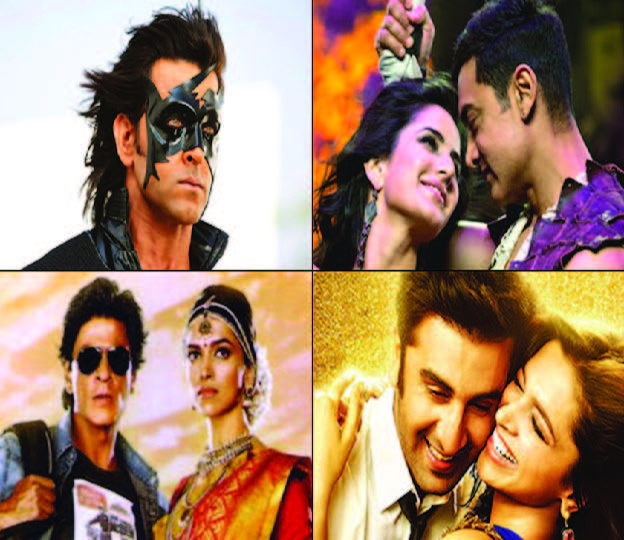 2013 has been an eventfull year for the entertainment industry whether it be for our own Bollywood or all the way to Hollywood. From Shah Rukh Khan-Salman Khan hug to Miley Cyrus turning all wacky, from Ranbir-Katrina's trip to Ibiza to Angelina Jolie's double mastectomy, the year was full of such events. We take a look at a few controversies, celebs, films and all things that made 2013 the year that it was.
This year has been a blockbuster year for Bollywood. While 8 films entered Rs.100 crore club this year and 3 amongst them made it to Rs.200 crore club. It was a record breaking year, Chennai Express became the biggest grosser of all time leaving behind 3 Idiots, but soon Krrish 3 was the one to mint maximum money and then came the Hurricane Dhoom 3 which is still going strong. Adult film like Grand Masti also made it to Rs.100 crore club.
Shah Rukh Khan-Salman Khan hug

It was a Kodak moment for Bollywood, infact for India when Bollywood's arch rival superstars hugged each other and apparently patched up. Salman Khan and Shah Rukh Khan, who had fallen out over some unknown issue during Katrina Kaif's birthday party five years back, hugged each other at the Iftar party hosted by Congress leader Baba Siddique in Mumbai on July 21. But the question was is that hug really a patch-up or was just a compulsion out of courtesy. And soon the answer was clear for world to see, both the stars on separate occasion made it clear that they can never be friends again. Sigh!
Miley Cyrus and her wacky antics

This year was clearly of pop sensation Miley Cyrus, who shook off that Disney princess image and became the pop phenomenon. She started making news in 2012 after she chopped her hair and in 2013 the series of Miley's antics started with the infamous appearance at the MTV Video Music Awards. Dressed in a bear-inspired leotard, Miley not only stripped down to latex lingerie, she also gyrated, showed the middle finger, and stuck out her tongue (a lot) and twerked with Robin Thicke.
Then came the video of her music video Wrecking Ball. Miley wore just her favourite boots and climbed atop a wrecking ball. She also licked a sledgehammer. If that was not all she also smoked weed at MTV EMAs. Apart from all these antics, sticking out her toungue, twerking, spanking became a regular part of her performances throughout the year. Well, all her moves paid off as she became the most searched celebrity of the year and her singles Wrecking Ball and Bangerz did extremly well. Lets see how she will shock or surprise us on 2013.
Ranbir-Katrina's trip to Spain
Their relationship was a secret that everybody knew but was still under the wrap till the pictures of Katrina in a white and red bikini and Ranbir in a pair of bermuda holidaying together on a beach in Ibiza went viral. Later, Katrina wrote an open letter to the media stating that she felt upset, distressed and this was an invasion of her privacy. But after that the couple became a little less and were spotted together many times in parties, movie dates etc.
A year of controversies
From weeing in a bucket while yelling "F**k Bill Clinton!" to becoming a wanted criminal for vandalism in Australia, it seems the pop star did everything wrong this year. The singer has been though a break-up, been criticised for his poor performances, had more than a few run-ins with the paparazzi. He was snapped coming out from a brothel in Rio de Janeiro, he was photographed spitting over a Toronto hotel balcony onto besotted fans waiting below the list goes on. And then he broke hearts of many Beliebers when he announced his retirement from music. Bieber told in an interview: "Um, I'm actually retiring man. I'm just gonna take some time. I think I'm probably gonna quit music, I'm quitting everything." His manager then did a damage control and confirmed that his 'artist' was "just kidding". Not letting the fiasco die down, Justin Bieber tweeted "My beloved beliebers I'm officially retiring" on Christmas Eve. Followed by a tweet: The media talks a lot about me.They make a up a lot of lies and want me to fail but I'm never leaving you, being a belieber is a lifestyle. We can't wait to see what Justin will be upto in 2014.
The year 2013 saw a number of relationships coming to its end. The most shocking was Hrithik Roshan and Sussanne Roshan's seperation. The two couples decided to part ways and instead of allowing nasty speculation about their relationships, they chose to make dignified announcements. Hrithik Roshan sent out a statement to all the media houses about how his wife Sussane and he have mutually decided to part ways; pleading for "some privacy". Kalki Koechlin and Anurag Kashyap too officially announced about their seperation.
"We are not filing for divorce, we are taking time off from each other to sort our issues," she announced. Among Hollywood celebs the most prominent splits were of Justin Bieber- Selena Gomez and Miley Cyrus-Liam Hemsworth. Selena Gomez confirmed her split from Justin Bieber to friends at the Golden Globes this year. Miley and Liam finally called their relationship off after being engaged for a year in September. It was long rumoured, but Miranda Kerr and Orlando Bloom parted ways in October officially. Nicole Scherzinger and Lewis Hamilton ended their five year on-off romance in July this year. On and off couple Rihanna and Chris Brown finally parted ways in April.
According to reports the split was Rihanna's choice, as the 25-year-old singer wanted to focus on her business and career opportunities. Rihanna had given Brown, 23, a second chance despite fears among fans that he could mistreat her again after he battered her in a pre-Grammy row in 2009.
Angelina Jolie's double mastectomy


In an op-ed in the New York Times, Angelina Jolie revealed about the preventive double mastectomy she had undergone. Her decision to go public about her medical treatment was brave, bold and appreciated by everyone. Angelina Jolie was talked and wrote about a loty for her decision to go public with her medical decisions and to create awareness among women.
Sanjay Dutt was sentenced to five years imprisonment in the 1993 Mumbai blasts case in May this year. Sanjay had already spent 18 months behind bars and was ordered to surrender within four weeks to serve the remaining sentence. Dutt is currently out on parole as her wife Manyata Dutt has a tumour in her liver. Dutt was granted parole earlier also on medical grounds for himself.
SRK's baby AbRam and other celebs parents of 2013
Shah Rukh Khan and Gauri Khan confirmed the arrival of their third child AbRam in July this year. AbRam was born through surrogacy and prematurely by several months. A complaint was also filed against SRK and his wife Gauri for allegedly having a pre-natal sex determination test done on their unborn child. The couple wasl later given a clean chit by BMC. Other celebs who became proud parents this year are: Kim Kardashian gave birth to a baby girl on June 15.
Kanye West and Kim named their daugther North West. Prince William and Kate Middleton became parents to a baby boy, weighing 8lbs 6oz. The Duchess of Cambridge gave birth to the royal couple's first child at St Mary's Hospital in London on July 22. Halle Berry is officially on diaper duty again. The Oscar winning actress gave birth to a baby boy in Los Angeles in October Bollywood actor Fardeen Khan and wife Natasha Madhwani have been blessed with a baby girl, Diani Isabella Khan this month.
Ayesha Takia who made her debut with Bollywood film Tarzan recently delivered a baby boy in December. Colombian singer Shakira gave birth to her first child – a boy – in a Barcelona hospital on Jan 22.
Nigella Lawson
Nigella, famous TV celebrity chef, known for her show by her name became a big example of what is wrong with being a silent victim in a marriage. Her husband and advertising tycoon Charles Saatchi of Saatchi & Saatchi was seen grabbing her neck in public during a casual lunch.