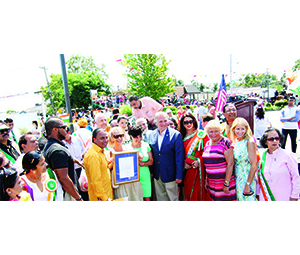 HICKSVILLE, NY (TIP):
It was a fine August day. No rains. Not very hot, though a little humid. It seemed to be an almost perfect setting for an outing for a parade. The 3rd India Day Parade USA, in Hicksville, was taken out Saturday, August 9, 2014. The route from Patel Plaza on South Broadway to the destination in front of Asa Mai Hindu temple saw the presence of hordes of people who chose to stay at one point to look at the passing parade rather than walk with it. At the head of the parade that started from Patel Plaza around 1 P.M. were the Grand Marshal Miss Poonam Dhillon, the famous Bollywood star. Another notable dignitary at the parade was Nassau County Executive Edward P. Mangano.


Grand Marshall Poonam Dhillon walks in the parade. Accompanying her are Chairman of IDPUSA Peter Bheddah (in cap), his wife Dorothy, IDPUSA Coordinator Indu Jaiswal and others
Then there were legislators, judges, officials, among others. The parade which started from Patel Plaza terminated in the open grounds in front of Asa Mai Hindu temple where a stage was erected for the conference and cultural presentations.
Poonam Dhillon praised Indian Americans for their love of India and exhorted them to do their best for their country of adoption as well as their country of origin.
In front of the stage were booths, giving an impression of an Indian fair, with food items, jewelry and clothing, among other wares. Bolla Oils had set up a huge tent where visitors were treated to free snacks and drinks, known amongst the Punjabis as langar. Harry Singh Bolla, the owner of the largest chain of gas stations on Long Island, himself was there with his wife, Kamljit Kaur who was one of the honorees this year, their children and a large number of the staff of Bolla Oils and sister companies.
Ed Mangano, the beloved Nassau County Executive appreciated the contribution Indian American community was making and greeted them on the forthcoming Independence day of India.
On a specially erected spacious stage, singers and dancers performed to the great delight of the audiences who took the day long cultural program as a rare gift in their otherwise daily struggle filled lives. Certainly, a relief to most people who hardly ever find time for such exotic cultural extravaganza. The performances rightly drew the applause of an appreciative audience. DJ Kutcha, as usual, was at his best.
Not only did he play the right tunes, he played the master of ceremonies with aplomb. This young Sikh will go far should he continue to be so amiable and alert. The Indian Panorama will bring to its readers detailed report on the awards presentation in the next issue. We will also feature a people's report card on the parade. So, please watch out for the next edition on August 22nd.
A view of the Bolla Oils booth which had the distinction of being the largest booth. Harry Singh Bolla with his staff. Also seen is Parade coordinator Indu Jaiswal
The Entertainers and DJ Kucha. They entertained and won applause
The appreciative audience