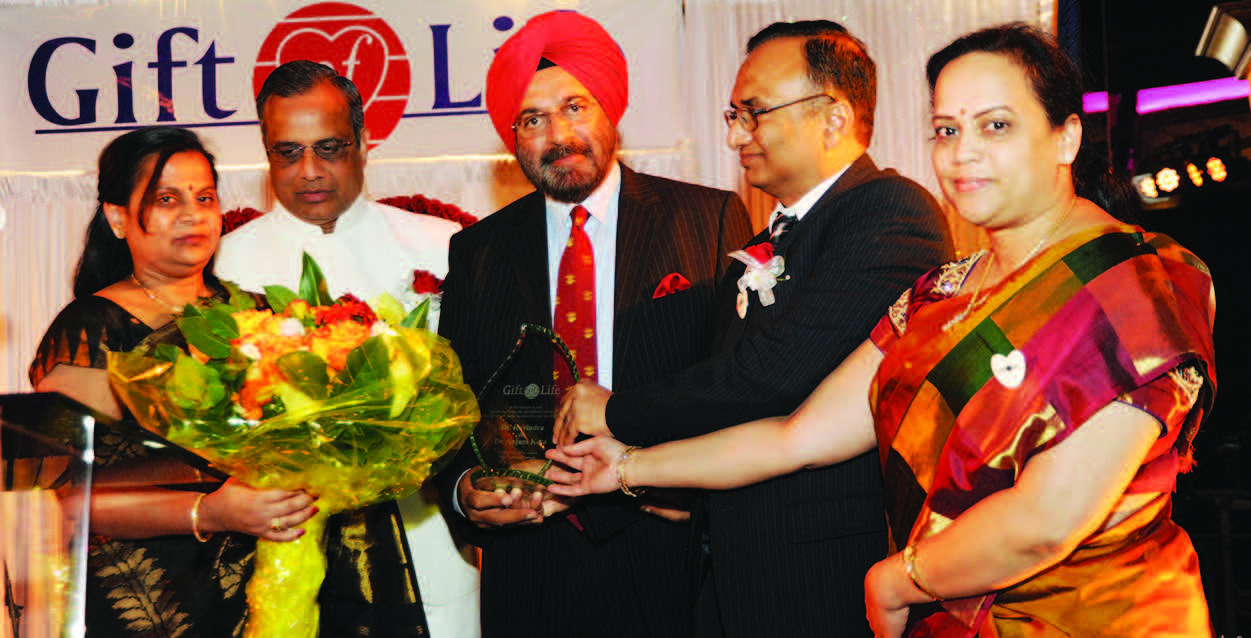 LONG ISLAND, NY (TIP): Gift of Life India honored four persons for their philanthropy and services to community at a fundraiser at the Crest Hollow Country Club on Sunday, November 9. The fundraiser met with the goal of raising $1,20,000 to save the lives of 500 children in India. Raised funds were enough for 450 surgeries, with support from Rotary International & international partners. Gift of Life, India was introduced in a video presentation at the glittering event attended by over 200 guests.



Humanitarian Award for outstanding services honorees with General JJ Singh and Ravi
Bhooplapur. (L to R): Honorary Chair Gift of Life India, Ravi Bhooplapur, Honoree A.C. Peter, Gen
JJ Singh, Honoree Kamlesh Raheja, Honoree Rajendra Rai.

Gift of Life, India was founded in 2001 by lifetime Rotarian Ravishankar Bhooplapur who took up the challenge to provide critical heart surgeries for children in India. He was assisted in the noble task by Past RI Director Sushil Gupta (Trustee of Rotary Foundation), Dr. Rajan Deshpande and other devoted Rotarians. Bhooplapur still serves as its Honorary Chairman. As per Bhooplapur, the sole purpose of the Gift of Life, India is to secure life saving heart surgery for children in desperate need regardless of race, creed, color or country of origin. It is a not-for-profit, tax-exempt corporation with no administrative costs.



Pt. Pravin Ghodkhindi, the flute maestro from Karantaka, mesmerized the gathering with his
superb performance

Says Bhooplapur: "So far Gift of Life has saved over 5000 children in India and the Rotary Foundation played key role in giving matching grants and Rotarians from India also played a major role matching our contributions." Speaking on the occasion , Ravi said, 'I would like to express my gratitude to all of my fellow Rotarians, Donors, and most importantly the volunteers for their continued dedication and service to the Gift of life, India . You are responsible for saving the lives of the children". Ravi had a special word of gratitude for Dr. Eileen Gentlecore, PDG Anthony Massineo and PDG Sammy Hsiao. At the Sunday fundraiser, some of the longtime supporters and donors of Gift of Life, India project were honored.
Dr Ravindra Kota and Dr Mrs Anjani Kota were given the Angel Award. New York based Dr. Kota is in General and Laparoscopic Surgery Private Practice and Dr. Anjani Kota is privately practicing as an internist in East Setauket A.C. Peter, Kamlesh Raheja and H. Rajendra Rai were conferred Humanitarian Award each for their outstanding service. Peter has been with Gift of Life from the beginning and has arranged over 1,000 open heart surgeries at Delhi specialist hospitals free of cost to beneficiaries. Coimbatore based Kamlesh Raheja is a cotton merchant and responsible for more than 700 surgeries for Gift of Life India.
Rai works in power and water sectors and has been with Gift of Life, India from inception and his Rotary District in Bangalore is responsible for 1,100 surgeries. The Guest of Honor at the gala was General J.J. Singh, former Indian army chief and Arunachal governor who was conferred Paul Harris Medal of Honor on the occasion. The gala was co-chaired by Ravishankar Bhooplapur, and Rotary District 7255 Governor Elect Kamlesh Mehta. Other cochairs were President of Hicksville Rotary Salil Zaveri (event MC), Sangeeta Sethi (President, Jericho Sunrise), and Clarisse Panellino (President, Lake Success).
All awards were handed out by Gen J.J. Singh. He too was honored at the gala as he played a major role, while he was serving as Governor in Arunachal Pradesh, to get tribal kids under Gift of Life Program to save the children. A highlight of the evening's proceedings was a flute recital by Pt. Pravin Ghodkhindi. The maestro from Karantaka has performed with eminent musicians like Ustad Zakir Hussain, Dr. Balamuralikrishna and Pt. Vishwa Mohan Bhatt. Rotary Club of Gold Coast Lake Success along with Jericho Sunrise and Hicksville South co- sponsored the event. The event was managed by Bollywood Arts under Sunita Sadhnani. Lamborghini & Bentley were corporate sponsors.