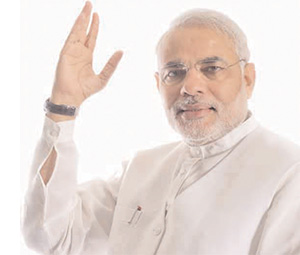 NEW YORK (TIP):
The Indian American Community Foundation will host India Prime Minister Narendra Modi at a special event being held on September 28th, 2014 at Madison Square Garden in New York. This will be Mr. Modi's first visit to the United States since his election in May as India's newly elected Prime Minister. The Madison Square Garden event looks to provide Prime Minister Modi a platform to officially address the Indian-American community in the United States.

The program will also include various cultural performances, Special guest speakers and many surprise guests. Dr Bharat Barai, President of the Indian American Community Foundation said "It is a great honor for us to be able to host Prime Minister Modi during his first official visit to the US as India's Prime Minster. Indian-Americans across the US are very excited following the unprecedented and historic victory of him and the BJP party.

We know his schedule here in the US is very busy but the time he has set aside to be a part of this event and interact with the Indian community here is a true indicator of his character and why we are so proud he is our new Prime Minister." Mr. Modi is scheduled to address the United Nations General Assembly and hold bilateral talks with world leaders on the sidelines of UNGA.

He will also hold high level India US summit talks with President Barack Obama in Washington. Mr. Barai also mentioned that "while additional details are still being planned, we urge individuals to visit www.pmvisit.org for the latest updates and information leading up to this grand event".

About Indian American Community Foundation:
Indian American Community Foundation based in New Jersey is a newly registered not-for-profit organization. The purpose of the organization is to provide non-political, non-religious and broad based platform for all Indian American organizations, associations to celebrate Indian culture and bring awareness of issues effecting Indian communities domestically and internationally.