NEW YORK CITY (TIP): Big future. Big money. Who doesn't want it? And, so, we have a battery of cricketing legends descending on New York to kick off All Stars League Matches.
They are from Australia to West Indies, with all cricketing nations in between-India, Pakistan and  Sri Lanka .
The inaugural Cricket All-Stars league match between two teams-Sachin Tendulkar's
"Sachin's Blasters" and former Australian leg-spinner Shane Warne's "Warne's Warriors"-will kick off on November 7 at the 48,000 capacity Citi Field in New York. In fact, the All Stars league matches is the brainchild of Sachin Tendulkar and Shane Warne.
In a random draw conducted Thursday, November 5, in Times Square, both Sachin Tendulkar and Shane Warne (Warne's Warriors) bid for 30 of the world's finest players to sell cricket to America. While other players were selected by drawing names from the trophy (to be given to the winning team at the end of the series), Akhtar was picked by tossing the coin.
"Thank god I am not playing against Tendulkar, he is a brutal force," said Akhtar after the drawing ceremony.
Rawalpindi Express Shoaib Akhtar and Indian batting great Sachin Tendulkar have had many legendary face-offs in the days of yore, but the two are set to play together as part of the "Sachin's Blasters" squad for Cricket All-Stars series.
"Thank god I was the last player and toss mein faisla hua (and it was decided through toss.) He (Tendulkar) is an amazing person but I haven't seen him as captain. So it will be interesting to see what kind of strategy he would like to give to me and he will get to know a little bit of me," said Akhtar.
"I am done bowling against him. He is a greatest player history has ever seen. I didn't want it to be India Pakistan thing once again. I know people want to see me ball Sachin but thank god that we are in the same team," he added.
When I asked Ricky Ponting about his strategy against Tendulkar, he said "I have played against him most of my life so nothing really changes now but I am excited. There will be more chance today and tomorrow to start working with our respective teams and I know when its game time we will all try to win."
In the batting order Tendulkar drew Brian Lara, Mahela Jayawardene, Carl Hooper, Moin Khan and his former Indian teammates VVS Laxman, Sourav Ganguly and Virender Sehwag. Whereas Warne picked Mathew Hayden, Michael Vaughan, Ricky Ponting, Jonty Rhodes, Jacques Kallis Andrew Symonds and Kumar Sangakara.
In the bowling group, Tendulkar picked Akhtar, Australian pacer Glenn McGrath for his side that also includes fast bowlers Curtly Ambrose, Shaun Pollock, Lance Klusener, spinner Graeme Swann, and off-spinner Muttiah Muralitharan. Warne, on the other hand picked, spinners Saqlain Mushtaq, Daniel Vettori and fast bowlers Courtney Walsh, Wasim Akram, Allan Donald and Ajit Agarkar.
The series is the brainchild of Tendulkar and Warne. At the Thursday press conference, Tendulkar and Warne shared how they came up with the idea of T20 all stars match.
"It was incredible co-incidence, both of us (Warne) did not think it will kick off, Shane said we can play three T20 games which will feature the best players of the game, and I thought the same thing. We are to popularize cricket, never thought this would happen, but we are happy and excited now. Everybody is talking about Cricket in Olympics, I think this is the beginning of that," said Tendulkar.
Australian legendry leg-spinner Warne added, "It's the second most popular sport behind soccer, we want to make it global. We got 30 superstars who made cricket proud. We love being together, we want to bring joy to the people, the people can watch their heroes and idols close this time, I thank all the people who supported us."
In a press conference held on Monday, November 2 for select media, both Warne and Tendulkar shared their vision behind playing the exhibition matches, which is "to inspire the younger generation," "engage non-cricket lovers," and also globalize the game.
"We are trying to get youngsters in America excited about the game," Tendulkar said, echoing Warne. "There will be thousands of youngsters at the stands during the matches, and they will definitely get inspired by watching world-class cricketers play in front of them." Warne, Tendulkar and their two teams will hold net sessions for schoolchildren before the games in a bid to spark interest at the grass roots level.
To help promote the game, the Cricket All-Stars announced that the first thousand cricket players at the school, university or club level, who apply will be entitled to a complimentary ticket to any of the three games being played. The tickets will be issued on a first-come, first-served basis by emailing Cricket All Stars team.
When asked what their expectations are from the league matches, Tendulkar said, "The dream is to bring cricket to America, and if we come back next year and see just one American kid with a cricket bat in his hands, we'll think it has been a success," Tendulkar said at the launch of the tour in New York on Thursday.
"David Beckham came here and soccer started to grow – we're trying to do something similar with cricket," Warne added.
When asked what gives them confidence for cricket to take off in a baseball and football loving nation like the U.S. Tendulkar said, "I have friends from India who came here in 90's to study medicine and become big doctors and businessmen. They had no idea about baseball or basketball, but their American friends took them to the stadium and taught them. What I am asking my friends to do is reciprocate that-take Americans to baseball stadiums where cricket will be played, teach them about cricket."
By no means are we here to compete with other sports like baseball or basketball, but we want to introduce one more sport in America, which is a sports-loving nation," he added.
Responding to the criticisms lashed out by former Australian Captain Ian Chappell on retired cricketers playing in exhibition matches, Tendulkar in the earlier press conference said, "People will always have opinions-it doesn't mean it's the right opinion."
"The reason for stopping cricket is because you cannot be competitive at that level but that doesn't mean you stop enjoying playing cricket, and this is what we are doing, we are enjoying cricket," Tendulkar added. "Once you retire, doesn't mean you never pick up a cricket bat. You are picking up that bat for fun, and in doing so, if you can inspire thousands, I think there is nothing wrong in it."
The other two league matches will be played at Minute Maid Park in Houston on November 11 and Dodger Stadium in Los Angeles on November 14. These matches will be complete entertainment package with galas, meet-and-greets, community clinics, and fireworks in Houston during Diwali-the perfect crossover festive celebration for cricket fans.
Here  you meet  some of the legends who were present at the press conference in New York on  Novemmber5, 2015. – Photos / Mohammed Jaffer-SnapsIndia
Sachin Tandulker All Stars Cricket Cup team  at a press Conference on November 5, 2015 in New York City. The Series kicks off with a match to be played  in New York on November 7.
Sachin Tandulkar and Shane Warne teams with the All Stars Cricket Cup at a press Conference on November 5, 2015 in New York City. The Series kicks off with a match to be played in New York on November 7. Photo/ Mohammed Jaffer-SnapsIndia
Shane Warne  All Stars Cricket Cup Team
Pakastani Cricketer Moin Khan and  Sachin Tandulkar
West Indies Cricketer Carl Hooper and Sachin Tendulkar
Australian Cricketer Shane Warne  and Sachin Tandulkar during the  draws  for the All Star Cricket Match in New York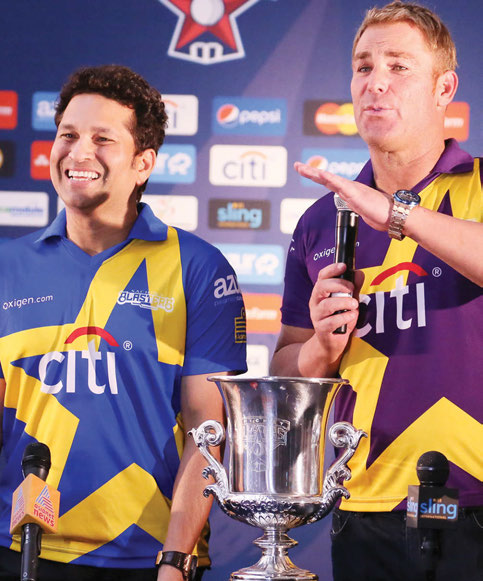 West Indies Cricketer : Brian  Lara and Sachin Tendulkar
Pakastani Cricketer Shoib Akthar and Sachin Tandulker  having lighter time during the Teams' draws for the All Star Cricket match in NY