A perfect summer getaway, Andaman and Nicobar, is an archipelago at the confluence of the Bay of Bengal and Andaman Sea. With an array of thrilling water sports, leisure facilities, and a host of activities, a vacation in Andaman and Nicobar can be as relaxed or filled with adventure as you'd like it to be. The weather is temperate most of the year and the best time to visit is between December-May. If you're planning to head here in this summer break then here's a pick of outdoorsy things which will keep you busy.
Home to scenic landscapes, gorgeous sunsets, golden beaches and one of the richest coral reef ecosystems in the world, the Andamans is an archipelago of over 570 tropical islands, of which only 36 are inhabited. With a profusion of wildlife and verdant forests, the islands are a nature-lover's paradise. Be it a lazy afternoon on a hammock on Asia's best beach, an array of thrilling water sports or a strenuous trek on a challenging-yet-scenic terrain—your Andamans visit is likely to be packed with a range of interesting experiences.
RADHANAGAR BEACH, HAVELOCK ISLAND
Beach number 7 (or more commonly known as Radhanagar Beach) was bestowed with the title of 'Asia's Best Beach' in 2004 by the TIME magazine. Known for its picturesque sunset, white sand and turquoise blue waters, the beach is a very popular hub lying on the western coast of Havelock Island. There's a watersports centre at the beach where visitors can hire snorkelling and scuba equipment and boats.
MANGROVE CREEK, BARATANG ISLAND
Baratang Island is located about 100 kilometres away from the Port Blair city and offers a boat-safari, amidst the nature-made tunnel of thick mangrove plantations. A variety of exotic birds can be spotted along the lush trail of dense tree knots and canopies. This mangrove creek leads to the magnificent Lime Stone Caves, for which you must carry a torch with you.
NORTH BAY BEACH, PORT BLAIR
Located just 15 minutes away from the Rajiv Gandhi Water Sports Complex, the North Bay Beach offers one of the easiest water sports—Sea-walking—in Andaman and Nicobar. Walking barefoot on the base of the sea offers you an exquisite view of rich marine-life and the corals. If you're heading to Andaman and Nicobar, don't miss this. Skilled life guards accompany you underwater, to ensure maximum safety.
MT. HARRIET, THE ANDAMANS
This trek stretches up 16 kilometres starting from Mt. Harriet to Madhuban, winding across a picturesque terrain. Expect to see exotic birds and rare plants along the lush trail. Taking a guide along is highly recommended. Tents and all the trekking equipment are available on hire from the Andaman Teal House. Do not forget to acquire food, water, torch, and first aid, before you start. The best time to go hiking here is November-April.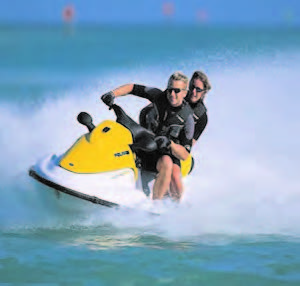 RAJIV GANDHI WATER SPORTS COMPLEX
Located in the heart of Port Blair, the Rajiv Gandhi Water Sports Complex offers an array of aqua-sports: banana rides, jet skiing, parasailing, speed boat rides, rowboat paddling, you name it! This ought to be your first pit-stop in the Andamans. The Centre is well-equipped with changing rooms, and trained staff to ensure safety.