New York City is home to a variety of expert cooks who are known for adding twists to traditional Indian culinary art. A number of upscale restaurants in the city offer their brand of Indian dishes, which bear the flavor of culinary artistes who work behind the glass windows of the restaurants, in the kitchen.
'Junoon' is one of the upscale restaurants, located in Chelsea area of Manhattan that serves exotic Indian dishes. The restaurant menu card displays a wide variety of traditional Indian cuisine prepared by its chefs, who are experts in culinary art and possess unique style of cooking contemporary as well as traditional dishes of India.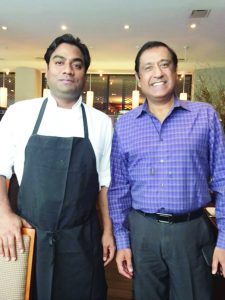 Dheeraj Tomar is among the younger generation of professional cooks who present their signature dishes to customers and take a great pride doing it.
"Dheeraj has given a new dimension to traditional Indian cooking", says Rajesh Bhardwaj, founder and CEO of 'Junoon'. Dheeraj joined 'Junoon', when Bhardwaj was looking for a chef 'who could maintain consistency and standard of cuisine'. He didn't want to compromise with the reputation of an upscale profile of the restaurant. "When I interviewed Dheeraj for the job, I asked him to prepare multiple dishes. I am pleased to say that he not only produced delicious dishes, he molded it according to my instructions", said Bhardwaj.
Dheeraj was quietly listening as his employer was making remarks about him during this conversation. Five years ago he came to USAfrom Dubai where he enjoyed his decade long career at a leading restaurant, 'Marco polo' in Dubai. Starting his career with ITDC training, Dheeraj received his training at Ashok Hotel in New Delhi. He moved to Dubai to work at Marco polo restaurant where he created Indian dishes for the famous buffet display of 525 dishes. The event was the talk of the town and projected an image of expert chef for Dheeraj in Dubai.
"I was responsible for preparing Indian dishes as a part of the buffet lunch event in which Marco polo also participated", he recalled.
"I experimented with a few popular dishes. I prepared 'Bhendi Anarkali', in which pieces of okra were stuffed with pomegranate seeds and cooked. This dish proved to be very popular at the event", he said.In Palak Murg he used seasonal green saag with meat in a way to boost its nutritional value.
"Dheeraj has the ability to understand the taste of customers. He has a cam demeanor when he is required to make modifications in his style of cooking", said Bhardwarj, CEO of Junoon.
Elaborating upon his comments Bhardwaj said, "Dheeraj took over the job of preparing traditional dishes when one of our professional cooks retired after a service of 19 years." As an emerging chef Dheeraj innovated with dishes he cooked. According to directives of his employer he steadily developed his own style-adding flavor to dishes he prepared. The customers of 'Junoon' liked the dishes he prepared.
Today young Dheeraj Tomarmakes a number of exotic dishes, such as, Scotch Goat Curry, which is enflamed with scotch whiskey during the process of cooking. Taking pride in what he does, Dheeraj said that his vision was to excel in what he was doing. "I love to cook Malabar Shrimp where coconut rules among all spices. Another signature dish by Dheeraj is Nadru Mutter Makhana, made out of lotus stem. Rumali Roti and Kabab Curry are other specialties I cook with great pride", he said.
Dheeraj adds flavor to cooking Indian dishes. He is liked by his employer and his customers. "This is my accomplishments", he said. "After working as a professional chef for more than two decades I continue to fine tune my expertise and ensure that lovers of Indian cuisine continue enjoying our traditional dishes.
As India's cuisine represents the vast cultural landscape of India, professionals like Dheeraj contribute to its popularity in USA. His 'calm demeanor' continues to help me excel in what he is good at-preparing delicious Indian traditional dishes.
(TIP Bureau)