Who says you can't escape to the hills when winter hits? After all, what better place to escape the smog and the crowd of the Capital than the quaint mountains and valleys of Himachal Pradesh?
While popular tourist spots in the region, like Shimla and Manali, may be bustling with vacationers now, places like Dharamsala offer you the opportunity to leave the crowds behind, and instead, visit -monasteries, volunteer at community centres, and check out all the sights in a relaxed manner.
Dharamkot
Dharamkot is a small, quaint village to the north of McLeodganj. It offers a host of upbeat cafés, retreats and Ayurvedic massage centres. Most -importantly, we found a view to kill for, with the entire Kangra Valley in front of us. Also, as yoga retreats gain momentum, most tourists these days hike to Dharamkot to enrol themselves in the Vipassana meditation centre here. Homestays are also easily available.
HPCA Cricket Ground
Amid a picturesque canopy of Deodar woods and green meadows, Himachal Pradesh Cricket Association's ground stands tall with the snow-capped Dhauladhar range providing a formidable backdrop. This is also the fourth-highest stadium in the world, located at an altitude of 1,457m. Although smaller than, say Mumbai's famous Wankhede Stadium, visitors will not be disappointed with it at all. Although tourists are not allowed inside the pavilion, the postcard view from the stands more than makes up for it.
One-stop shop
Do not believe people who tell you that Dharamsala is as commercial as Shimla or Dalhousie. It is not. It is a small town that you can probably explore by foot in a day. However, McLeodganj is vibrant and bustling, especially McLeodganj Square (as it is popularly called), with two parallel boulevards of retail outlets. Here, you can steal deals on almost everything — from handicrafts and winter wear to musical instruments and accessories — by bargaining hard.
Tsuglagkhang Complex
This is reportedly the biggest Tibetan monastery outside Tibet. Close to McLeod Square — the main market area, tourists can attend sermons by the Dalai Lama here. His residence is also on the premises of this magnificent temple. With the sounds of holy chants filling the air, the spacious meditation hall -resonates with serenity. However, you can't use your cell phone here or talk loudly. So, keep your decibel levels in check. At the entrance, one will also spot pillars dedicated to the Tibetan martyrs.
The Tibetan Museum, also located here, may not be extraordinary, but has a massive collection of photographs documenting Tibetan history, heritage and culture.
St John in the Wilderness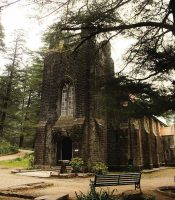 This Anglican church is located at a walkable distance from both Dharamsala and McLeodganj, at a place called Forsythganj. The church has a cemetery on its premises, and gives an eerie feeling, especially since it's situated almost in the middle of nowhere. The beautiful Neo-Gothic structure is ornamented with intricate Belgian-stained glass panes. Built in 1852, the then–viceroy of the country, Lord Elgin, was buried here in 1863.
Good food
There are countless cafés across Dharamsala and McLeodganj serving a range of cuisines, including Chinese, Tibetan, Kashmiri and Israeli. Giving them stiff competition are the roadside stalls with their steamed momos, fried baklebs (tiny Tibetan-styled samosas) and filling thukpas (thick noodle soup with vegetables, boiled chicken pieces and egg slices).
Community service
There are a bunch of places where you can contribute during your stay here. We enrolled ourselves for a couple of hour-long conversation sessions at Tibet World in McLeodganj. Here, we conversed in English with locals to boost their proficiency in the language. To register, submit a passport or stamp-sized photo of yourself, and fill a form with your contact details.
Triund: A trekkers' paradise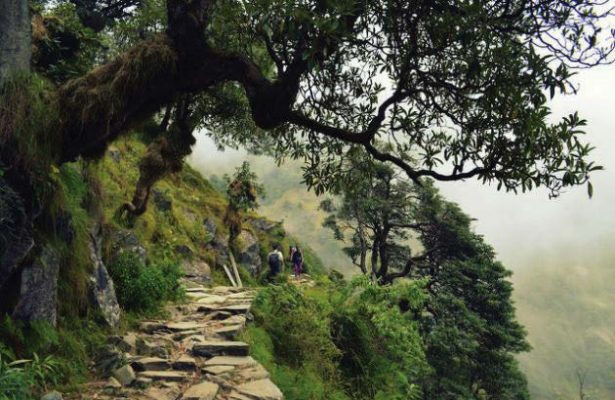 Triund, situated at an elevation of nearly 2,900 m above sea level, lies between the Kangra valley and the lofty Dhauladhar range of the Himalaya in Himachal Pradesh. You can get there by a pleasant trek of 9-10 km from the hill town of McLeod Ganj (about 2080 m), known as the Little Lhasa for it houses the headquarters of the Tibetan Government in Exile and its spiritual leader His Holiness the 14th Dalai Lama.
The trail to Triund is also one of the old routes followed by the Gaddi shepherds of Chamba and Kangra valleys. Two trails lead to Triund from McLeod Ganj: one via Bhagsu, which is a bit roundabout, and the other one through Dharamkot, which is 2 km uphill from McLeod Ganj. From Dharamkot, you can choose either a motorable road or an amazing walk through an alpine forest-covered short cut to reach Gulu Devi temple in upper Dharamkot.
The breathtaking trail to Triund starts here. After the first moderate half of the trek, you will come across two two small but fully loaded shops to reenergize yourself. Snacks, Maggi noodles, energy drinks, cold drinks and tea — everything is available. But the bigger attraction here is the serene view of the valley below. Hence the names: Magic View Café and Best View Café. They do absolute honour to their names. The peace, the calmness and the purity seem so special; it's not only rare, it's out-of-this-world. There is nothing more revitalising than a hot bowl of Maggi and a hot sip of strong tea as clouds float around you to carry away your grogginess. A relaxing break here is helpful before you walk the much steeper and more tiring second half of the trail.
The greenery of the surroundings, the misty mountain top, the crisp and pure breeze, various Himalayan flowers and the constant chirping of birds will divert your mind from the strenuous walk uphill. On reaching the top, you have plenty of options to continue ahead. Triund is only the gateway to a number of longer treks deep into the Dhauladhar range. Rooms are available in a guesthouse maintained by the Forest Department (you need prior permission to stay here as it has only six rooms). You can also hire a tent — highly recommended for the unforgettable experience of spending the night atop a hill without electricity. Only nature prevails. There are three shops, or cafes, as they are commonly known, to provide you with food and drinks. Considering the transportation cost, the expensive food will seem reasonable. The tranquillity of the place is indescribable. Just a few hours here will wash away your worries.
To be surrounded by larger-than-life mountains makes you realise the futility of worldliness and leave you feeling that you are merely part of a grander design.
How to reach
1 Dharamsala is a 30-minute drive from Gaggal Airport (also known as Kangra Airport).
2 Alternatively, board a train to Pathankot. Dharamsala is a two-and-a-half hour journey via road from there.
3 McLeodganj is situated 5km away from Dharamsala.
4 You can use cabs or choose to walk.