Rameshwaram is called the temple city of Tamilnadu. Located at the South-Eastern corner of the state this city is the is the foremost religious city for both Vaishnavaites and Shaivites pilgrims.
Rameshvaram is one city that has a brief mention in the ancient Hindu mythology. According to Ramayana, before going to Lanka Lord Rama performed Shiv puja here for victory. And it was later that at the same place Rameshwaram temple was built.
Know an interesting mystical tale associated with Rameswaram Tamil Nadu with Rameshwaram tourism. The pious land has witnessed a significant event related to Lord Rama. Legend says that after Lord Rama's triumph over the demon king Ravana in the war at Sri Lanka, he performed a thank giving rituals to Lord Shiva on this very majestic land of Rameswaram Tamil Nadu.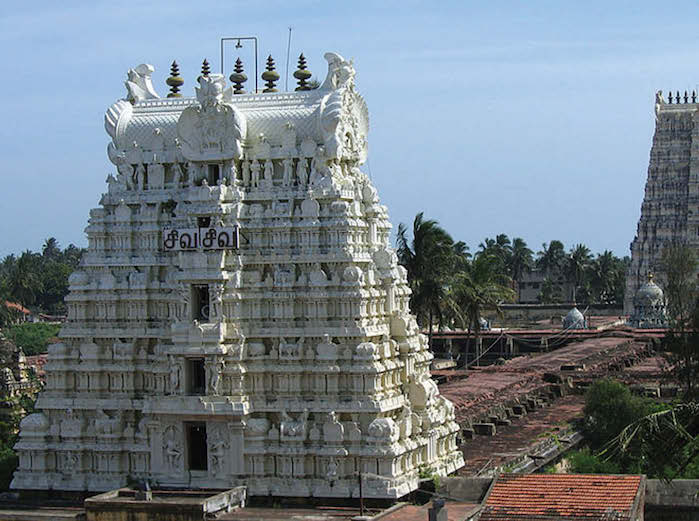 PLACES TO VISIT
Dotted with some really nice travel destinations, Rameshwaram tourism is a real treat for the travelers to see. Lets have a look at the famous travel places to see here.
Ramanathaswamy Temple 
Ramanathaswamy Temple – was built in the 12 century AD and is a fine specimen of late Dravidian architecture
World over it is know for its amazing sculpted pillars and corridors with elaborative design, carving and style.
According to legends Lord Rama sanctified this place by offering prayers to Lord Shiva after his victory over demon ruler Ravana.
Only Hindu pilgrims have permission to enter the Ramanathaswamy temple premises.
Kothandaramaswamy temple
Located just 8 km away from Rameshwaram temple, Dhanushkodi the place got its name after Lord Rama's bow 'Dhanush'.
Kothandaramaswamy is home to Kothandaramaswamy temple which was completely destroyed in 1964 by the terrible cyclones.
The temple has many beautiful statues of Lord Rama, Sita, Hanuman, Lakshmana and Vibhishana.
Adam's Bridge 
Adam bridge is a chain of natural reefs, islets and sandbanks, that connects India with Sri Lanka.
According to legends, this series of steeping stones was used by Hanuman when he was chasing Ravana while resuing Sita.
Gandhamadana Parvatam 
Gandhamadana Parvatam is an ideal location to enjoy the natural view of the island along with Ramanathaswamy temple.
The footprint that are seen here are believed to be of Lord Rama.
Beach Attractions
Being an island city (and a famous attraction of Tamilnadu tourism), Rameshwaram is surrounded by the Arabian sea giving this place its pristine beauty. The picture perfect beaches and the colorful sandy beaches make this place one of its kind and ideal for water sports. Try out scuba diving here or just relax under the sun sipping coconut water.
Rameshwaram tourism offers info on best nearby destination to the pious city. Several fascinating excursion destinations can be explored on your tour to Rameshwaram. Erwadi tucked 24 km from the city, is popular for the tomb of saint Ibrahim Syed Aulia. Another worth visiting nearby place id Ramanathapuram, renowned for its magnificent Ram Vilas Palace of Sethupati Rajas. Also Take a tour to Uthirakosamangai, known for the ancient Shiva temple.
How To Reach 
BY AIR: Madurai is the nearest airport at a distance of 163 km
BY TRAIN: The rail network connects the city to and from Madurai, Chennai, Thanjavur and Trichy. Island of Rameshvaram is connected with mainland of Mandapam with 2 km long Indira Gandhi bridge
BY ROAD: The city is well connected by road to main cities like Chennai, Trichy, Thiruvallur, Tanjore, Kanyakumari and Pondicherry. Tourists can also hire jeeps, auto rickshaws and even cycle rickshaws for sightseeing tour of the city.