[vc_row][vc_column width="1/2″][vc_column_text]
NEW YORK (TIP): Young students, many under ten, gave a great  musical  performance at  Vasant Panchami and Makar Sankranti celebrations  organized by their school, Shikshayatan on January 18th, 2015.
The more than an hour program of music  began with the  singing of national anthems of USA and India. It was followed by the traditional prayer to goddess of learning, Saraswati. Ramya, a very young student artist created a divine atmosphere by invoking mother Saraswati. Sudipta sang  Ganesh Vandana written by great saint poet Tulsidas who wrote Ramcharit Manas, popularly known as Ramayana. Saraswati Vandana was sung  by Kavita and Sudipta, accompanied by Sudeep, Shiv and Mansi on tabla. Students sang Lord Shiva bhajan, Guru Vandana in raag Darbari Kannada, Sri Rama stuti in Sanskrit language. A solo performance on tabla was given  by a 5 year old Samarth who played taal dadaraa with great confidence. A senior artist, Manohar played raag yaman on  violin. A child artist  Shivani sang raag kafi and also Krishna bhajan to  a child arist Shreya who was dressed up as Lord Krishna. This item stole the hearts of all. A new student Kush played Vande Mataram on Keyboard. There were a few chorus songs: Hum Honge kaamyaab,; Yahaan daal daal par sone ki " and Shikshayatan title song " Har Dharati Kaa" .
A kavi darbar was also organized on the occasion. Those who recited their compositions included Dr. Bijoy Mehta, Chairman of The Hindu Center of Flushing, Prof. Indrajit S Saluja, Chief Editor of The Indian Panorama, Ashok Vyas, TV anchor, ITV, Ashok Singh, Smt. Swadesh Rana , Shri Ram Gautam, Attorney Anand Ahuja   and  Animesh Chandra. Other distinguished guests included  Arish Sahani, Ashok Ojha and Major S.B. Singh.
The Consul General of India in New York Dnyaneshwar M. Mulay performed the opening ceremony of the new location of Shikshayatan and blessed the students and truly appreciated the dedication of the faculty and the Founder/President/Director of the center, Purnima Desai, for her tireless efforts and witnessed the progress of the center in various fields of art & culture of India.
[/vc_column_text][/vc_column][vc_column width="1/2″][vc_column_text]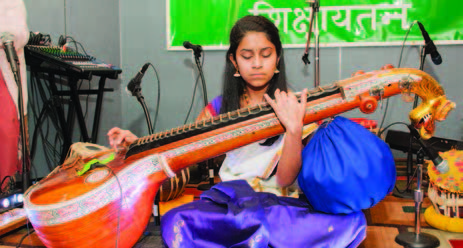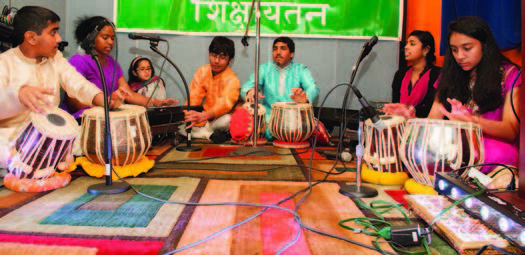 [/vc_column_text][/vc_column][/vc_row]