Undergraduate students from all parts of the country will soon be able to take a peek through a microscope that they can carry with them, thanks to an initiative by Indian government's Department of Biotechnology & PM Modi.
This low-cost paper folding-microscope has been developed by Prakash Lab, a research group at Stanford University.
Foldscope is provided as a kit where a student starts by first building the actual unit from the kit; and can explores questions surrounding the microscopic world in physics, chemistry and biology. The users build an online community and share insights, projects, questions and scientific discoveries with the community at foldscope online platform.
It will be used as an educational and training tool to understand physics, chemistry, biology and instrumentation. The DBT will ensure that foldscopes are provided to students of its Star College Scheme, some 80 of them across the country. This will be done in phases based on the availability of foldscope.
"Our vision is to bring a microscope into the hands of every single kid in the world," Prakash said.
The thought came to Prof. VijayRaghvan of the Department of Biotechnology, who then sent a tweet to Manu Prakash of Prakash Lab on August 12. "Hi, can we discuss using Foldscope widely in India? I am at the Department of Biotechnology, Government of India".
The letter of intent to distribute Foldscope through DBT's star college and other programmes was exchanged between the Department of Biotechnology (DBT) and the Prakash Lab in the presence of Prime Minister Narendra Modi during his visit to Silicon Valley in USA in Sep, 2015.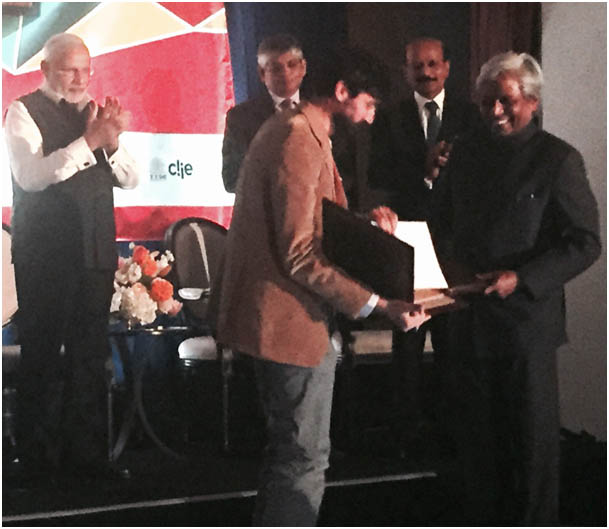 "Partnering with Prakash Lab's foldscope is an exciting new adventure for the Department of Biotechnology. It is 'Citizen Science' at its best. The foldscope is torchlight in the hands of human curiosity that allows each and every one of us to explore our planet at the microscopic level, just as the telescope allows us to explore the stars.
"The beauty we see and the science underneath it will create a new generation of young scientists in India," said VijayRaghavan.