University of South Florida (USF) has started doctoral grants for Indian students in honor of President A.P.J. Kalam. President Kalam was a strong advocate for young people and a passionate supporter of clean energy and energy independence.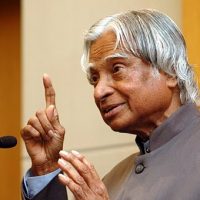 This Postgraduate Fellowship named "the Kalam Fellowship" is worth $156,000 (Rs.1,03,71,660) for students who wish to pursue PhD in specified fields of science and engineering at the institution.
"Dr Kalam left an indelible mark on the academic community, one that will now sustain over time through this most prestigious Kalam Fellowship," Ralph Wilcox, the head of USF, said in New Delhi on Wednesday at the global higher education summit of the Confederation of Indian Industry (CII).
ELIGIBLE PROGRAMMES / FIELDS OF STUDY
The student award will be offered to an Indian graduate student seeking to pursue a PhD degree in the following subject/discipline at the University of South Florida:
Applied Anthropology
Applied Physics
Business PhD programs
Cell Biology, Microbiology & Molecular Biology
Chemistry
Computer Science & Engineering
Engineering
Criminology
Integrative Biology
Marine Science
Psychology
Fellowship holders would receive a tuition fee waiver amounting to $84,500 (Rs. 5,621,528) in four years, plus a stipend of $18,000 (Rs. 1,197,511) per year, he said.
USF already has 800 Indian students enrolled for this year and expects the fellowship, which takes effect in 2016-2017, to attract more.
"Dr Kalam was an honoured visitor to the University of South Florida, and he spoke at great lengths about the importance of green energy and sustainability," Mr Wilcox recalled.
All candidates must have submitted a USF graduate application and established a university ID number at the USF graduate admissions portal. Once admitted to USF the awardee will comply with all USF regulations, processes and procedures and all applicable law. Upon completion of online application, candidates must scan the following materials and email them to KalamFellowship@usf.edu:
A letter expressing interest describing his/her academic success and area of intended study
Curriculum Vitae
Statement of research and evidence of scholarly activity
Three letters of recommendation on academic and/or professional letterhead