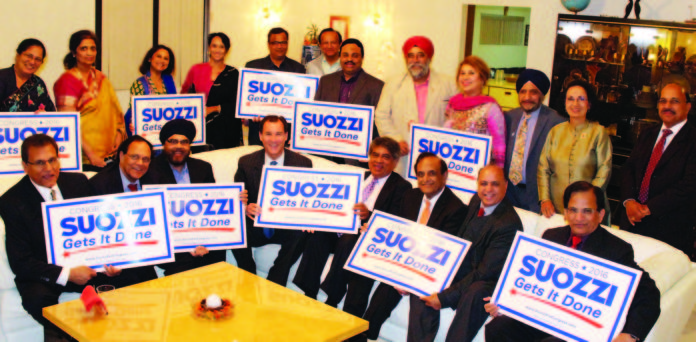 LONG ISLAND, NY (TIP): Indian American Community leaders from Nassau, Suffolk and Queens came together in the past two weeks and expressed their collective support for Tom Suozzi, running for the US House of Representatives, in the third congressional district covering parts of the three counties.
Dr. Deepak Nandi, Dr. Bhupi Patel, Dr. Dattatreya Nori, Anumolu Rao, Animesh Goenka, Sunil Modi, Sekhar Nelanuthala, Gobind Bathija, Satnam Parhar and 30 other prominent members of the community assembled at the Albertson home of Ratna and Varinder Bhalla, hosts of the fundraiser on October 28, and expressed their strong support in electing Suozzi for Congress on November 8. Numerous other physicians and community activists gathered for another fundraiser organized by Dr. Ajay Lodha and  Dr. Vaijinath Chakote in Roslyn on October 23.
Varinder K Bhalla, Chairman & Founder of the Indian American Voters Forum announced that members of its advisory committee unanimously endorsed the former County Executive for election to the US Congress. "Tom Suozzi has been a great supporter of the Indian community for nearly two decades and as Congressman, he will be a great for India, United States and Indo US relations", said Bhalla. Founded in 2003, the Indian American Voters Forum promotes voter registration drive and conducts debates among political candidates seeking elective office.
"As County Executive, Tom Suozzi had appointed more Indian Americans in high level positions in his administration than any other County Executive in the entire State of New York," Bhalla added. Representing the Sikh community, Dr. Harsimran Singh Sabharwal expressed appreciation for Suozzi for "helping us to build a Gurudwara in Glen Cove when he was its Mayor." Dr. Bhupi Patel made an impassioned appeal that all members of the community exercise their right to vote and vote for Tom Suozzi.
Earlier this year, at a reception hosted by the Bhallas for the incoming Consul General Riva Ganguli Das, Suozzi stressed his longstanding association with the Indian American community on Long Island, and said, "if I am elected, I will join the US Congressional Caucus on India &Indian Americans and work to strengthen the bond between the world's largest democracy and the world's oldest democracy."
(Based on a press release issued by Varinder Bhalla)