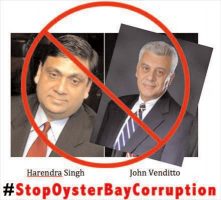 Indicted Indian American restaurateur Harendra Singh is no longer able to pay his business attorney, according to a court filing reported by Newsday. Singh has been in jail since December 2015 after he violated his bond conditions by fraudulently submitting a loan application, pending trial.
Smithtown lawyer Howard Greenberg, who has represented Singh for years on many of his business dealings, withdrew as counsel last month on a lawsuit against two of Singhs' companies by a valet company.
"The defendants are unable to meet present financial obligations to our office for the continuing litigation in this matter and such obligations have been outstanding," Greenberg said in a court filing asking State Supreme Court Judge Randy Sue Marber in Mineola permission to withdraw. Greenberg also wrote that Singh's incarceration since Dec. 16 has "made communication and defense of the case a near impossibility." Marber granted the request on Feb. 24.
Woodbury-based All Metro Valet Parking, Inc. sued two of Singh's companies — SRB Catering Corp. and SRB Woodlands, Inc. — in 2014 for $26,378 plus interest on what it claimed were unpaid bills from the fall of 2013 and spring of 2014.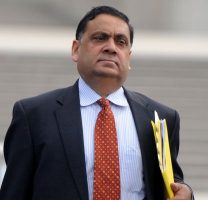 In September, Singh was indicted on 13 federal charges including bribing an Oyster Bay official to obtain $20 million loan guarantees on loans that were supposed to be for capital improvements at the town golf course and Tobay Beach.
Many of Singh's companies face lawsuits from creditors. The largest pending lawsuit comes from the federal Pension Benefit Guaranty Corp., which last year sued Singh's companies in federal court for more than $3.1 million in pension liabilities owed by the company that operated the Water's Edge in New York City.
Harendra Singh plea deal has made no progress – A federal prosecutor had said in February 2016 that the government and the defense are having discussions aimed at a plea deal that would resolve the bribery case of Long Island restaurateur Harendra Singh.
Appearing before U.S. District Court Judge Sandra Feuerstein, the prosecutor on the case, Catherine Mirabile, had said both sides were "working toward a possible resolution" of the case however no progress has been reported on any kind of deal.
Harendra Singh loses Cedar Beach food stand and bar
Brookhaven officials are close to awarding a Bohemia-based concessions company a $446,000 contract to run a food stand and bar at a town park in Mount Sinai that previously had been operated by indicted restaurateur Harendra Singh.
Town officials picked J&B Restaurant Partners Top Flight Foods LLC to run concessions at Cedar Beach for five years starting this summer. Until recently, the company ran food concessions at Jones Beach and Robert Moses state parks.
Town officials said Top Flight Foods was the only qualified bidder for the contract. Another company that submitted a bid was deemed unqualified to run a municipal park concessions operation, officials said.
A public hearing on awarding the contract to Top Flight Foods has been scheduled for April 7 at Brookhaven Town Hall.
The license to run Cedar Beach's concessions previously had been held by BRS Concession Inc., a company controlled by Harendra Singh, who faces federal charges that he bribed an Oyster Bay Town official. Singh has pleaded not guilty.