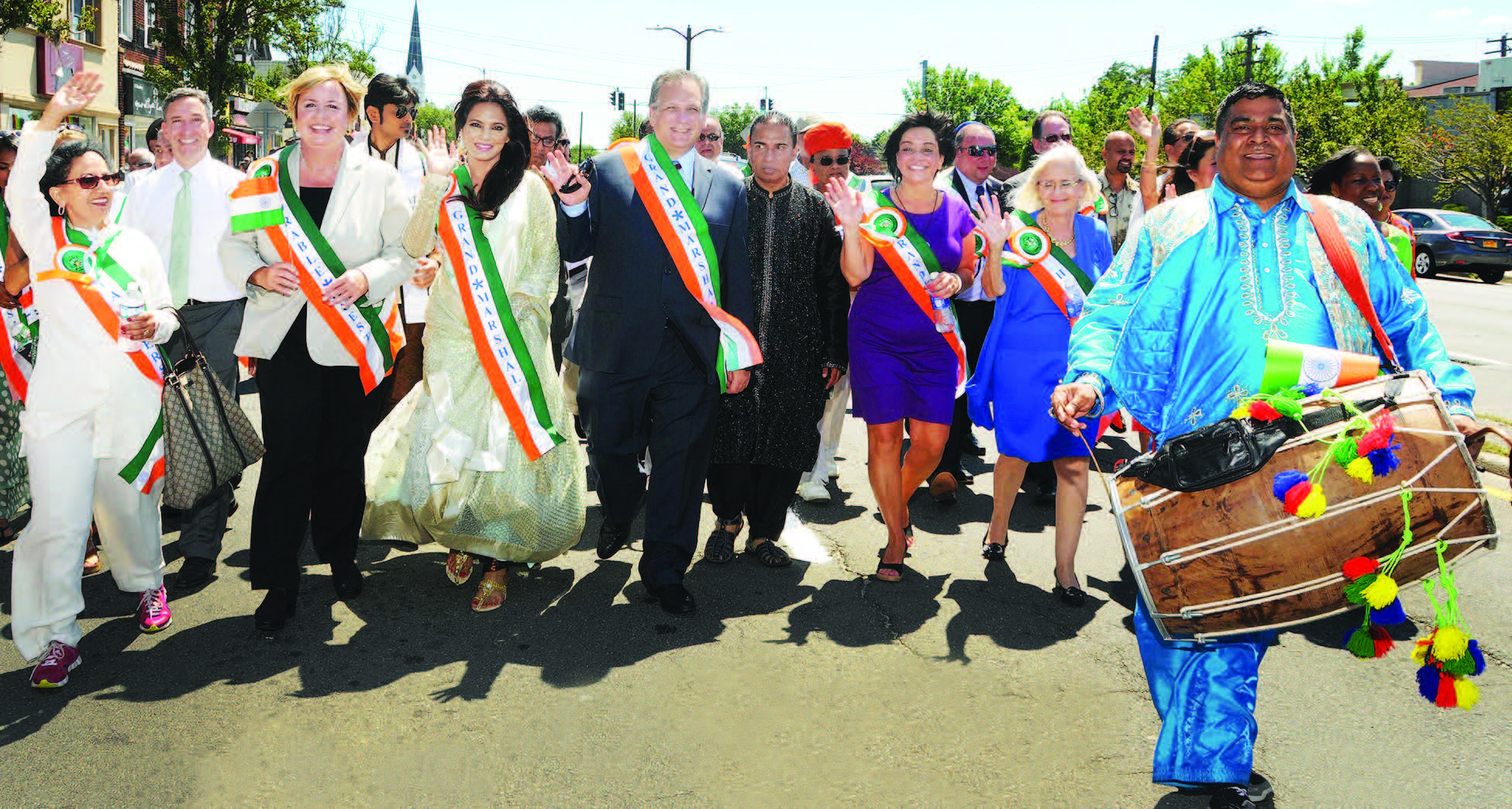 HICKSVILLE, NY (TIP): On a benign Sunday, August 9, the 4th IDPUSA Independence Day Parade set off from the usual starting point in Patel Plaza and headed off to the usual destination on North Broadway, opposite Asa Mai Mandir.
The elaborate arrangements made by the organizers failed to  enthuse and attract  people. There were fewer people walking with the parade, on the way, and at the finishing point.
There were fewer booths this year. And the ones who had taken booths  felt disappointed to find small numbers visiting their booths. Some said in so many words that the $500 they had paid for the booth had gone waste.
However, it was a show, undoubtedly, with dignitaries coming in. At hand were several elected officials and dignitaries which included  Congresswoman Grace Meng, County Executive Edward P Mangano, Town of Hempstead Supervisor Kate Murray, Town of Oyster Bay Supervisor John Venditto, Town of North Hempstead Supervisor Judy Bodsworth, several councilmen. legislators and judges . One would have expected them to be there, given the  forthcoming elections. In fact, the floats carried the large posters of some who are up for election. They included Kate Murray, Venditto Sr. & Jr.and  Santino .
At the head of the parade  were Parade Chairpersons Indu Jaiswal and Beena Kothari, Grand Marshall Actress Neetu Chandra, Chief Guest of Honor Nina Davuluri, Miss America 2014, Madalsa Sharma, and Karishma Tanna, elected officials, community leaders and honorees. A unique addition this year was that the sponsors came in their cars decorated in tricolors. Besides, there were around 4 floats and  some  marching groups.
At the conclusion of the parade, a cultural program was presented.
On Monday, August 10, a  Gala Diner Reception was held at North Ritz Country Club in Syosset to honor and thank sponsors and honorees. Senior Councilman Anthony Santino, Town of Hempstead Clerk Nasreen Ahmed, Grand Marshall Neetu Chandra, Madalsa Sharma and Karishma Tanna were among those present.
Citations and awards were  presented to Honorees which included  Mrs. Sharda Kotahwala President Royal India USA Inc., Naveen C Shah, President and CEO, Navika Group of Companies, Mrs. Kirti Shukla, Microbiologist, Dr. Raj Bhayani, ENT Surgeon, Dr Vaijnath Chakote, President Elect of AAPIQLI, Parvin Kapadia, Founder of Bal Sansakar Shala, Dr Vijay Chhabra, Internist, and  Peter Bheddah, businessman and philanthropist.
An entertainment program presented by Arya Dance Academy followed.