NEW YORK (TIP): Mayor de Blasio on Thursday, August 20, floated the idea of tearing up the popular pedestrian plaza to rid the area of the topless painted ladies and the costumed characters who harass tourists for tips, say media reports.
"You could argue that those plazas have had some very positive impact," de Blasio said. "You could also argue that they've come with a lot of problems. And a lot of the surrounding business community has certainly cited those problems. So we'll give that a fresh look."
De Blasio said he's already discussed the idea with Police Commissioner Bill Bratton, the co-chair of the city's special task force charged with ousting the jiggly panhandlers from the Crossroads of the World.
"Now that's a very big endeavor and like every other option comes pros and cons," the mayor said. "So we're going to look at what those pros and cons would be."
Bratton sounded like he was ready to start tearing the plaza up right away.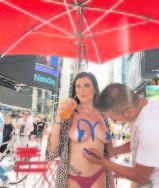 "My own personal preference, as I've looked at all the different options, is to return it to what it once was," the top cop said. "Part of the attraction for the characters and the topless ladies is that is a very wide plaza where they can congregate. If it was just sidewalks they would not be able to congregate to the degree that they've been able to do in that public space."
The pushback started literally within minutes.
City Council Speaker Melissa Mark-Viverito immediately turned thumbs down on that scheme.
"The City Council is considering its legislative options, but the Speaker believes in and supports keeping pedestrian plazas," her spokesman, Eric Koch, said.
Mark-Viverito also suggested City Hall was over-reacting to the painted ladies.
"There are many, many more serious issues facing New York City which deserve our immediate attention and this is not one of them," her spokeswoman, Robin Levine, said.
City Controller Scott Stringer called the proposal to tear up the pedestrian plaza "a serious overreaction to what is essentially a quality of life enforcement issue."
And City Councilman Dan Garodnick, who represents Times Square, said "let's not throw the baby out with the bathwater here."
"The Times Square plazas have provided a safe haven for pedestrians who previously had to navigate very narrow and overcrowded sidewalks right next to fast traffic," he said.