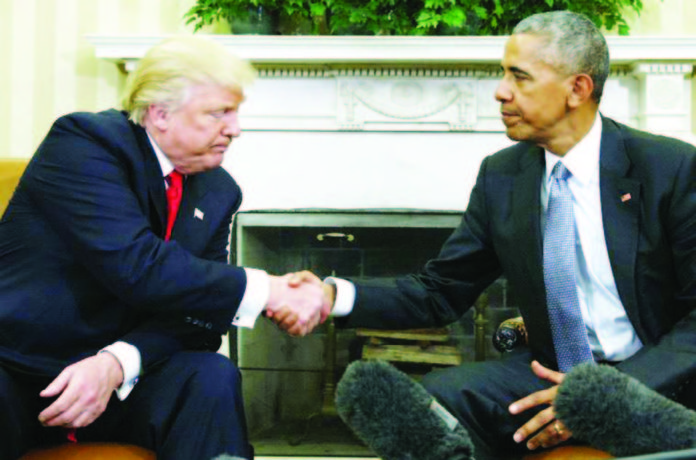 WASHINGTON (TIP): President Barack Obama hosted, November 10, his successor Donald Trump at the White House to discuss smooth transition of power.
Trump, 70, flew from New York on his private jet and landed at Reagan National Airport, just outside the nation's capital.
He broke from protocol and barred journalists from travelling with him to cover his first meeting with Obama.
The president-elect was accompanied by his wife, Melania, who had a separate meeting with First Lady Michelle Obama. Melania was given a tour of the White House.
The meeting between the President and the President-elect, originally to last 30 minutes, took 90 minutes during which the two discussed a variety of issues. Obama said his main task now would be a smooth transition of power. Trump was appreciative of Obama about whom he twice said, "He is a very good man".
However, nobody missed to notice the lack of warmth between the two who have been fiercely critical of each other. Donald Trump had questioned Obama's birth in the US and has vowed to show the door to Obamacare, a legacy which Obama desired to leave. And Obama has repeatedly alleged that Trump is unfit to be the Commander in chief of the country.
No love lost there.