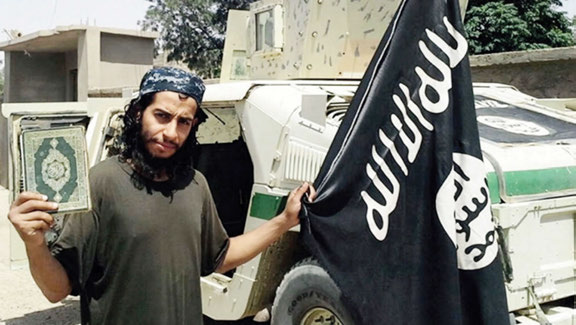 PARIS (TIP): The suspected ringleader of the Paris attacks was killed Wednesday, November 18, in a massive pre-dawn raid by French police commandos, two senior European officials said, after investigators followed leads that the fugitive Islamic State militant was holed up north of the French capital and could be plotting another wave of violence.
More than 100 police officers and soldiers stormed an apartment building in Saint-Denis, a bustling suburb home to many immigrants, during a seven-hour siege that left at least two people dead, officials said.
The dead – included the key suspect behind the Paris bloodshed, Abdel-hamid Abaaoud, according to the two senior European officials. A woman Hasna Aitboulahcen, 26, also died in the raid and was believed to be Abaaoud's cousin. She detonated a suicide vest after a brief conversation with police officers.
French police are still looking for another alleged attacker, the 26-year-old French national Salah Abdeslam, who is on the run.
Abaaoud, a 27-year-old Belgian extremist of Moroccan origin, allegedly orchestrated the attacks claimed by Islamic State of Iraq and the Levant.
Bernard Cazeneuve, the French interior minister, said that Abaaoud had been involved in at least four previous foiled attacks, including an incident in August when  a gunman tried to kill passengers on a high-speed train between Amsterdam and Paris.
"[The cases] would have all involved attacks perpetrated by European jihadists sent to France … Europe must coordinate itself and defend itself against this threat," he said on Thursday, November 19, calling for a more effective arms strategy in the continent. "The fight against terrorism is crucial."
Paris terror attacks: A timeline
1
November 13, 9:20pm Stade de France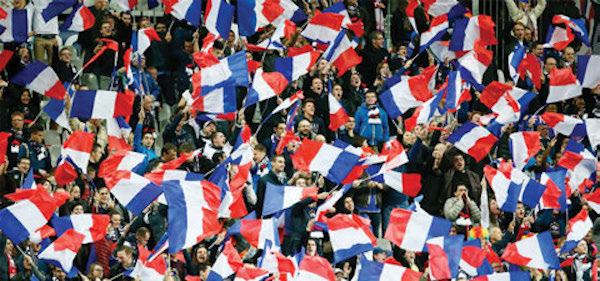 The first of the three explosions is heard in the stadium where Hollande and 80,000 fans are watching France play Germany in a friendly football match.
2
November 13, 9.25 Le Carillon & Le Petit Cambodge
Located in one of the liveliest areas around the Canal Saint-Martin district, the bar and restaurant are packed. A car stops at the crossroads. Two men holding Kalashnikovs get out; one sprays bullets at Le Carillon, the other fires directly at Le Petit Cambodge, killing 15 people.
3
November 13, 9.30: Second Stade de France bomb
Sirens can be heard outside, but the game goes on. An aide informs Hollande of the unfolding attacks. A decision is taken to get the president out of the ground. Two suicide bombers and one man died outside the stadium. A third attacker detonates an explosive vest at a nearby McDonald's at about 21:53.
4
November 13, 9.32 Casa Nostra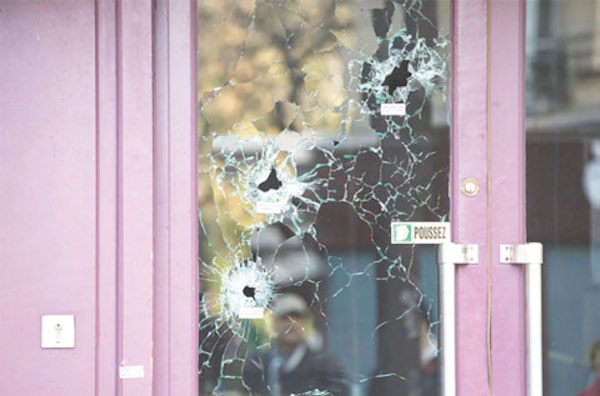 Again, a black Seat pulls up and an armed man dressed in black gets out. After more than 100 rounds five people are dead and eight  seriously injured.
5
November 13, 9.36pm: Belle Équipe
"The shooting lasted five minutes. They did not give anybody a chance"  – an eyewitness to the attack on the restaurant on rue de Charonne  tells BFM TV. When it was all over 19 people lay dead. Most had been sitting outside at candle-lit tables.
6
November 13, 9.40pm: suicide bomber
A man walks into the Comptoir Voltaire cafe  on Boulevard Voltaire and as waitress approaches he detonates an explosive vest. Fifteen people are injured.
7
November 13, 9.45pm: State of emergency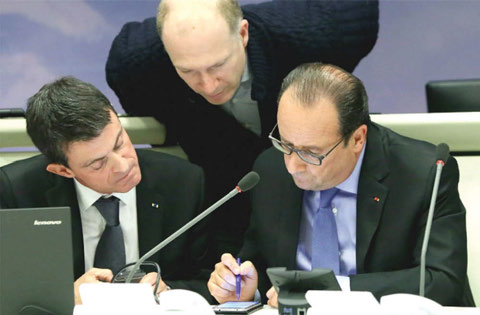 President Hollande, who has been taken to the Élysée Palace following the second bomb at the Stade de France, prepares to call a state of emergency.
8
November 13, 9.49pm: Bataclan theatre
Gunmen enter the Bataclan theatre on Boulevard Voltaire, where more than 1,500 people are at an Eagles of Death Metal concert, shooting as they move. The band is still playing as the shots ring out – some think it's part of the show. The music stops. There is panic and scenes of terror as people try to escape. By the time police storm the building  at 00:20, 89 people are dead.
9
November 13, 11.30pm: Hollande – "It's a horror"
In a live television address to the nation, President Hollande declares a state of emergency. The emergency has since been extended for another 3 months.
The search for the attackers spreads to Belgium. A discarded parking ticket in a car near the Bataclan in Paris leads detectives to the Brussels suburb of Molenbeek. A series of raids and arrests are made across the city over several days targeting those believed to have links with Bilal Hadfi, a 20-year old jihadist who blew himself up outside Stade de France in Paris.
GERMANY
A series of raids and arrests are made on Tuesday, November 17, in Alsdorf, near Aachen, close to the Belgium border.  The Germany vs Netherlands friendly in Hanover is called off after police say authorities have "concrete information" about a bomb threat. However, no explosives were found.
SAINT-DENIS RAID
French police and security forces launch a major operation on Wednesday, November 18, where the target – Abdelhamid Abaaoud, said to be the leader of  November 13 attacks, is killed. His death was confirmed  by authorities on Thursday, November 19.
11
RAIDS CONTUINUE IN FRANCE & BELGIUM
Police officers have broken down doors in towns and villages from Paris to Brussels in more than 600 raids and searches since Friday. There have been 414 raids in France alone over the three nights early in the week, Bernard Cazeneuve, the French interior minister, said in a statement on Wednesday. Sixty people were arrested and detained, and 75 weapons were seized. The statement added that 118 people were put under house arrest.
Prime Minister Manuel Valls of France said  "We don't know at this point in the investigation if there are groups, individuals, who are directly linked to the attack on Friday evening, in Paris, in St-Denis". "We don't know yet, one can imagine. That's why the threat is still there."
On Thursday, November 19,  several police raids were carried out in the Brussels area, many of them targeting friends and relatives of Bilal Hadfi, one of the stadium bombers. At least nine people were detained.
The Belgian authorities on Thursday arrested nine people — seven of them as part of an investigation into Bilal Hadfi, 20, who detonated his explosive vest outside the Stade de France on Friday. Belgian police searched homes in the Brussels neighborhoods of Laeken, Uccle, Jette and Molenbeek. Molenbeek was the base of Mr. Abdeslam; his brother Ibrahim, who was one of the seven attackers who died; and Mr. Abaaoud.