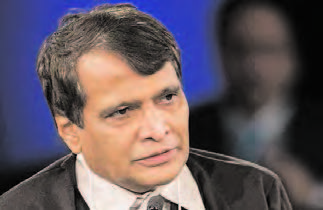 NEW DELHI (TIP): Railway minister Suresh Prabhu on Thursday said that the country needs around $50-60 billion in investment every year.
Speaking at an award function held in the capital, Prabhu said that the country's growth rate is increasing fast and the next 20-25 years is going to be good for the country. "Who would have thought that sports like football and hockey would be good business a few years ago," he said. "Also new businesses like e-commerce have been able to attract big funds into the country." 
Citing the example of Korean carmaker Hyundai that exports a large number of cars from the country to markets across the world, Prabhu said that India's change has been auguring well for businesses. "A few years ago, we would have shouted slogans against MNCs. Now, the mentality has changed. And they are doing a great job for the country," he said.
Prabhu also emphasized the need for bankers to shape the country's future.
"We need bankers who would reach out to everybody in society, even small people. HDFC has done that," he said.
Speaking about Sun Pharma MD Dilip Shangvi, Prabhu said that India has become the capital of generic drugs because of entrepreneurs like Shangvi. "It is only possible because companies like his are reinvesting 5%of their top lines into research on the same," said Prabhu.
He also said that the government cannot create infrastructure by itself and would require the help of entrepreneurs such as GM Rao, group chairman, GMR Group who has helped built Delhi's T3, which has become one of the best airports in the world.