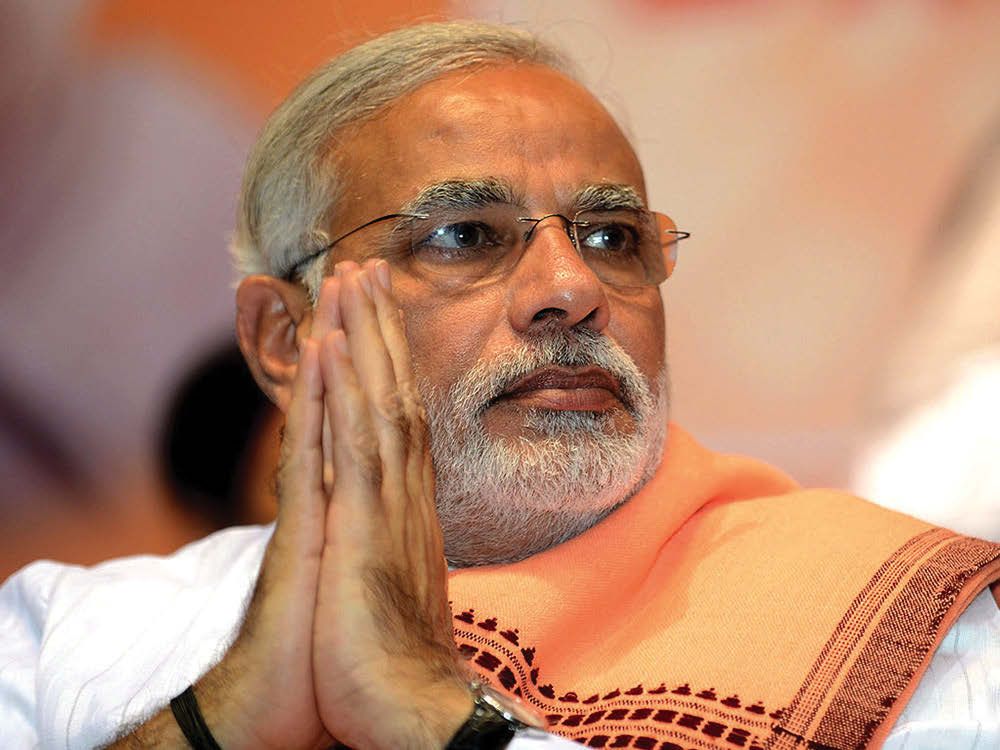 In the advertisement campaign unleashed on completing two years in office Prime Minister Modi claims: "My country is changing, moving forward". Half the population of the country does not share his optimism, going by a survey by the Centre for Media Studies. While 49 per cent of those surveyed saw "no change" in their lives, 15 per cent complained of deterioration. Change is yet to happen in rural India. Bharat does not know how to cope with a drought. Business sentiment is lower than it was in 2014. Still, Modi enjoys a high approval rating (74 per cent). Credit for this goes to his successful strategy for marketing. With a clear majority and no coalition partners pulling in different directions, the Modi government could still have done a lot better.
The BJP government enters the third year on a feel-good note. A good monsoon forecast has lifted the national mood. Drought and its mishandling would soon be forgotten as a bad memory. The Assam success has wiped out bad memories of Delhi and Bihar. Assam happened because after Modi-Shah arrogance took a hit, the duo recognized the worth of regional leaders. The Congress meltdown has enabled the BJP to stake claim to being a national party. That also brings on the national party a duty to conduct itself responsibly, rein in the fringe elements and avoid stoking communal fires in the run-up to the UP elections.
The Western media has called Modi "a superb salesman". He has dusted UPA initiatives and repackaged them brilliantly -something the UPA could never do. His own ideas have elicited a mixed response. "Swachh Bharat", Digital India, smart cities and bullet trains are still at the slogan level but can be put on the ground. The Jan Dhan Yojana has delivered and Aadhaar will put subsidies in right pockets and plug leakages in the PDS and MGNAREGA. Toilets are coming up in schools. The thrust on low-cost housing will create not just shelter for the homeless but also jobs for the needy apart from lifting the fortunes of steel, plastic and cement industries. "Make in India" is still a work in progress.
Despite opposition resistance the government has got a few things moving: a real estate regulator is in place, the Mauritious treaty will check tax evasion and a bankruptcy code has replaced the archaic solvency laws, making it easier for firms to close down. Modi has asserted that the GST will roll out on April 01, 2017. After a directionless first budget, Jaitley changed tracks and presented a pro-farmer, pro-rural India budget. He boasts of three things: sticking to the fiscal deficit, having an expenditure reforms commission and a monetary agreement with the RBI on inflation. Raghunath Rajan has uncovered bad bank loans which the government and banks had happily swept under the carpet. Banks need more money to lend and debt-ridden corporates have no extra capital to invest, which means growth and job creation will be largely driven by government spending with savings from oil.
Modi has proved to be the most peripatetic PM. The chutzpah and verve that marked his touchdowns in Western capitals made him the best recognized Indian Prime Minister. While the fruits of the serenading in the West are yet to accrue, there are doubts whether Modi has been adroit in balancing this relationship with the other two powers, China and Russia. In the neighborhood he had a mixed record. He was unable to tame Pakistan, has antagonized Nepal and allowed the Maldives to drift. But Modi turned around ties with Sri Lanka, maintained harmony with Bangladesh and made Seychelles a part of India's security periphery.
Modi's style of functioning has its admirers as well as critics. Arun Shourie says "President Modi runs a one-man show". He has centralized decision-making and marginalized ministers. Decisions are taken in a hurry, leaving loose ends untied sometimes. Modi has abolished the Planning Commission without thinking through what NITI Aayog is to do. Abandoning his own slogan of "minimum government", Modi has packed his large ministry with lightweights, barring a handful like Arun Jaitley, Suresh Prabhu, Piyush Goel and Dharmendra Pradhan.
Greed for more power and political expediency earned Modi judicial rebuffs. The embarrassment over the NJAC (National Judicial Appointments Commission) as well as President's rule in Uttarakhand was avoidable. The saffron agenda too had its consequences. With help from the Home Minister, the HRD Minister created trouble where none existed: Hyderabad Central University, JNU and the NIT, Srinagar. Taking u-turns is a defining feature of the government. There were flip-flops on issues like tax on EPF withdrawals, land acquisition, MGNREGA, capital infusion for banks, foreign travel details in income tax return forms, licensing for GM seed technology and ban on porn sites. Things are seen as happening, even if they sometimes go wrong. More than rhetoric, Modi needs to show results on the ground. He needs to work and behave more like a Prime Minister than a perpetual political campaigner.