NEW DELHI (TIP): The Bharatiya Janata Party (BJP) has always prided on its women power and given them due weight in the political scheme of things. From installing Anandiben Patel as Gujarat's chief minister after Narendra Modi became the Prime Minister to selecting Indore's popular 7-time MP Sumitra Mahajan as Lok Sabha speaker, the party has always put out indications that it was not reluctant to nominate deserving women to powerful posts.
But today, it's the same women power threatening to drag the BJP through one of its most tumultuous times. On the completion of its one year in office, senior BJP leaders may have been relieved that it has  largely been a corruption-free
year, with no major scams. But now  the circumstances are different. The opposition, led  by the Congress, is gunning for the resignations of four women BJP leaders – two cabinet ministers, one chief minister and one state minister. The controversies are raging, resignations are pending and the BJP is scrambling for solutions.
Vasundhara Raje
In every way, Vasundhara RajeScindia has been BJP's trump card in Rajasthan. In late 2013, she led the party to its biggest victory winning three-fourths of the seats in the state Assembly. Six months later, she created another record by helping the party win all 25 seats in the 2014 parliamentary elections. She followed it up with ground-breaking labor reforms and meeting foreign tycoons to lure investments. However, the card fell flat last week after documents emerged purportedly showing Raje secretly supporting Lalit Modi's bid to obtain immigration documents in UK. The Lalit Modi row thus took a detour, away from Swaraj, and focused on Raje. Earlier, the BJP through its senior leader Nitin Gadkari had announced support for Raje, but with crucial evidence now emerging, time may indeed be up for Raje. She may have to relinquish the top post and allow for an investigation to proceed.
Sushma Swaraj
If there has been one minister in the Modi government who was lauded for her work (even by the opposition) in its one year, it is probably Sushma Swaraj. As India's foreign minister, Swaraj's hands-on approach especially in the crises in Yemen and Nepal have been praise-
worthy. When the historic land boundary agreement was passed in Parliament, members across both the treasury and opposition benches spoke of her contributions to the bill. And yet, within months, the same members have been baying for her resignation amidst the furor around fugitive ex-IPL boss Lalit Modi. In early June, UK newspaper Sunday Times reported that Swaraj had helped in facilitating travel documents for Modi, who faces several charges of financial impropriety by the Enforcement Directorate. Swaraj hit back saying that it was purely on 'humanitarian grounds' as Modi's wife was suffering from cancer, that she intervened to get him a travel document. But the row has only blown bigger and bigger. Suspicions of an internal rebellion within the BJP cannot be ruled out either over the controversy. The BJP and the government has staunchly defended Swaraj, but as more and more evidence arises, it is not clear how long the party can hold on.
Pankaja Munde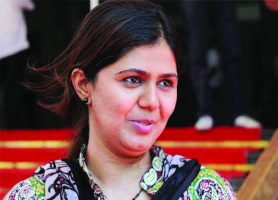 After the demise of Gopinath Munde, one of BJP's tallest leaders in Maharashtra, it was his daughter Pankaja Munde who stepped into his shoes and announced herself as the heir to his legacy. Her sister may have won a Lok Sabha seat from Maharashtra, but it was Pankaja who positioned herself for the rough-and-tough state politics. She had conviction, no doubt and spoke quite fiercely on popular issues. At one point of time, during the state elections last year, there were murmurs that she could even be named the chief minister. But the responsibility finally went to Devendra Fadnavis, the older and more experienced politician. Nevertheless, Pankaja was given the crucial Women and Child Development (WCD) portfolio. But today, less than a year after she entered office, she faces allegations of corruption worth more than Rs 200 crore. A complaint has been registered by the Congress against the WCD department headed by Pankaja which alleges that she awarded contracts worth Rs 206 crore for procuring chikkis, medicines, growth monitoring machines, water filters, carpets and educational material for aanganwadis on a single day without inviting tenders. After the allegation surfaced, Pankaja denied any wrongdoing and said she was ready for a probe. But the state BJP is rattled. It is the first corruption allegation to hit the government and the party in Maharashtra.
Smriti Irani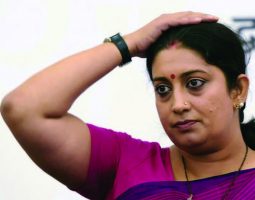 Ever since her debut in politics, Smriti Zubin Irani, a television actress- turned-politician, has had an uphill graph at least with the BJP. She has always answered her party's call, even when she was asked to stand against Congress vice president Rahul Gandhi in Amethi in the 2014 LS elections. She may have lost but she was rewarded with a cabinet portfolio – the highly regarded Human Resource & Development (HRD) ministry – thus becoming the youngest member of the Modi cabinet. But a controversy, that has affected her on and off, is the one surrounding her alleged fake educational degree. It had first come up in 2014 when Smriti was accused of furnishing false information while filing her affidavit with the Election Commission. In a setback for the minister, a Delhi court took cognizance of a complaint that was filed against her. Immediately, both the Congress and the AAP demanded her resignation. But the BJP has not stirred yet. Is it waiting for the controversy to get bigger? No one knows.