PHILADELPHIA (TIP): Barack Obama, July 27 made a powerful endorsement of Hillary Clinton as the next US President, saying no one including himself was ever more qualified than his former secretary of state, as Democrats united against "homegrown demagogues" like Republican rival Trump who sell "fear and cynicism".
The two-time president, also the first black to have occupied the top post, said he was "ready to pass the baton" to his rival in 2008 as he painted an optimistic picture of an "already great nation".
"I can say with confidence there has never been a man or a woman-not me, not Bill (Clinton), nobody-more qualified than Hillary Clinton to serve as president of the United States of America," Obama said amid deafening cheers from thousands of delegates and guests packed into a sports arena here.
In his 45-minute fiery speech, the most high-profile in the ongoing Democratic national convention, Obama asked Americans to shun "cynicism and fear" being propagated by the 70-year-old reality TV star.
"And now I'm ready to pass the baton and do my part as a private citizen. So this year, in this election, I'm asking you to join me, to reject cynicism and reject fear and to summon what is best in us; to elect Hillary Clinton as the next president of the United States and show the world we still believe in the promise of this great nation," he said.
Obama, 54, said the November 8 presidential elections were a "fundamental choice" about what the country is and the very "meaning of our democracy", and "not just a choice between parties or policies; the usual debates between left and right."
He endorsed Clinton for having a first-hand knowledge of the challenges that come with the job and contrasted it with the lack of experience of the Republican nominee – a non-politician.
"You know, nothing truly prepares you for the demands of Oval Office. Until you've sat at that desk, you don't know what it's like to manage a global crisis, or send young people to war. But Hillary's been in the room; she's been part of those decisions.
"He (Trump) is not really a plans guy. Not really a facts guy, either. He calls himself a business guy, which is true, but I have to say, I know plenty of businessmen and women who've achieved success without leaving a trail of lawsuits, and unpaid workers, and people feeling like they got cheated," he said.
The third day of the convention also witnessed Vice President Joe Biden making an emotional valedictory speech and Virginia Senator Tim Kaine formally nominated as vice-presidential candidate.
"Ronald Reagan called America 'a shining city on a hill'. Donald Trump calls it 'a divided crime scene' that only he can fix. It doesn't matter to him that illegal immigration and the crime rate are as low as they've been in decades, because he's not offering any real solutions to those issues. He's just offering slogans, and he's offering fear. He's betting that if he scares enough people, he might score just enough votes to win this election," he added.
"That is another bet that Donald Trump will lose. Because he's selling the American people short. We are not a fragile or frightful people," Obama said.
Obama said democracy doesn't work if people constantly demonize each other.
"She (Hillary) knows that for progress to happen, we have to listen to each other, see ourselves in each other, fight for our principles but also fight to find common ground, no matter how elusive that may seem," he said.
Making a passionate plea to elect Hillary as his successor, Obama said time and again, they have elected him. "Tonight, I ask you to do for Hillary Clinton what you did for me. I ask you to carry her the same way you carried me," he said.
Indian-Americans in spotlight at democratic convention
The growing clout of Indian-Americans in US politics came to spotlight as three leaders from the community took the center stage at the ongoing Democratic National Convention that anointed Hillary Clinton as party's presidential nominee
Neera Tanden in her political debut at the national stage of the Democratic party, made a strong case for Clinton as the next president of the US
Ami Bera, an Indian-American Congressman, in his brief appearance said: "As the only South Asian member of Congress, as a member of the Foreign Affairs Committee, I support Hillary Clinton because she is the only candidate that understands the complexity of the world and is prepared from day one to lead America."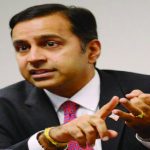 Raja Krishnamoorthi, an Indian-American Democratic Congressional candidate from Illinois, has been introduced as one of the party's emerging leaders during the convention.
Tim Kaine Accepts Vice-Presidential Nomination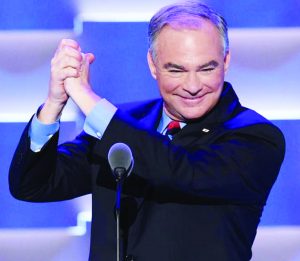 Democrats gathered in Philadelphia formally selected Tim Kaine as their US vice-presidential candidate, completing the party's ticket for the November election. Kaine, a 58-year-old senator from the battleground state of Virginia, was nominated by voice vote
The tickets are now set for both parties: Hillary Clinton and running mate Kaine for the Democrats, with Republicans Donald Trump and running mate Mike Pence, both of whom were nominated last week and their party's convention in Cleveland.
With working-class roots and a spotless record both as Virginia governor and senator, he is seen as helping Clinton garner support among reluctant independent male voters-although at the risk of alienating the party's progressive left wing.
Prez Trump? God help us: Bloomberg to voters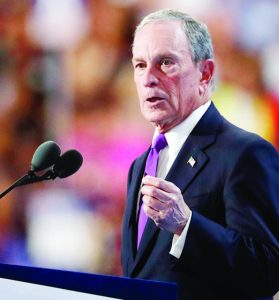 Independent former New York mayor Michael Bloomberg told divided Americans it was time to unite behind Hillary Clinton in order to defeat "demagogue" Donald Trump "Trump says he wants to run the nation like he's running his business? God help us," Bloomberg, who like Trump is a billionaire businessman, told the Democratic National Convention in Philadelphia
"I'm a New Yorker, and I know a con when I see one." He issued stinging rebukes to Trump, describing him as singularly unfit for the presidency and calling his business plan "a disaster in the making."