There were the six children, their mother and her boyfriend in Houston, Texas. The nine worshippers in a church in Charleston, South Carolina. The 53-year-old father who tried to stop three men ransacking a metalworker's minivan in Brooklyn. The 28-year-old mother of two in Indianapolis whose new husband shot her in the face 13 times. The two young reporters shot to death during a live news broadcast in Moneta, Virginia. And the thousands just like them whose deaths did not make the front page.
While many victims' names may quickly disappear from the public eye, their stories live on in the statistics that help us to understand the scale of gun violence in the United States. Below is a compilation of numbers that added up to a significant year in gun debate in 2015.
According to the Gun Violence Archive (GVA), a nonprofit website that scours more than 1,200 sources to track gun deaths and injuries in the United States, there have been more than 50,000 incidents of gun violence in 2015.
The numbers include everything from homicides and multiple-victim gang assaults to incidents of self-defense and accidental shootings. The organization's records show that more than 12,000 people have been killed with guns this year, but what its numbers do not record – due to government reporting practices – is a massive hole in the data: the nearly 20,000 Americans who end their lives with a gun each year. Nor does its already high injury tally capture the full extent of the victims who continue life with debilitating wounds and crushing medical bills. When the federal statistics for 2015 are released two years from now, the government's models will show tens of thousands more gun-related injuries.
---
Major Incidents / Shootings (order by severity)
San Bernardino
Roseburg, Oregon
Charleston, South Carolina
Chattanooga, Tennessee.
Colorado Springs, Colorado
Garland, Texas


---
Gun Violence in America: By the Numbers
MORE THAN 4 MILLION: Number of American victims of assaults, robberies, and other crimes involving a gun in the last decade
MORE THAN 30,000: Number of gun deaths in America each year
MORE THAN 20,000: Number of children under 18 killed by firearms over the last decade
MORE THAN 20,000: Number of Americans who commit suicide with a firearm each year
466: Number of law enforcement officers shot and killed by felons over the last decade
As of December 23, a total of 12,942 people had been killed in the United States in 2015 in a gun homicide, unintentional shooting, or murder / suicide.
---
Terrorism dominates headlines and budget lines while a more lethal scourge persists at home.
In his remarks following the mass shooting at Umpqua Community College on October 1, President Obama said he knew his outrage over the country's unrelenting gun violence would be interpreted by critics as "politicizing" the issue. Fine, he said, and asked news organizations to check the facts: "Tally up the number of Americans who've been killed through terrorist attacks over the last decade and the number of Americans who've been killed by gun violence, and post those side-by-side." Several did, and Obama's point was made: Amid the government's massive, justifiable effort to squelch terror threats, comparatively little has been done to address a problem that has claimed exponentially more U.S. lives. According to an October poll, 40 percent of Americans say they know someone who was fatally shot or committed suicide with a gun.
Mass shootings – as measured by four or more people shot, regardless of total fatalities – have taken place in nearly 100 metro areas over the past 12 months.
According to the Mass Shooting Tracker, a crowdsourced database of shootings in which four or more people are injured or killed, all but one major American city has had a mass shooting since 2013, with Austin, Texas as the lone exception. This year alone, nearly 100 metro areas have experienced mass shootings. The Tracker counts domestic homicides in its tally, as well as sprays of gunfire that wound several people at once – but often aren't counted among the San Bernardinos or Umpquas because the victims survived. Two such incidents year-old Adam Lanza fatally shot 20 children and 6 adult staff members occurred on Father's Day this year, when 10 people were shot at a block party in West Philadelphia, Pennsylvania, and 12 people were shot at a child's birthday party in Detroit, Michigan.
"This is not the time to be fearful," said Detroit Police Chief James Craig. "These are urban terrorists who do nothing positive for our neighborhoods."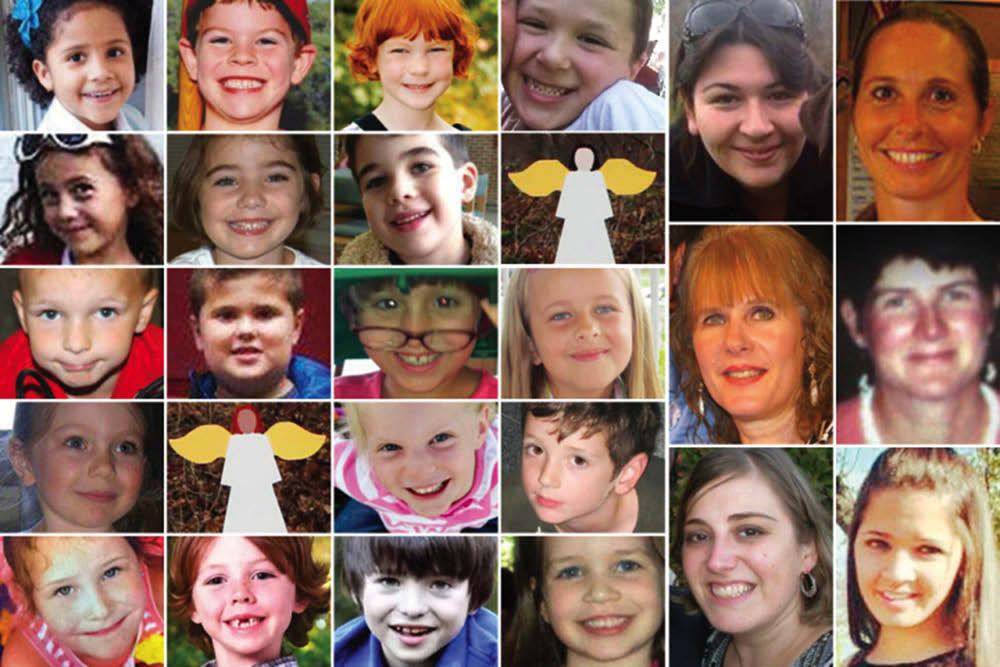 The vast majority of the nation's gun violence does not look like Umpqua or Charleston or San Bernardino.
Though mass shootings demand nonstop coverage, it's the shootings taking place in parking lots, bars, schools, bedrooms, and street corners across America that are responsible for most gun injuries and deaths.
Black men are disproportionately affected by gun violence.
A November ProPublica article noted that half of American gun death victims are men of color in "poor, segregated neighborhoods that have little political clout." Timothy Heaphy, a former U.S. attorney in Virginia, says this is precisely why they don't capture the public's attention. "I don't think we care about African-American lives as much as we care about white lives," he said.
At a rate of more than twice a day, someone under 18 has been shot and killed.
A remarkable 75 percent of children killed with guns this year have been under the age of 12. Since the mass shooting at Sandy Hook Elementary in Newtown, Connecticut, three years ago, an American child under 12 has died by intentional and accidental gunfire every other day, according to analysis by NBC News. And those children are far more likely to die from guns held by family members and acquaintances than strangers, according to an NBC News analysis of FBI data.
On August 18, 9-year-old Jamyla Bolden was killed by a bullet fired into her Ferguson, Missouri, home as she did her homework on her bed. "Usually when we hear the gunshots, she's the first one who yells 'Mom, they're shooting!'" her mother told KMOV.com, a local news station. "I noticed Jamyla wasn't saying anything. That's the main thing I remember: her not moving."
Unsecured guns have turned dozens of toddlers into killers – and many more into victims.
Kids younger than three have gotten ahold of guns and shot someone at least 59 times this year, a disturbing trend first reported by Christopher Ingraham at the Washington Post in October. Most often, these toddlers injure or kill themselves, but more than a dozen have shot other people, sometimes fatally. Gun violence prevention advocates say that gun storage requirements and the adoption of smart guns that only fire for their owners could reduce these deaths, but the gun lobby vehemently opposes such mandates. In November, after the Post's report, 20 Democrats in the U.S. Senate asked the Government Accountability Office to issue a report on the safe storage of guns in American homes.
Guns are now ending as many American lives as cars.
The comparative mortality rates – also first flagged by the Post's Christopher Ingraham – come from CDC figures released earlier this month. They reflect a larger story: While motor vehicles have been getting progressively safer, guns have killed people at a consistent clip over the past 15 years. Unpacking the numbers further reveals that firearm fatalities are holding steady while suicides by firearm have climbed along with the number of guns in circulation. Some theorize that medical advances are saving shooting victims who formerly would have died of their injuries.
A gun in a troubled home continues to raise the risk of death
This enduring statistic from a decade-old California Attorney General report emphasizes just how dangerous it is to introduce firearms into a turbulent relationship. In no state is that more pronounced than in South Carolina, which ranks first in the rate of women killed by men – a rate that is more than twice the national average. After several frustrated starts, South Carolina finally passed legislation this year limiting firearms access for domestic abusers -along with Alabama, Delaware, Maine, Oregon, and Vermont. But 17 states still do not have their own equivalent of a federal law banning criminal domestic misdemeanants from possessing guns, according to the Law Center to Prevent Gun Violence.
In one of those states, Georgia, Vanessa Soyer was gunned down in front of her 13-year-old son in their Lawrenceville apartment on November 16. A mother of four, the Harlem-bred Soyer, 47, authored a book about domestic violence. Her husband of 15 years, from whom she was in the process of separating, was arrested for the murder. "Nobody would've ever thought that the words from the pages of her books would become her reality," her GoFundMe page reads.
Gun sales in 2015 continued at a blistering pace.
The same day Robert Lewis Dear opened fire at a Planned Parenthood in Colorado Springs, Colorado, killing three and wounding nine, the FBI reported five percent more NICS checks than Black Friday last year, setting an all-time single-day record. If each of those checks resulted in a gun sale, it would means Americans bought enough new firearms to arm every active duty Marine.
8 % of gun owners own a stockpile of 10 or more weapons.
In an online survey of 3,000 people, Harvard's Injury Control Research Center found that 22 percent of Americans professed to own guns – and 25 percent of those gun owners own five or more guns. The Center's director, Dr. David Hemenway, told The Trace in October that guns in fewer hands might actually lower rates of gun suicide and accidental shootings. But the fact that these gun owners feel they must compile an arsenal raises another set of questions. "Who are these people and why do they have so, so many guns?" Hemenway asked. "And are they really responsible?"
Tens of thousands more stolen guns entered the illegal market – many a result of theft.
The advisories echoed from sheriffs in Jacksonville, Florida; St. Louis, Missouri; and Lafayette, Louisiana: Lock up your guns. More than 400 firearms were stolen from cars in Duval County, Florida, this year – and 60 percent of those were from unlocked cars. In St. Louis, reports of gun theft were up 70 percent in August, and cars and trucks were targeted far more than homes. A gun stolen out of a car in Lafayette was used to wound a police officer last year, and in Pinellas County, Florida, a gun stolen from an unlocked car was used to kill another officer. Stolen guns, which are increasingly showing up at crime scenes, were called "the engine of violence in Chicago" by police spokesman Anthony Guglielmi in August.
The increase in such thefts has sparked a debate about personal responsibility and gun ownership. The town of Orange, Connecticut, went so far as to charge a resident with misdemeanor reckless endangerment after he reported his loaded .38-caliber revolver stolen from his unlocked truck. Pro-gun advocates argue that stadiums and schools should be removed from gun-free zone designations, so people can carry their guns with them instead of leaving them in their cars. The bottom line, Jacksonville Sheriff Mike Williams said in November, is "be a responsible gun owner, take care of your weapon, lock it up."
American cities continue to seize illegal guns at an astounding rate.
The Chicago Police Department announced earlier this month that it confiscated 6,521 illegal guns in 2015, which it said works out to one gun every 90 minutes. But Newsweek analyzed the department's own figures and concluded that it's been more successful than advertised. "With 335 days so far this year and 6,521 guns removed, that is about 19 guns a day, or about one every 74 minutes," Polly Mosendz wrote. (In July, Adam Sege conducted a similar audit for The Trace, and determined Chicago Police were removing a gun off the streets every 75 minutes.)
Officers in Little Rock, Arkansas, took 118 guns off the street as of November 2015. Baltimore, Maryland, police estimate that they've seized nearly 3,500 illegal guns in the last 12 months.
Tyshawn Lee was the second 9-year-old boy murdered in Chicago in the last 15 months.
The gunshot wounds to his temples had to be sealed with wax. He wore a white tuxedo, red bow tie, white gloves, and red, size 5 gator-skin shoes, and his 25-year-old mother wore a white dress and a red hat to match. Tyshawn Lee was the second 9-year-old boy to be targeted and killed by gangs within the last 15 months in Chicago, and he was lured from a swing set in the Auburn Gresham neighborhood and murdered in an alley because his father allegedly belonged to a gang that may have been involved in the murder of the brother of one of the suspects. Peter Nickeas, the overnight crime reporter at the Chicago Tribune, detailed the days after the boy's death – during which a battle-hardened city found it still had the capacity for shock.
The 114th Congress is still hesitant to engage with the gun issue.
At a hearing on the third anniversary of the Sandy Hook shooting, California Representative Mike Thompson, chairman of the House Gun Violence Prevention Task Force, noted that Congress has held more than two dozen moments of silence since the massacre – but has not approved any gun safety bills. In March, Thompson, a Democrat, and Representative Peter King of New York, a Republican, introduced a bipartisan bill that would implement background checks on private gun sales. Since then it's been bouncing from one House subcommittee to another.
This was also the year that saw a backlash against politicians who offer "thought and prayers" after mass shootings but no legislative action. Left-leaning reporters noticed that the same lawmakers who only offered empty platitudes were highly rated by the NRA. On the evening of the San Bernardino shooting, Igor Volsky, a contributing editor at ThinkProgress, began Twitter-shaming them. One by one, he replied to three dozen Republican legislators' "thoughts and prayers" tweets with the amount they'd been given by the NRA – a total of $12.5 million.