LONG ISLAND, NY (TIP): The India Association of Long Island (IALI) held its 38thAnnual General Body Meeting on Dec 27, 2015at Mint Restaurant in Long Island. It was attended by anoverwhelming record crowd of over 200 IALI Membersin good standing. Quite a few Past Presidents, who are considered pillars of this esteemed organization like; Mr. Rajeshwar Prasad, Dr. Dev Chitkara, Dr. Jagan Pahuja, Dr. Sharwan Bagla, Mrs. Gitanjli Anand, Mrs. Avinash Suri, Indu Jaiswal, Mr. Satpal Malhotra, Mrs. Sampurna Jain, Dr. Jagdish Gupta, Dr. Sukhvinder Ranu, and Mr. Gobind Munjal were in attendance. The meeting started with a 20 minute stylized big screen presentation of IALI's multi-faceted year-long programs for 2014 and 2015. IALI President Mr. Satnam Parhar then presented the Report for the year 2015, itemizing IALI's successful on-going programs and events.
Mr. Parhar stressed that the main objective of his presidency was to realize the dream of owning the IndiaCenter for IALI members, which he was happy to see that mission accomplished. He stated that IndiaCenter has given IALI the ability to expand their programs in addition to increasing the frequency of the many existing programs including doing their monthly and weekly meetings. His vision was to start small, as we have to start from somewhere, and then grow into a bigger & better place. He was happy to report that we managed to get the Real Estate Tax Exemption backdated from Day 1 from the NassauCounty and NYS. President thanked all the India Center Committee members, especially Mr. Gobind Munjal, the Chairperson of India Center Committee, without whose help, it would not have been possible to achieve this eluded dream of owning India Center. He invited him to say a few words.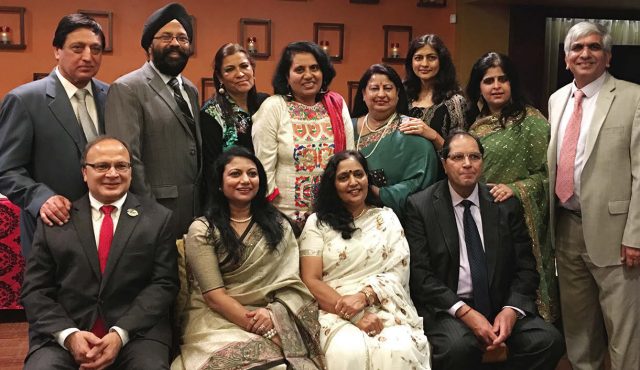 Mr. Gobind Munjal, India Center Chair thanked everybody from the bottom of his heart for the support given to him by the Past Presidents, Executive Council Members and India Center team, especially the President Mr. Satnam Parhar, Vimal Goyal and Gunjan Rastogi and the IALI general membership in helping him achieve this long standing dream of owning India Center, which was close to his heart and he had developed a passion for it since his presidency in 2011. Both Mr. Munjal and Mr. Parhar thanked all those, who contributed / donated funds to buy the building for IndiaCenter and said that all the Diamond. Gold and Silver Donors name plates are being prominently displayed in IndiaCenter and the Bronz Donors names are also being listed and displayed there. They particularly thanked the Diamond Donors Jeet & Late Dr Sanjeeva Nayak and Elizabeth & Dr. Dev Chitkara for their dedication and support for the IndiaCenter. Gobind Munjal then recognized all Donors and read out their names.
President then asked the IALI Treasurer Mrs. Gunjan Rastogi to present her Treasurer Report to reflect upon the funds collected for India Center to the tune of $140,000 in donations thereby increasing the Assets / Net Worth of the organization from $328,000 to about$460,000 and the cash balance of over$100,000 left in the bank accounts, after buying the building, to be handed over to the new executive council of 2016.
President, Mr. Satnam Parhar then presented awards and plaques to all IALI's Executive Council Members, Chairs, Committees Members, who had served IALI diligently for the entire year 2015 in recognition of their hard work and selfless service. IALI Secretary Ms. Rekha Valliappan gave the vote of thanks to everyone present.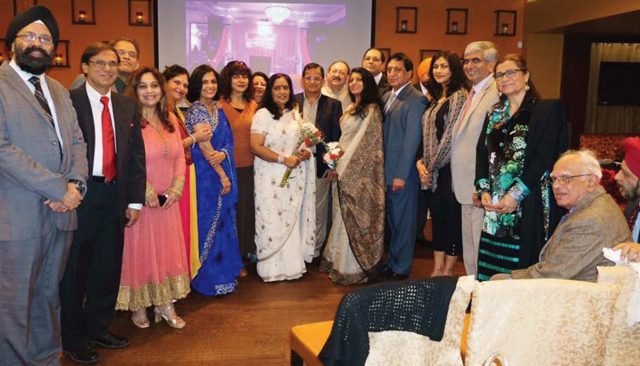 Election Committee Chair – Mr. Satpal Malhotra announced the incoming Elected Officials for the Year 2016.
PRESIDENT – MRS. BEENA KOTHARI
VICE PRESIDENT – MRS. GUNJAN RASTOGI
SECRETARY – MR LALIT AERY
TREASURER – Mr. VIMAL GOYAL
8 MEMBERS AT LARGE – Mrs. Saroj Aery ; Mr. Hargovind Gupta; Mrs. Kiran Gupta; Ms Anu Jain; Ms Amita Karwal; Mr. Sushil Khanna; Mrs. Veena Lamba; Mr. Mohinder Miglani