NEW YORK (TIP): A film "India Awakes" was screened at the Indian Consulate on December 14. The screening was followed by interaction with the crew of the movie.
The film focuses on the many genuine success stories of the millions of people in India who have risen out of poverty. It depicts the life of three individuals who are from different backgrounds, but with economic freedom, how they find prosperity and make a better life for themselves.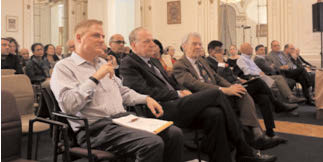 After the screening, three participants in the film's creation participated in Q & A session moderated by Consul General Dnyaneshwar M. Mulay: Bob Chitester, executive producer, Tom Palmer, executive vice-president and James Tusty, writer, producer and director. The screening was attended by people from different fields of the film industry as well as prominent Indians and mainstream people.