NYC: An Indian-origin woman faces 25 years to life in prison in the NYC for strangling her 9-year-old step-daughter to death as federal prosecutors charged her with murder and her ex-husband for obstructing the investigation.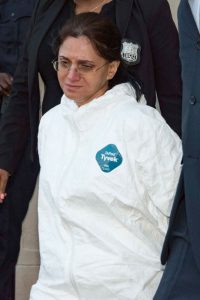 Arjun Shamdai Pardas, 55, was arraigned on Sunday, Aug 21, before Queens Criminal Court Judge Gerald Lebovits on a criminal complaint charging her with one count of second-degree murder – an intentional killing that is not premeditated – of Ashdeep Kaur.
The little girl was tossed around and hit — but adults in ­9-year-old Ashdeep Kaur's life didn't think too much about it until she was found dead in an empty bathtub.
"That is how we grew up in Punjab. I was thinking, 'It's normal, it's OK. It's family,' " said Ashdeep's uncle, Manjinder Singh.
The petit woman held back tears as detectives walked her out of the precinct in Richmond Hill, Queens, in handcuffs Saturday, Aug 20, night — then burst into sobs in the car.
The girl from Punjab, India, had been entrusted to Pardas' care, even though relatives knew Ashdeep had accused her of abuse.
Raymond Narayan was accused of helping his ex-wife Shamdai Arjun Pardas leave her home after allegedly strangling her stepdaughter and trying to hide her in his house, Ron Brown, the top public prosecutor for the New York city district of Queens, said in a statement on Sunday.
"This is a horrifying case of a child, a defenceless nine-year-old, who was left in the care of her stepmother who allegedly strangled her to death," Mr Brown said. "Her actions, if true, are beyond comprehension and must be severely punished."
Judah Maltz, Pardas' lawyer, asked the judge to place her in protective custody in jail, the New York Daily News reported.
This will keep her away from other prisoners as New York jails are notorious for brutal attacks by fellow inmates on those accused of heinous crimes, especially those involving children.
When authorities produced her in the court, she wore a white jump suit made of a tough plastic material, Tyvek.
Mr Maltz said the 55-year-old Pardas denied killing the child and claimed there was no proof that she did it.
Michael Curtis, the assistant prosecutor, made chilling new revelations in the court. He said that on Tuesday Pardas had told Kaur's father, Sukhjinder Singh, 35, that she would kill the child, the News reported.
She had "repeatedly and on numerous occasions threatened to kill the victim", Curtis said. "On Friday, she made good on this threat."
Mr Curtis told the court that circumstantial evidence that Ms Pardas killed the child is "overwhelming", according to the News.
Mr Brown gave the following account: Narayan, who is 65 years old, was seen by a witness leaving Singh's house in Richmond Hill around 5.30 p.m. on Friday with Ms Pardas and two of her two grandchildren.
When detectives went to Mr Narayan's house in South Ozone Park he kept them at bay for over an hour refusing to come out or letting them in, before relenting and coming out.
Mr Narayan and Ms Pardas were then arrested. He is charged with "obstructing governmental administration" and faces a year prison if convicted. Ms Pardas faces 25 years to life in prison.
Ms Pardas told a witness as they were leaving that Kaur was in the bathroom and waiting for her father to pick her up.
The witness called the child's father and said that the light had been on in the bathroom since 11.30 a.m. Singh asked the witness to break open the door and the child was found dead in the bath tub.
This is the second recent incident involving step-mothers of Indian origin in New York city.
Last month 35-year-old Sheetal Ranot was convicted of slashing her 12-year-old step-daughter with a broken metal broom handle and cutting her left wrist to the bone, Brown said.
Sheetal Ranot and her husband, Rajesh, of Ozone Park were also accused of torturing Maya Ranot for two years, Brown said.
They locked her up in a room without food or water long periods of time and when she was found by authorities she weighed only about 26 kg.
Sheetal Ranot faces up to 25 years in prison. Mr Rajesh is waiting for his trial. They were both arrested in 2014, but the first case came up for trial only last month.
Richmond Hill has a sizable population of people of Indian descent, while South Asians have a significant presence in the Ozone Park neighbourhoods.
Ms Pardas, who faces up to 25 years to life in prison if convicted, was ordered held without bail.
She will return to court on September 2.