NEWYORK (TIP): Continuing its series of monthly Media – India lecture series, Consulate General of India in conjunction with South Asian Bar Association of New York hosted yet another prominent dignitary, the Hon'ble Raja Rajeswari, first Indian born American woman to become criminal court judge in New York City. Ms Rajeshwari, who migrated to the US at the age of 16, was sworn-in as a criminal court judge by Mayor Bill de Blasio.
The Consul General Dnyaneshwar Mulay in his welcoming remarks spoke about Ms Rajeswari's accomplishments and how she has become an example for all other women, especially coming from India. During her speech Ms Rajeswari spoke about her journey to this position she occupies through hard work and determination. She said that for her, this appointment is like a dream come true and way beyond what she had imagined for herself. She  hopes to use her new position to improve the judicial system by encouraging interpreters to have more access to aid immigrants. Her special intention has been helping women and children to get justice in their lives.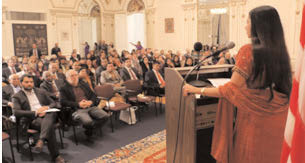 Besides her legal career, Ms Rajeswari is an accomplished Bharat Natyam and Kucchipudi dancer who continues to perform at Indian events and temples with her troupe from the PadmalayaDanceAcademy, named after her mother, Padma Ramanathan. The lecture was followed by Q & A session moderated by the Consul General followed by dance performance by the students of Padmalaya Dance Academy. The event was attended by Indians and alike representing diverse backgrounds. The event concluded with a dinner reception.