Satnam Singh Parhar has been involved with the I.A.L.I. for almost two decades. He has been an Executive Member since 2008 and a Member-at-Large for four years. He was Vice President prior to his election as President. A resident of Long Island for the past 38 years, Parhar is an established businessman in the Development and Construction Industry. Parhar has made significant contribution in the socio-cultural arena. He is the Founder of Sant Baba Nidhan Singh Ji Cultural Society and Founder and Chairman of the Rajput Cultural Society. He is an Executive Committee Member of Gurdwara Sant Sagar, Bellerose and an Executive Member of the Sikh Cultural Society, Richmond Hill. He has been active in spreading awareness about the Sikh religion and identity and has visited various airports, schools and police stations to educate the community about Turban and the Sikh community at large.
A lover of sports and a fitness buff, Parhar is a sportsman himself. Recently, he participated with Dr. Avtar Singh Tinna in the New York City Marathon and ran all the way. At his inauguration on January 12, he listed his priorities in the year 2014. They include celebration of festivals (Holi, Vaisakhi, and Diwali amongst other festivals as per demand), musical evenings organized by IALI Sangeet Forum, annual picnic, soccer and cricket tournaments, health fair, leadership and business seminars, essay competition, a walk for breast cancer awareness, activities of Women's Forum, Seniors Forum and Sangeet Forum, Youth Forum and Men's Forum. Also included are walks and a runs in which all- young adults, older adults, seniors, children, men, women of any age will participate. "We continue to raise funds for Interfaith Nutrition Network and Rotacare. I would like to support other charitable causes also", said Satnam.
Vice President: Bina Sabapathy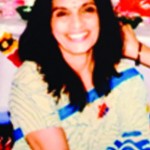 Bina Sabapathy- Vice President
Born and brought up in Udupi, Southern part of India, Bina graduated from SPP College with a double major in History & Economics and minor in Sociology. She speaks Hindi, Kannada, Tulu, Konkani &Tamil, and understands Telugu, Marathi and Gujarathi. Back home she was very active in many organizations; to name a few: Jaycees, Lions Club, Bantara Yane Nadavara Sangha, an active volunteer of Vishwa Hindu Parishad, Jana Sangha and Swayam Sevaka Dala. After coming to America, her interest for community services got her involved with IALI. She worked behind the scenes for many years. During Dr. Anila Midha's term, she became a member-at-large. She was a member-atlarge for 4 years, and then became a Treasurer for 2 consecutive years, and now serves as the Vice President.
She says, " I gained a lot of knowledge and learnt about the ins and outs of the organization. I have also been well recognized for my involvement in other organizations such as: AWB Food Bank, IAF, IDP, SAPAC, Arya Samaj, the Hindu Center, and the Vedic Heritage. As a Fund Raising Director of the Vedic Heritage, I have been honored by Her Holiness Prathama Parvathyacharya Guru Maa Jyothishyanand Saraswathi with the " Uttam Sewa" award." She is married to Mr. V.K. Sabapathy, a Mechanical Engineer and has lived in the neighborhood of Plainview-Old Bethpage for more than 27 years. She has 3 children, Kalpana (Lawyer), Karthik (Medical Student), and Karunya (aspiring Veterinarian).
Secretary: Rekha Valliappan

Rekha Valliappan – Secretary
Rekha Valliappan says she has been "looking forward enthusiastically to her second successful term as Secretary of the India Association of Long Island (IALI)". Her community service and involvement with IALI for many years now has been at a variety of different levels – as Member-at-Large, on Senior Forum and Women's Forum Committees and as Editor and Co-Editor for the IALI Newsletter and Annual Journals. With a Master's Degree in English Language and Literature and an LL.B. London (Honors) Degree in Law she has been able to successfully put her learning and copious copy-writing skills to good uses to help many other individuals and Organizations.
Her publications in local newspapers are several. She hails from Bombay, is widely traveled and comes from a community-service driven family with strong ties to Rotary, Lions and Jaycees International to name a few. In her student days she was known for her natural flare in a wide range of extra-curricular activities which she retains at her core. Two of her three beautiful children are third generation Rotarians dexterously following in the footsteps of their parents and grand-parents. Her passion is poetry, arts, drama, reading and writing. She writes short stories, articles and blogs. She also loves music and dance – Indian, western, contemporary and classical.
Treasurer: Gunjan Rastogi

Gunjan Rastogi – Treasurer
Gunjan has been affiliated with IALI for several years and has served in various capacities with the organization including Membership Co-Chair, Member-atlarge and Cultural Co-Chair. In addition, she has served in leadership roles with many other organizations. An entrepreneur, Gunjan has successfully conceived and executed a business/financial plan to own her businesses in senior care for the last 12 years. Prior to that, she spent 10 years as a Technical Programmer /Analyst for many of Wall Street's leading firms. With a passion for the arts, Gunjan is an accomplished dancer who has won numerous awards for dance performances and choreography. In her spare time, she enjoys karaoke with friends. "I thank the IALI members for electing me as Treasurer. I'm very excited for this opportunity and look forward to a very successful 2014", said Gunjan.