This is the story of an Indian woman who is now globally recognized as an award winning poet, author, educator and a celebrated journalist, whose inspirational journey to success could be a role model for many who want to make a mark in the society on their own.
A native of Jaipur, Dr Rashmee Sharma earned several awards as a journalist and took up teaching, serving as the English department chair at Sikkim. But at a young age Rashmee lost her husband who was in Indian military forces.
In early 80s, Sharma packed up her two young children and moved to the United States to pursue her Ph.D. in literature. While continuing to publish her features and poetry, Dr. Sharma taught journalism and literature at the University of Washington in Seattle, where she developed the concept that would eventually become her passion.
While teaching there, Rashmee sensed a distinct lack of cultural awareness of amazing South Asian achievers amongst her students. "The genesis of Roshni began about in the early 2000, once I discovered a distinct lack of recorded documentation of profound contribution inspirational role models have made in the US", said Rashmee. Eventually she became driven to combat these stereotypes and educate Americans regarding the diverse and often stellar contributions of the South Asian community.
In a quest to educate people about south Asian contribution she would spend hours in the library to collect documentation. She went on to conduct exhaustive research, digging up press coverage of the world's foremost thinkers and achievers, and interviewing them.
After many hours of research and miles of travel, in 2005, Roshni: The Light of South Asia – a coffee table book on valuable contributions of people of Indian origin was first launched in the US featuring over 100 prominent South Asians including Vijay Amrithraj Ashok Amrithraj, and Mira Nair.
"It's my hope via Roshni to reach the first and future generations by building a bridge to communicate pride, strength and sacrifice of the first generation immigrants. My intent is also to focus on enlightening and making younger generation proud of our heritage and culture", she explains.
It soon became clear that people were looking for more inspirational stories. In 2012 Rashmee released the second book – this time to cover North America including Canada. This offers professional profiles and in-depth interviews with 56 people of Indian origin who have achieved stellar success in the United States and Canada. Roshni, the Light of South Asia: North American Edition features Gov. Nikki Haley, Fareed Zakaria and Salman Rushdie among others. Their third Coffee Table book on Global & Emerging Leaders was launched last year.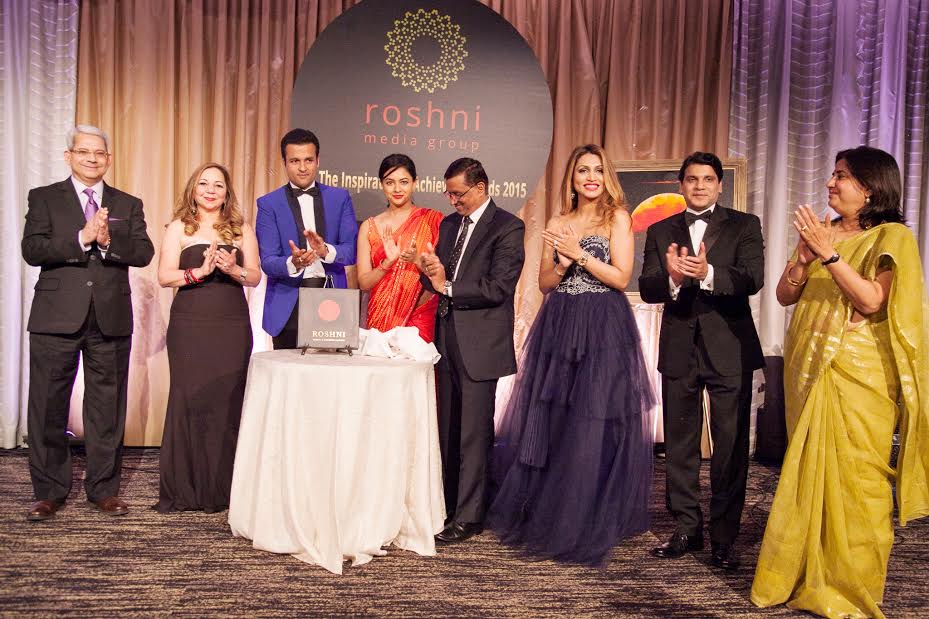 Armed with the wealth of her findings, Rashmee, envisioned creating a first ever comprehensive documentation which is now- 15 years later become a multi-media platform to celebrate diversity- Roshni Media Group. Interestingly while researching and working on her third book on Global and Emerging Leaders, Rashmee interviewed Mani Kamoboj who is an accomplished woman. Rashmee and Mani hit it off instinctively driven by similar passion and objective that lead to becoming partners in Roshni Media Group in 2013. Since then there was no looking back. They have together worked hard to take the next step of recognizing Roshni Honorees in an awards gala which was first organized in May 2015, in NYC.
Roshni Media Group will also announce the nonprofit organization committed to create Global Autism Awareness.
I added a video to a @YouTube playlist https://t.co/z2SJkPnmGo Roshni Media Inspirational Achievers Awards May 29 2015

— @Roshni Media (@RoshniBook) May 18, 2016