In 2015, Indian government imposed a temporary ban on pornographic websites, but Indians remained one of the world's biggest consumers of online porn. PornHub, one of the world's largest adult websites, found India was its third biggest contributor to global traffic last year.
When it comes to traffic worldwide, India came in third place with 9 minutes and thirty seconds of average time spent, one up from where it was in 2014. The USA and UK still occupy first and second place respectively.
PornHub—in its third edition of the annual review—recorded 21.2 billion visits in 2015. That's 40,000 visits every minute or 2.4 million per hour. And the average time spent on PornHub during each visit increased by four seconds—from 9 minutes 16 seconds to 9 minutes 20 seconds.
There's a big difference in the numbers of porn-loving men and women in India, but the gap seems to be gradually closing in. From 26% in 2014, the proportion of women viewers spiked to 30% this year. That's better than the 24% average proportion of female visitors worldwide. On the list of countries with the highest proportion of women visitors on PornHub, India ranked third.
The most famous keyword in 2015 among Indians was "Indian." And everything related to Indian, including bhabhi (sister-in-law), aunty, and teen. Gaining keywords are those that recorded the most spike in terms of searches. For India, that phrase was Indian bhabhi devar (Indian sister-in-law and brother-in-law).
Sunny Leone is an undisputed favourite among Indians. Even in 2014, she had emerged as the most searched pornstar. Lebanese-American porn model Mia Khalifa emerged as the second-most searched pornstar this year. After Leone and Khalifa, Lisa Ann ranked third among the most searched pornstars. Ann was at the second position last year. Across the globe, Kim Kardashian is the most searched for pornstar, followed by Khalifa, Ann, and Leone.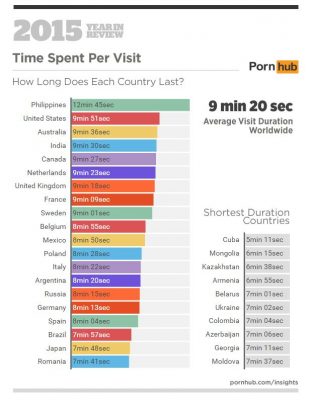 Across the world, there was a fall in traffic during holidays. In India, two festivals stood out in 2015—Ramadan (June 15), when the traffic from India fell 15%, and Raksha Bandhan (a holiday to show love for your siblings), when the traffic fell by 10%. On New Year's Eve, too, traffic from India fell 21%. Globally, the fall was even bigger—at 44%. During Christmas, however, India saw a slight rise in traffic. On Christmas Eve, traffic from India increased 1% as against 39% dip worldwide. On Christmas Day, the traffic spiked 2% as against 18% drop globally.