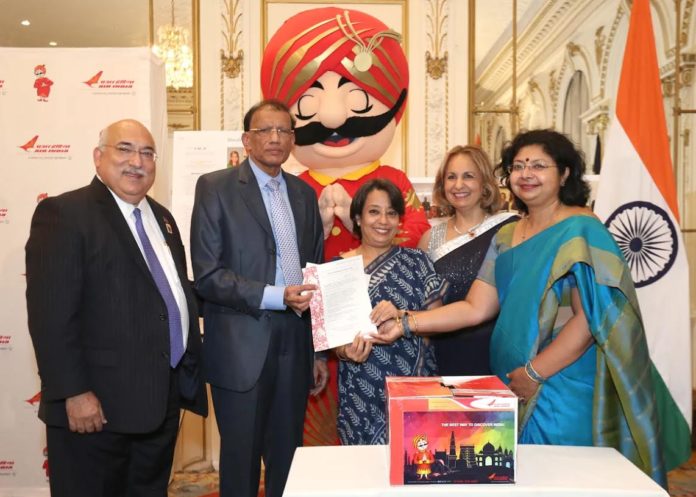 NEW YORK CITY (TIP): India's national carrier Air India (AI) made this Diwali very special for Indians living in the USA by offering a unique gift. On October 5 the United States Postal Service released the Diwali Forever stamp at the Consulate General of India where AI announced that they are giving 10 Air India free Return tickets to India for promoting Diwali stamp.
The Air India Raffle in support of the Diwali Stamp that took place on Thursday, October 20at the Consulate was actually a continuation of Diwali Stamp release celebration.All who purchased Pre-Sale Diwali Stamps through DSP and/or purchased at CGI-NY on the first day – when USPS dedicated and unveiled the stamp were eligible for the Raffle Draw.
In her welcome speech Ambassador Riva Ganguly Das, Consul General of India said, "This very prolonged Diwali celebration shows the strength of our community. It reinforces the recognition of Indians here."
Diwali Stamp Project ChairRanju Batra hailed the 'Selfless Support' of AI that helped boost the sale of Diwali stamp that created history by beating every record of first day sale of any stamp in the USA.
Vandana Sharma, Regional Manager, Air India in her speech touched upon the 'Huge emotional connect' between people of India and Air India that continues generations after generation. "We supported Diwali Stamp Project because it's symbol of recognition and inclusion for Indian community here." She also took this opportunity to speak about how AI is regaining its health and expanding in a big way. AI is doubling the number of flights between San Francisco and Delhi, which was launched last year. The flying time is also coming down to 15 hours, as it will take unique route by crossing the Pacific while coming and fly over Atlantic while returning. Similarly, Air India launched a direct flight from Newark to Delhi via London.
After the lucky draw, winners were declared. TV Asia CEO HR Shah, Madan Goel, Neeta Jain, Dr Dhaval Shah, and Ranju Batra got the AI tickets for buying stamps worth 10,000 dollars or more. Others included Shashi Ravi and Surinder Kathuria.
Ravi Batra, Esq., Chair, National Advisory Council South Asian Affairs moderated the event.