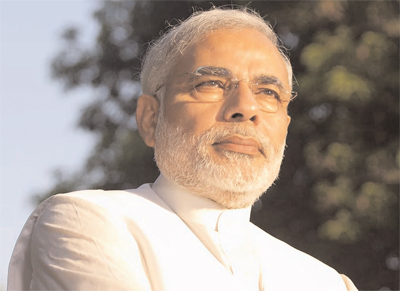 WASHINGTON: Supporters of Gujarat chief minister Narendra Modi are rallying to provide him a platform to address overseas constituents after a small group of liberal and leftist activists in the US nixed what would have been only a virtual engagement between him and students of the Wharton business school at an annual forum. Modi will address US audiences in Edison, New Jersey and Chicago "live from Karnavati" (the Hindu-ised name for Ahmedabad) on March 9, the Overseas Friends of BJP said on Tuesday. The move comes days after a group led by three Indian-American academics from the University of Pennsylvania (UPenn) campaigned successfully to scupper an invitation to Modi from Wharton business school alumni, who are hosting the Wharton- India Business Forum (WIEF) on March 22-23. Meantime, rescinding of the invitation to Modi speak at the Wharton forum has been criticized in several quarters.
Some saw it as an insult to India itself, while others felt that Modi, who would have been speaking over a satellite link given the ban on his physical entry into the US, after revocation of his US visa by the Bush administration, should have been heard and grilled about his record. The Obama administration has not reversed the visa decision.
While Union Minister Shashi Tharoor was among those in India who felt Modi should have been heard and challenged at the Wharton forum, similar sentiments were expressed by people from different quarters and varied interests in the US. Eni Faleomavega, a lawmaker who argued in Congress last week that the US should resume dialogue with a person who could be a future prime minister of India, said Wharton has erred in shutting out Modi. "Universities are a place for divergent views. For Wharton to suppress the views of some at the expense of others simply is not right," he said in a statement. "It is disappointing that Wharton rescinded its invite in response to a protest from a segment of professors and students who are reaching beyond the law and coming awfully close to violating the rights of others who have a different view," he added. Two other invitees to this year's Wharton Forum also criticized the student body decision, which some have suggested was influenced by UPenn administration and faculty and others have said goes against the free speech principles of the university's founder Benjamin Franklin, one of America's Founding Fathers. "If Wharton students have traditionally decided upon speakers for the 17-year-old conference, then why should faculty — from outside the business school at that — suddenly demand a say?" Sadanand Dhume, a Fellow at the American Enterprise Institute, asked in a Wall Street Journal blog.
Disclosing his decision to pull out of this year's speakers' panel following the Modi flap, Dhume wondered how seriously could one could take a conference on India's economy if it "doesn't have space for the leader of arguably India's best performing state, one whose achievements are routinely noted in the international press." However, those who campaigned to shut out Modi maintained that his claims are bogus and allowing him to address the conference "would help contribute to his efforts to sanitize his government's record." But Ron Somers, who as president of the US-India Business Council (USIBC) has been a votary of strong business ties with the state, and who attended the Vibrant Gujarat summit this year, termed the UPenn/Wharton decision "unfortunate and disrespectful," and felt the institution came out poorly on the issue of free speech. "The Wharton Forum would have given the students a chance to ask the Gujarat chief minister hard questions," he told PTI, pointing out that Modi had agreed to a "no ground rules" questioning, and it was condescending on part of the faculty and administration to assume that the students would have given the chief minister a free pass.
Even the ethnic Indian-American media in US panned the UPenn/Wharton decision. "We wonder why these three astute advocates of democracy and their supporters feel so intellectually unequipped to engage Modi, who recently was reelected in a landslide, in an open public debate on these questions at a forum on their own territory," the magazine Little India said in an editorial, referring to the academics who led the campaign against Modi. "The censorship of Modi by Wharton is borne of the same loom of intolerance his opponents inveigh against." Modi's natural constituency of selfdescribed Hindu-Americans also piled on to Wharton. "Political gamesmanship won over business savvy, and the losers are not just the students, but free speech, democratic ideals, and the leaders of Wharton and Penn," Aseem Shukla, an associate professor of surgery at UPenn, who is also the a co-founder of the Hindu American Foundation (HAF).