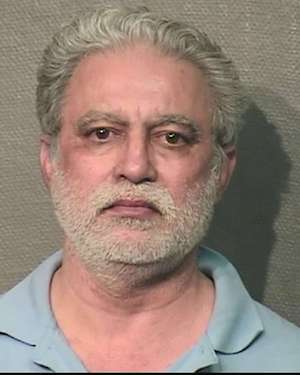 DALLAS(TIP): An Indian American man was arrested last week for allegedly trying to hire a hitman to kill four people, including his ex-girlfriend.
According to the official press release of the Harris County District Attorney's Office, Rajesh Bakshi, 54, was arrested on April 17, after his plot to murder four Houston residents was foiled by an undercover police officer who pretended as the hitman.
Bakshi, a jilted-lover, wanted to kill his ex-girlfriend, her current boyfriend and her parents, and hired a hitman by paying a down payment of $1,500, said DA's office.
"This operation saved lives in a very sensitive situation," District Attorney Kim Ogg said. "Imagine how bad this could have been had it not been uncovered before it got to a real hitman."
The DA's office said Bakshi has been harassing the woman, whom he dated some time ago, for months before hiring a killer to wipe her and her family.
The woman reported to the court that Bakshi has been subjecting her to violence while they were in a relationship and after being rejected he started harassing her and the family.
It has been reported in the court document that the undercover police official disguised as a hitman was instructed by Bakshi to sprinkle cocaine near the bodies, once he completes his contract.
He also reportedly guided the contract killer on the pattern and method in which each member on the hit list has to be murdered. Bakshi insisted the police officer also take photographs of the victims once his mission is complete.
When he was arrested, Bakshi had nearly $13,000 in cash with him. If found guilty of solicitation of capital murder, Bakshi may face life imprisonment.
Bakshi, who is an employee at Dixie Corner Store, lives in Pearland with his wife, a 14-year-old son and twin daughters. His bail is set at $150,000 for each count.
Bakshi's lawyer has requested the court to put his bail at $30,000. The lawyer told the court that he has a history of health issues, including diabetes and neurological disorders.
Bakshi, an Indian citizen, has also been asked to surrender his travel documents.