NEW YORK CITY (TIP): Diwali this year is a special one, with the USPS issuing a commemorative Diwali stamp. The month of October is very special for every Indian as it has the honor of having the birthday of one of the greatest sons of India-Mahatma Gandhi. But now onwards, 5th October is going to be very special for millions of Indians living in the USA. It was a moment of great pride for every single Indian American to stand and be counted at the Indian consulate in New York City on October 5, 2016 at the first-day-stamp. The commemorative stamp release is actually a 7-year "saga" of relentless journey of Diwali Stamp Project ChairRanju Batra who had, despite all odds, persevered and won for 1.3 billion Indians a US Diwali commemorative stamp. In her journey, Ranju got overwhelming support from the community and everyone was ecstatic to be part of the history making event.
"I am very honored to be part of history as the United States Postal Service releases the Diwali Forever stamp at the consulate today," said Ambassador Riva Ganguly Das, Consul General of India.
India's national carrier Air India was also part of this historic event. Vandana Sharma, Regional Manager, Air India told TIP that they are giving 10 Air India Return tickets to India for promoting Diwali stamp. Air India Maharaja was seen holding the Diwali stamp with Ranju Batra, Vandana Sharma, Ravi Batra, Mohan Kothekar, Aban Chavda and others from Air India, in attendance.
The event was full of entertainment with everything Indian at core – lighting of the lamp, unveiling of the stamp, presentation of Bollywood entertainment with Bhangra and Punjabi Dhol.
The Consulate probably has never seen before such huge crowd, as on this very special and historic occasion. The rooms were packed to capacity, with many standing to watch the proceedings. There were endless lines of people eager to buy Diwali Stamps. In fact, USPS ran short of the stamps. Some of those who had already paid also were disappointed, as they could not get the stamps. Ranju Batra alone had sold 100,000 stamps before the day of retail sale on October 5.
The stamp design is a photograph featuring a traditional diya oil lamp beautifully lit, sitting on a sparkling gold background. Diya lamps are usually made from clay with cotton wicks dipped in a clarified butter known as "ghee" or in vegetable oils.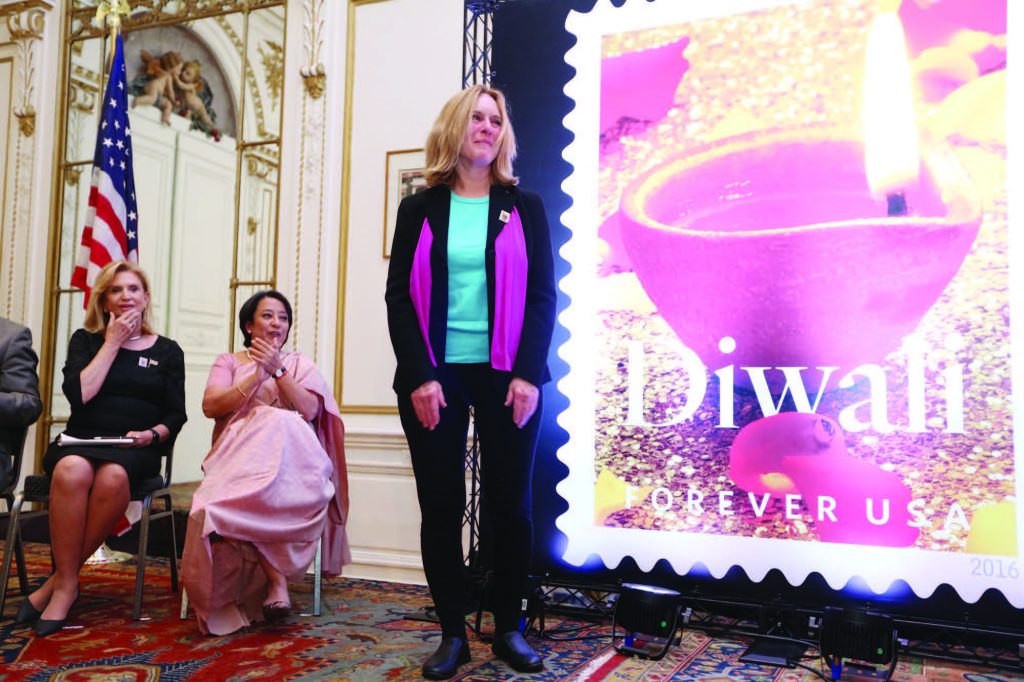 Sally Andersen-Bruce of New Milford, CT, photographed the diya. Greg Breeding of Charlottesville, VA, designed the stamp and William J. Gicker of Washington, DC, served as the project's art director.
The Diwali stamp has been issued as a Forever stamp. This Forever stamp is always equal to the value of the current First Class Mail 1-ounce price. "The Postal Service is honored to issue this Forever stamp that celebrates the Festival of Diwali," said U.S. Postal Service Vice-President of Mail Entry and Payment Technology Pritha Mehra. "We hope these stamps will light up millions of cards and letters as they make their journey through the mailstream."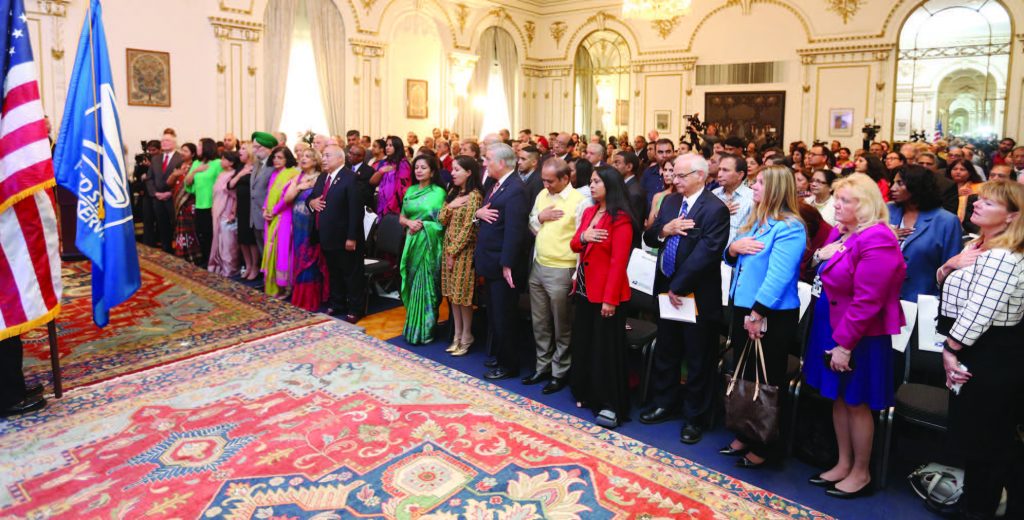 Ranju's biggest supporter – her husband Ravi Batra, Esq., Chair, National Advisory Council South Asian Affairs whoof-issue dedication ceremony of the Diwali served as emcee of the event was elated as well. "Since the start of the American Revolution, destiny has beckoned the United States and India to be the closest allies. The Diwali Forever stamp represents nothing short of respectful inclusive indivisibility: E Pluribus Unum – within America and between two sovereigns."
In her speech Ranju described how getting USPS issue a Diwali Stamp became part of her daily life. Wherever she went, whomsoever she met – be it President Obama or Prime Minister Modi – she persuaded for the stamp, as she felt that though Diwali holds a great significance for millions of IndianAmericans and well over a billion people across the globe, the United States Postal Service has not recognized this beautiful festival of lights with a commemorative stamp, although it has done so for other major religious and cultural holidays such as Christmas, Hanukkah, Kwanzaa, and Eid.
"While this journey may have taken years, the Postal Service has issued a Diwali stamp that will continue to resonate forever," said Ranju. "Now for the first time there is a stamp that celebrates Hindus, Sikhs, Jains and Buddhists as Americans forever. Our heartfelt thanks to all of those who have supported this stamp. The Diwali stamp will be a matter of pride for generations to come."
Though Ranju now has the feather in her crown for winning the 'battle', it may rightly be recalled that a few other Indian community leaders here in New York and elsewhere in the US had also tried for Diwali stamp but could not succeed.
One such person who in fact had initiated in this respect is a senior community leader and a business leader of New York Indian American community, Shiv Dass who as President of Jackson Heights Merchants' Association had as far back as 2003 taken up the issue of a Diwali Stamp. Mr. Dass was very pleased at the unveiling ceremony of the Diwali Stamp and told The Indian Panorama that he felt as if his effort to have a Diwali Stamp had culminated after so many years. He had great praise for Ranju. "We tried a lot but eventually gave up. I'm happy that Ranju finally got this job done which was our dream."
Mr. Sante Chari who came all the way from Dallas, Texas, showed to The Indian Panorama a couple of letters he had managed to obtain in support of Diwali Stamp from lawmakers a couple of years ago. He mentioned how he had lobbied with lawmakers in Washington DC to have a USPS stamp in commemoration of the Hindu festival of Diwali issued.
India's former Permanent Representative to the United Nations Ambassador Hardeep Singh Puri feels that Ranju's 'sensible propagation' of the agenda brought her the success. "It is not the strength of the number of petitions but doggedness and perseverance on the part of Ranju Batra that she achieved success whereas others dropped midway.'
Grace Meng, member of the United States House of Representatives, representing New York's 6th congressional district in the New York City borough of Queens, is confident that this stamp will spread message of peace and cultural harmony.
In her journey Ranju had another 'partner' in Congresswoman Carolyn Maloney (D-NY) who also relentlessly fought for this cause as she felt that 'a relatively small action would hold great meaning for millions of people.' For her, a dream came true."This stamp represents the triumph of knowledge over ignorance, light over dark and good over evil. These values, these virtues, are more important and relevant than ever before and I am thrilled that after many years of fighting for this stamp it has finally become a reality," she said.
Last year at an event Maloney said she had written two letters for two head of the states. First one was delivered. Recipient? US President Barack Obama. The second letter was meant for India's Prime Minister Narendra Modi but it could not be posted, as it needed a postal stamp. Not any ordinary one, but a 'Diwali Stamp.' Maloney wanted to send the letter to Modi with that stamp only! Now the time has come.
Those who missed buying the stamp on the first day of issue need not despair. They have 60 days to obtain the first-day-of-issue postmark by mail. They may purchase newstamps at local Post Offices, at The Postal Store website at usps.com?shop or by calling 800-782-6724.
They should affix the stamps to envelopes of their choice, address the envelopes to themselves or othersand place them in a larger envelope addressed to:
Diwali Stamp
Stamp Fulfillment Services
Cancellation Services
8300 NE Underground Drive, Pillar 210
Kansas City, MO 64144-9998
After applying the first-day-of-issue postmark, the Postal Service will return the envelopes through the mail. There is no charge for the postmark up to a quantity of 50. There is a 5-cent charge for eachadditional postmark over 50. All orders must be postmarked by Dec. 5, 2016.
The Postal Service also offers first-day covers for new stamp issues and Postal Service stationery itemspostmarked with the official first-day-of-issue cancellation. Each item has an individual catalog numberand is offered in the quarterly "USA Philatelic" catalog, online at usps.com?shop or by calling 800-782-6724. Customers may request a free catalog by calling 800- 782-6724 or writing to:
U.S. Postal Service Catalog Request
PO Box 219014
Kansas City, MO 64121-9014