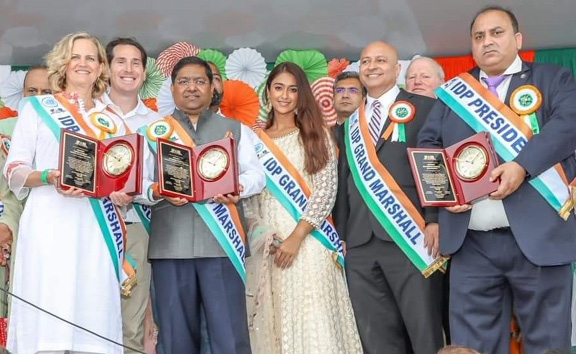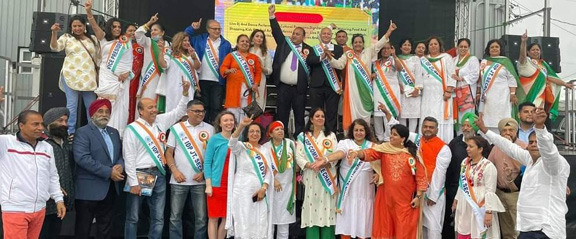 Pro-farmers protesters demonstrate and disrupt the entertainment program
I.S. Saluja
HICKSVILLE,NY (TIP): India Day Parade (IDP) USA drew crowds despite of inclement weather on Sunday, August 8. It was the 7th parade in 10 years of the existence of IDP USA. Last year, because of Covid conditions, the organizers took out a car rally. Earlier, the parade was not taken out for 3 years on account of internal strife among the founders / organizers.
Starting from Patel Brothers Plazaon South Broadway, the parade made it to the entertainment stage at the parking lot near Asa Mai Hindu temple, off North Broadway.
Because of intermittent rain, not many people thronged the sides of the 2-mile route.
On the way, pro-farmers protesters at some places gathered and shouted slogans in favor of protesting farmers in India. They also carried placards saying,"No Farmers, No Food."
At the entertainment venue, a larger group of pro-farmers protesters carrying placards, shouted anti-India government and anti-Modi slogans, and demanded that the government talk to protesting farmers to resolve their issues. Some of the representatives who addressed the gathering from the stage said they were protesting peacefully in favor of the farmers who have been protesting for over a year now. They held the Modi government responsible for the loss of life of more than   400 farmers during their agitation, Terming the Modi government's attitude as callous, they demanded that the government talk with them and resolve the issues. They said that Indians abroad fully supported the protesting farmers and would continue to give them all support until the anti-farmers laws are annulled.
Indian Overseas Congress group which was to march in the parade took a decision not to join the parade in view of the avowed support of their Party in India. Mr. Mohinder Singh Gilzian, IOC USA president said that their support for farmers will continue until justice is done to them. He called upon Modi government to take a step forward and meet with the protesting farmers and resolve the issue in the interest of the Indian nation. "There can be no better occasion than the Independence Day of India to take a bold initiative," he said.
Consul General of IndiaRandhir Jaiswal, Bollywood star Ileana D'Cruz, and Dr Jay Sarkar, philanthropist, entrepreneur, and life consultant were the Grand Marshalls
An exultant IDP USA President Deepak Bansal, said a record number of dignitaries participated which included elected officials, lawmakers, and community leaders. New York State Comptroller Thoams DiNapoli, Nassau County Executive Laura Curran, State Senator Kevin Thomas, Supervisor of Town of Oyster Bay Joseph Saladino, Town of Hempstead Clerk Kate Murray, New York State Senator Todd Kaminsky, and County legislator Rose Walker graced the occasion with their presence.
The Guests of Honor included internationally renowned oncologist Padma Shri Dr Dattatreyudu Nori, Diwali Foundation USA Chair Ranju Batra, Navika Group CEO/President Naveen Shah and young guru and motivational speaker Ishan Shivanand. Other notable guests included Farah Mozawalla, director of minority affairs of Nassau County and Ragini Srivastava, an upcoming politician.
The comely Ileana D'Cruz, wearing a floor length crème colored dress, was quite a sport, posing with fans. She is an Indian-born Portuguese actress who predominantly appears in Telugu and Hindi language films.
The entertainment stage saw a few scintillating song and dance numbers and 37 performances by kids, and the program finished around dusk. Facing the stage were 45 stalls selling ethnic clothes and jewelry and food of course. For kids there were free rides and free popcorn.  Most stalls did not have customers and folded up because of inclement weather.
A Nissan car sponsored by DP Singh of Meetu Magic was the first prize of the raffle. He was there to take out the draw and the lucky winner turned out to be Suhag Mehta, impresario, and part of the founding team of IDP. Other raffle prizes included an Apple watch, a 50-inch TV set, and 2 air tickets courtesy CheapOair.
President Bansal said the parade represents our motherland and people who come out to support make India proud. He thanked the IDP USA office bearers and committee chairs for working tirelessly over 3 months to prepare for the massive parade.
According to the press release sent to The Indian Panorama, the parade was supported by top brands including Phalguni-Chintu Patel, Navika Group, The South Asian Times, CheapOair, , Patel Brothers, Vass Pipe, The Portables Choice Corp, PICC, Flushing Bank, STI Consultants, Maharaja, Badshah, Property Professionals, Commercial Capital Funding Group, Elevator the movie, Indian Visa Center, BCB Bank, Omni Mortgage, HAB Bank, No Limit Auto Body and Shiv Yog. Several media organizations also supported the parade by promoting it.
IDP plans to celebrate the success of the 2021 Parade at a Gala at Antun's by Minar on Thursday, August 19, 2021.  A souvenir will be released at the gala, the press release said.
(With inputs from IDP USA press release)