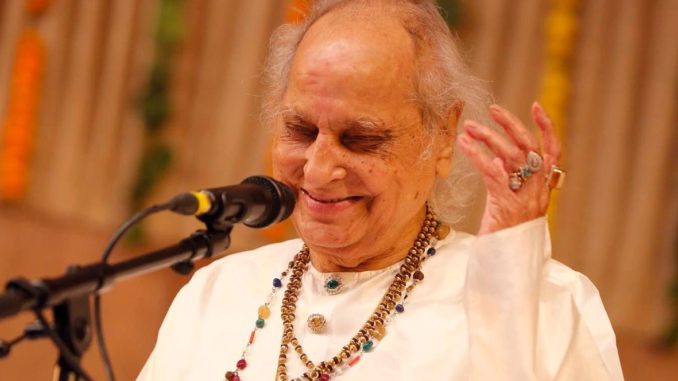 NEW JERSEY (TIP): Mozart, Beethoven, Pavarotti and Jasraj are up there in the skies somewhere, planets all in a cosmos of stars big and small.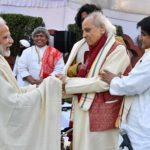 Pandit Jasraj died in his New Jersey home on Monday, August 17. The  voice that soared and swooped for over eight decades to touch a chord with music lovers the world over fell  silent forever. He was 90.
    It was only last year in September that the International Astronomical Union named a minor planet after Jasraj, an honor that was previously only reserved for classical greats like Amadeus Mozart, Ludwig van Beethoven, Luciano Pavarotti — and then Pandit Jasraj.
    The Hindustani vocalist, the first Indian to be honored so, was considered a great stalwart of classical Indian music. With a voice range that travelled 3.5 octaves, Pandit Jasraj appealed to the most fastidious aficionado looking out for the smallest nuance as well as the untutored fan who just sat back and enjoyed the music flow over her.
    Jasraj, who was from the Mewati gharana, belonged to the league of great vocalists such as Bade Gulam Ali Khan, M S Subbulakshmi and Bhimsen Joshi.
     The Haryana born Jasraj made classical music accessible to all with his soulful renditions of 'khayal' mixed with 'thumri'.
     It was not just about the voice but also perfect diction, clarity in 'sur' and 'gayaki'. Such was his command over ragas that Pandit Jasraj would sometime wake up in the middle of the night to compose a 'bandish'. He is credited with creating new ragas such as 'abiri todi' and 'patdeepki' besides introducing a new style of 'jugalbandi', the 'Jasrangi'.
     It was never just about the purists. Awarded the Padma Vibhushan, the Padma Bhushan and the Padma Shri, Pandit Jasraj also popularized semi-classical music like 'haveli sangeet' and reached out to devotees with his 'bhajans', a particular favourite for his fans being "Om Namo Bhagavate" in praise of Lord Krishna.
    He clearly had a feel for Urdu too.
    The music legend, who celebrated his 90th birthday in January this year, also had great love for ghazals and once wistfully quoted the popular Ghalib ghazal, "Hazaaron khwahishen aisi ki har khwahish pe dam nikale" to describe all the things left undone in his life.
    Born on January 28, 1930 in Haryana's Hisar district, Pandit Jasraj was initiated into classical music by his father, Pandit Motiram and honed his craft under the guidance of his elder brother Pandit Maniram.
    In fact, Pandit Jasraj started his musical journey as a tabla player. The turn towards singing came perhaps after he heard Begum Akhtar's voice. He was just a schoolboy then.
    Describing this change, Pandit Jasraj had told PTI Bhasha in an interview that he started learning tabla with his elder brother Pandit Maniram but turned to classical singing at the age of 14.
    "While going to school in Hyderabad, there was a hotel where Begum Akhtar's ghazal 'Deewana banana hai to deewana bana de, varna taqdeer tamasha na bana de' used to play. The hotel owner would play the same ghazal every time.
    "And my feet would stop there. Such was the pull in her voice that I could not take a step forward so I started spending more time in the hotel instead of the school," he had said.
     His first public concert was for Nepal king Tribhuwan Bir Bikram Shah in 1952.
Sixty-eight years later, he recalled in vivid detail what had happened.
     "The king told his men to announce that he has awarded me 5,000 gold coins. I was shocked, I couldn't believe it. I was sweating and I almost fainted, I was maybe 22 years old then," he told PTI in an interview in January this year.
    He also spoke about being self-critical and never giving up on 'riyaz' despite advancing age.
    The musician, like his music, was completely in sync with the times.
        "I teach through Skype. I suggest everyone do it. I am walking with time and that's what one should do. I don't like when people say 'Woh zamaana achha tha' (Those were the good times).
    "I believe the current phase is good. One should not compare it with the past — good or bad. One has to walk with time and only then you will like the current time," he said in the interview.
    Talking about his fondness for Lata Mangeshkar, he had said, "She is my favourite singer. There is no one like her".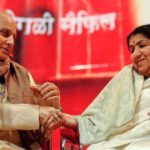 Pandit Jasraj with Lata Mangeshkar
   He loved listening to music from every part of the world and was someone who could appreciate the Beatles and Mehdi Hassan as much as he did Bhimsen Joshi.
     The musician, who married great director V Shantaram's daughter Madhura, also sang in the movies. The couple has a son, Shaarang Dev Pandit, and a daughter, Durga Jasraj, both musicians.
       Pandit Jasraj's first song was in 1966 with the bhajan "Vandana Karo" in raga Ahir Bhairav for his father-in-law V Shantaram's "Ladki Sahyadri Ki". The bhajan was composed by Vasant Desai.     
        The second film song came almost after a decade in the 1975 movie "Birbal My Brother", for which he collaborated with another legend, classical vocalist Pandit Bhimsen Joshi, on a 'jugalbandi' in raga Malkauns.
        Pandit Jasraj's last Bollywood song was in 2008 for Vikram Bhatt's horror movie "1920". The song, titled "Vaada tumse hai vaada", was composed by Adnan Sami.
        His rendition of raga Ahir Bhairav was also used by filmmaker Ang Lee in his Hollywood movie "Life of Pi".
     Pandit Jasraj will live on – in his endless recordings and also in the many students he mentored.
TRIBUTES POUR IN FOR THE MUSIC LEGEND
The legend's demise has sent the nation into mourning. Remembering Pandit Jasraj's unparalleled contribution to classical Indian music, President Ram Nath Kovind, Prime Minister Narendra Modi, Lata Mangeshkar and others in the music industry condoled the death of the classical Indian vocalist at the age of 90.
The President said he was sad to hear about Pandit Jasraj's passing away.
"Spanning a distinguished career of over 8 decades, Pandit Jasraj, a Padma Vibhushan recipient, enthralled people with soulful renditions. Condolence to his family, friends & music connoisseurs," the President said in a statement posted on his official Twitter handle.
PM Modi said Pandit Jasraj's death had created a huge void in the Indian cultural sphere.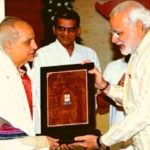 "The unfortunate demise of Pandit Jasraj Ji leaves a deep void in the Indian cultural sphere. Not only were his renditions outstanding, he also made a mark as an exceptional mentor to several other vocalists. Condolences to his family and admirers worldwide. Om Shanti," Modi tweeted Celebrating Jasraj's storied legacy spanning almost eight decades, Vice President M Venkaiah Naidu credited the music maestro for creating timeless masterpieces in Indian classical music.
Melody queen Lata Mangeshkar, who was Pandit Jasraj's favourite singer, said she was devastated by the death of the music legend.
"I am devastated by the news of demise of great classical vocalist and worshiper of goddess Saraswati, Sangeet Marthand Pandit Jasraj ji. May his soul rest in peace," Mangeshkar wrote on Twitter.
Vocalist Madhup Mudgal called Pandit Jasraj the last of the five pillars of Indian classical music.
"He was one of the greatest singers of our country. I always considered him one of the five pillars of Indian classical music – Pandit Bhimsen Joshi, Kumar Gandharva, Mallikarjun Mansur, Kishori Amonkar, and Pandit Jasraj. We have lost an irreplaceable artiste today," Mudgal told PTI.
Sarod maestro Ustad Amjad Ali Khan said Pandit Jasraj's "passing away marks the end of an era in the world of music".
"I shared so many festivals with Jasraj bhai right from the sixties. He gave a different dimension to vocal music. His musical approach and genius endeared him to the planet. His legacy lives on timelessly. I will miss him immensely both musically and personally! May his soul rest in peace!," Khan wrote in a Facebook post.
Veteran singer Asha Bhosle said in Pandit Jasraj's death she has lost a big brother and she would always remember his "childlike demeanor".
"I have lost someone who was extremely fond of me, I have lost a big brother indeed! Sangeet ka sooraj doob gaya… I will always remember his childlike demeanor. May his soul rest in peace," the singer said in a statement.
Veteran lyricist-writer Javed Akhtar said a "huge pillar of Hindustani sangeet has fallen today".
"My heartfelt condolence to Pandit Jasraj's family . I can see him standing on the stage with his arms raised as if he is blessing all of us and in his soft and silken voice for the last time he is saying," Akhtar added.
Other celebrities including AR Rahman, Shabana Azmi, Vishal Dadlani, Shankar Mahadevan among others took to Twitter to pen tributes for the legend.
A.R.Rahman
@arrahman
#RIPPanditJasraj indian classical music has lost one of its shining stars.
Shankar Mahadevan
@Shankar_Live
Devastated after hearing the news that Sangeet marthand pandit Jasraj has moved on to the next dimension .  A big void in the world of Indian Classical music . His music will live on in this planet .
VISHAL DADLANI
@VishalDadlani
Just heard of the passing of the Legendary #PanditJasraj Ji. My condolence to music itself, and to every musician on the planet. A truly monumental loss.
My heart goes out to my friends Jatin & Lalit Pandit, Shweta & Shraddha Pandit & of course @DurgaJasraj ji, and the family.
Azmi Shabana
@AzmiShabana
Deeply saddened to hear abt the passing away of #Pt Jasraj.Ever since my accident in Jan 2020, Ive been waking up to the strains of #The BestofPanditJasraj n am deeply grateful 4 d solace his voice has given me over d yrs.Condolences to Durga and the http://family.RIP
salim merchant
@salim_merchant
Sangeet Martand Pandit Jasraj ji has left us.. his voice & music has inspired & left a deep impact on the history of Indian classical music.
Om Shanti
Shafqat Amanat Ali
@ShafqatAmanatA
Deeply saddened by the news of the demise of #PanditJasraj ji. Honoured to have shared a stage with him.
A true legend & an affectionate human being. A monumental loss to the world of music. My condolences to his family & fans.
Amaan Ali Bangash
@AmaanAliBangash
With passing away of Pandit Jasraj ji, we have lost a timesless Legend of Music! Our heartfelt condolences to his family. Prayers for his soul to rest in eternal peace. We have lost one of the biggest jewels of our fraternity! 🙏🙏 #panditjasraj
DISCIPLES AND FOLLOWERS IN US PAY TRIBUTES TO LEGENDARY CLASSICAL VOCALIST
New York (TIP): Disciples and followers of music legend Pandit Jasraj in the US paid their tributes to the Indian classical vocalist and described his passing away as an irreparable loss to India and its cultural heritage while fondly recalling his humble and gentle nature.
Former president of the diaspora organization, US Federation of Indian Associations (FIA), Alok Kumar, paid his respects to the legendary artist at the Hindu Funeral Home in Highland Park in New Jersey.
Kumar said a large number of people had gathered at the funeral home during the day to pay their respects to Pandit Jasraj.
Keeping in mind the social distancing requirements amid the pandemic, a limited number of people were being allowed at a time to enter the funeral home and pay their tributes.
"We will all miss the musical legend. It is indeed the end of an era in Indian classical music. With Pandit Jasraj's death, we have lost a 'sargam' of shastriya sangeet," Kumar told PTI. "No one can match the legend that he was."
Hari, one of Pandit Jasraj's disciples, said that all his pupils are still in a state of shock and are trying to come to terms with the tremendous loss.
"We are trying to make sense of it. We are deeply feeling his loss but we also see the wealth of love that he has left behind," he said.
Hari said Pandit Jasraj was surrounded by his disciples and they are constantly communicating with his family in India. They are making necessary arrangements to fly his mortal remains to India for the funeral.
"Pandit Jasraj's demise is a loss for India, for the cultural tradition of India but broadly it is a loss for music overall. He stands for music everywhere, his passing is a big loss for music," Hari said.
New Jersey-based Alka Aneja fondly recalled her association with the Padma Vibhushan recipient and said he was a maestro and a legend, "but the humanity, kindness and generosity" that came from him was unparalleled.
Aneja said Pandita Tripti Mukherjee, Hindustani classical vocalist and disciple of Pandit Jasraj, as well as two-three other disciples are expected to take the mortal remains of Pandit Jasraj to Mumbai on an Air India flight on Tuesday afternoon.
Aneja, who was Pandit Jasraj's realtor and had known him for the last three years, said she last met him on the festival of Janmashtami last week.
"He was a legend for the world but he was a very kind and gentle soul for me. I got to know him at a personal level. He had a great sense of humor and was very humble," she said.
Aneja said a legend like Pandit Jasraj, who had achieved so much in life, was a very humble person who "allowed people in his life. People don't have their feet on the ground when they achieve as much as he did".  He was very humble and a gentle soul, she said.
Recalling that he used to call her 'Son Pari', Aneja said whenever she touched his feet, he would say 'betiyaan pair nahin chhooti hain (daughters don't touch feet)'. Aneja said she is blessed to have known him.
FIA Chairman Ankur Vaidya recollected multiple interactions he had with Pandit Jasraj, saying he was a "very inspiring and mesmerizing personality".
Vaidya said Pandit Jasraj was the Guest of Honor at FIA's India Day parade in 2013 and was honored again by the organization in 2018 for his distinguished accomplishment and significant contribution to the Indian classical music.
Pandit Jasraj, who belonged to the Mewati gharana, was in the US when the coronavirus-led lockdown happened and decided to stay back in that country.
Demonstrating his ability to adapt with the times, his last performance was in April this year. He sang on Hanuman Jayanti for the Sankat Mochan Hanuman temple in Varanasi through Facebook Live.