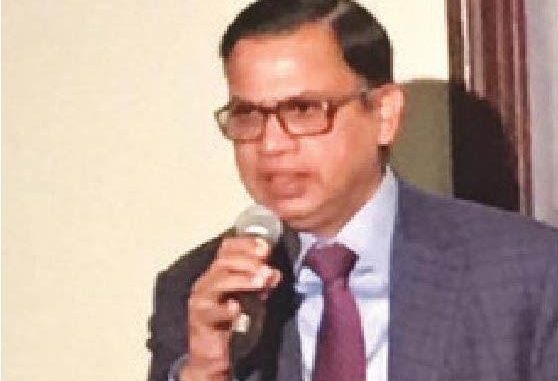 Mushaira/Kavi Sammelan  celebrating the 74th Independence Day of the Subcontinent
By Dr. Zafar Iqbal 
Greeting authors, poets and the audience, Program Coordinator Dr. Zafar Iqbal said "The goal of this annual program is to provide a forum where diverse people—transcending political, religious, regional, and geographical boundaries—could assemble under the same umbrella and appreciate the Ganga-Jamuni culture of the Subcontinent."
MARYLAND (TIP): "India is proud of its diversity and this program is a manifestation of this diversity," said Mr. Anurag Kumar, Minister for Community Affairs, Embassy of India. He thanked the organizers for holding such a beautiful program every year and appreciated showcasing of new talents through this program. He also conveyed the best wishes from the Ambassador of India, H.E. Taranjit Singh Sandhu. Kumar indicated that subject to easing of COVID-situation, the Embassy would consider hosting this program.
The Aligarh Alumni Association-Metro DC (AAA-DC), in association with the Global Organization of People of Indian Origin-Metro DC (GOPIO-DC), hosted a successful Mushaira/Kavi Sammelan on Sunday, 9th August 2020, celebrating the 74th Independence Day of the Subcontinent.  This annual event has been a part of Washingtonians' literary life for the last fourteen years. AAA-DC and GOPIO-DC are the only organizations that bring local poets of Urdu and Hindi at one platform to promote a sense of brotherhood in the best traditions of Sanjhi Virasat, as well as to encourage and promote the local talents of these literature(s).
This year, because of the COVID-19 situation, the program was conducted using Zoom technology and it was simultaneously broadcast on YouTube, Facebook, and Twitter. Several hundred literary enthusiasts enjoyed the event and many encouraging and positive comments were posted on the media.  A recording of the event is now available on Facebook ( https://www.facebook.com/AligarhAlumniAssociationOfDC/) and AAA-DC YouTube channel (https://youtu.be/qNmkjJ-jAso).
Greeting authors, poets and the audience, Program Coordinator Dr. Zafar Iqbal said "The goal of this annual program is to provide a forum where diverse people—transcending political, religious, regional, and geographical boundaries—could assemble under the same umbrella and appreciate the Ganga-Jamuni culture of the Subcontinent." In addition to sharing poetry, this event also recognizes local poets and authors by releasing their recently published books, he added.  He recognized the leaders of four cultural community organizations —Mr. Kaleem Kawaja of the Association of Indian Muslims (AIM), Mr. Pavan Bezwada and Mr. Shammi Singh of the National Council of Asian-Indian Associations, Inc. (NCAIA, Inc.), Mr. Sunil Singh & Mr. Kirpa Shankar of the National Council of Asian-Indian Associations (NCAIA), Mr. Moazzam Siddiqi and Mr. Mohsin Alikhan of the Hyderabad Association of Washington Metro Area (HAWMA), and Dr. Mike Ghouse of the Center for Pluralism (CFP), who were co-sponsors of the program. "We are pleased that the Embassy has been supporting this program from the beginning, and it hosted the First Bilingual Poetry recitation program on 10th June 2011 with the help of AAA-DC and Metro GOPIO," Iqbal added.
Mr. Afzal Usmani, President AAA-DC welcomed and thanked the participants and the audience on behalf of the association. He also applauded the increasing popularity of the program. Welcoming on behalf of GOPIO-DC, Dr. Zafar Iqbal appreciated the participation of poets and guests attending the program. "We have been with this program promoting Ganga-Jamuni culture since the start of the program in 2007," said Iqbal. GOPIO-DC Chairperson, Dr. Renuka Misra could not join the live broadcast due to technical problems.
The event brought the diaspora with multiple ethnic backgrounds together using social media. A special treat was the participation of Dr. Ashok Narayan from his home in India. He retired from the Indian Administrative Service. Participating poets (in alphabetical order) included: Abdullah, Ashok Narayan, Astha Naval, Daler Ashna Deol, Khurram Yusufzai, Mike Ghouse, Mohammad Akbar, Mohammad Jaweed, Narendra Tandon, Preethi Govindaraj, Razi Raziuddin, Satyapal Anand, Sukesh Chopra, Suman Vardhan, Vandana Singh, Vinita Tiwari, Vishakha Thaker, and Yusuf Rahat. Stalwart poet, author, and critic Professor Satyapal Anand presided over the mushaira. Afzal Usmani compered the poetry recitation session with remarkable literary skill.
Several poets and authors in the past have released their books through our program. Some of them are Professor Satyapal Anand, Professor Asghar Wajahat, Dr. A. Abdullah, Dr. K. Mohan, Mr. Raj Kumar Qais, Mr. Anadi Naik, Dr. Astha Naval, Mr. Dhananjaya Kumar Mrs. Rashmi Sanan, Mrs. Daler Deol Aashna, and Mr. Surender Deol.
This year also three recently published books were presented at the event by Dr. Abdullah. Commenting on Dr. Salman Akhtar's book Meer Nama, he said that the beauty of the book that each couplet of 54 Ghazals Meer in it.  This book is published in both Urdu and Devanagari scripts. The second book Urdu Ghazal- A Gift of India's Composite Culture was co-authored by Professor Gopichand Narang and Surinder Deol.  Dr. Abdullah also presented Deol's book Sahir—A Literary Portrait that has a foreword by Dr. Narang. This book emphasizes Sahir's passion for democratic ethos, Sanjhi Virasat, bhajans, women's rights, and world peace. Reminiscing his fascination with Sahir, Deol said that Sahir's book Talkhian was the first book he had bought during his student days and he reads it now and then.
The AAA-DC started this Independence Day annual Mushaira-Kavi Sammelan tradition more than a decade ago, and GOPIO-DC joined its efforts soon after. It is very gratifying to see that other community organizations are also supporting this program.
(Zafar Iqbal, Ph.D. can be reached at  [email protected] / 240-328-0162)