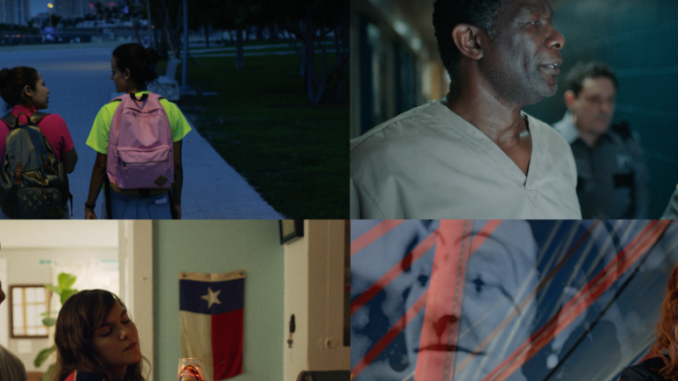 By Mabel Pais
"While we cannot gather in person to lock arms, laugh, and cry, it's important for us to stay socially and spiritually connected. Tribeca is about resiliency, and we fiercely believe in the power of artists to bring us together. We were founded after the devastation of 9/11 and it's in our DNA to bring communities together through the arts." – Jane Rosenthal, Co-Founder – Tribeca Film Festival
TFF 2020 DEBUTS SELECT VIRTUAL PROGRAMMING, BRINGING AUDIENCES & STORYTELLERS TOGETHER
TFF2020 to present Tribeca Immersive Cinema360, N.O.W. Creators Market, Industry Extranet Resource Hub, Jury and Art Awards, Tribeca X Program
The Tribeca Film Festival 2020 (TFF2020) presents online select programming from the 19th Annual Festival.
Tribeca is dedicated to supporting filmmakers, creators, and artists that breathe life into the Festival, the New York Community, and the industry. To bring new work from incredible storytellers to an audience eager to connect with their stories. Since its inception, Tribeca has pushed the boundaries of storytelling and innovative ways to connect with audiences. This online program is the latest iteration of that commitment.
First, TFF2020's focus is to ensure the Tribeca industry and filmmaking community can continue to connect and develop their careers. To support that mission, TFF2020 is bringing a mix of programming online that celebrates and promotes creators. The programming includes the N.O.W. Creators Market, Jury and Art Awards, our Industry Extranet Resource Hub, and the brand storytelling Tribeca X Awards.
"We want to ensure we are meeting the urgent needs of our community by continuing with 2020 festival programming that can evolve into virtual or remote initiatives," said Tribeca's Festival Director Cara Cusumano. "We identified these five programs as ones that could easily pivot online and still deliver the same impact for creators and industry. We are excited to share these most immediate announcements, while we continue to look ahead to our Festival's next steps."
Second, TFF2020 is moving as fast as possible to bring some of the programming from the upcoming festival to audiences worldwide. Tribeca Immersive's audience facing Cinema360 will debut in partnership with Oculus and features 15 VR films, curated into four 30-40-minute programs.
Tribeca X Awards was launched on April 3 where the finalists will be available for audience viewing on tribecafilm.com.
The Tribeca Industry Extranet Resource Hub that is hosting participating films will be available for industry and press. The Tribeca Extranet is the Festival's online hub providing accredited industry with resources for the program including rights availability, delegate directory, and sales contacts.
The juried awards for feature and shorts categories will be presented by the jury who will select the winners to be announced on tribecafilm.com within the window of the original Festival dates. The jury includes leaders of the creative community including Danny Boyle, Aparna Nancherla, Regina Hall, Yance Ford, Lucas Hedges, Pamela Adlon, Marti Noxon, Asia Kate Dillon and Sheila Nevins.
Winners in select Competition categories will be eligible for the Art Award where world-class artists donate a piece of their work to be awarded to Festival filmmakers. The awards have been a tradition since the Festival's founding in 2001. The 2020 Art Awards features the work of alumni and new artists curated by notable gallerist, Vito Schnabel.
Tribeca's immediate response to the current pandemic was to launch initiatives that could give the community something to look forward to each day.
"A Short Film a Day Keeps Anxiety Away," a daily curated online short film series featuring select award winning shorts and target premieres from multiple Tribeca alumni; Soundtrack Sunday, live performances and celebrity soundtrack selections happening across Tribeca social media channels; and #TribecaTakeoutChallenge, an Instagram call-to-action campaign to inspire people to support their local restaurants while watching their favorite film.
TRIBECA IMMERSIVE
Tribeca Immersive, the incubator for innovation in storytelling, will move forward with the first edition of Cinema360 programming to be offered remotely. In partnership with industry pioneer Facebook's Oculus, Cinema360 will feature 15 VR films, curated into four 30-40-minute programs. Films are viewable from April 17 through April 25 in Oculus TV, available for Oculus Go or Oculus Quest headsets.
Featuring eye-popping visuals and compelling storytelling, this year's Cinema360 selections include everything from science fiction and horror, to romance and comedy, proving that there's truly something for everyone. Additionally, 10 of the 15 creators make their global premiere at Tribeca Film Festival.
In addition to screening the entire 2020 Tribeca Cinema360 slate, Oculus is also releasing "The Key," which will be available as an app for Oculus Rift, Oculus Rift-S, and Oculus Quest.
"Now, more than ever, we are feeling incredibly isolated from one another," said Loren Hammonds, Senior Programmer of Film & Immersive. "The XR community is very much a global community, as evidenced by this program which features work from China, South Korea, Spain and Ethiopia, just to name a few."
"We are also announcing the official selections for this year's Virtual Arcade, including the Storyscapes nominees," says Senior Programmer, Film & Immersive Loren Hammonds. "The entire list of officially selected projects can be found at tribecafilm.com."
TRIBECA N.O.W. CREATORS MARKET
The N.O.W. (New Online Work) section will host its fifth annual private industry market that brings together leading online, episodic and immersive storytellers (2020 N.O.W. Showcase creators, 2020 TribecaTV Pilot Season creators and an additional curated group of online, indie episodic and VR writers/performers/influencers) to pitch new projects to a wide-range of industry, including distributors, production companies, streamers, and online platforms. Participating companies taking pitch meetings include Albyon, Atlas V, BRON Studios, CNN Original Series, Giant Spoon, Gunpowder & Sky, NOWNESS, Topic Streaming, Topic Studios, Tribeca Studios, and more.
The N.O.W. Creators Market will take place virtually April 21 and 22, 2020, setting up hundreds of 20-minute, video pitch meetings between Creators and Industry looking to collaborate on future projects.
N.O.W. SHOWCASE
Tribeca's New Online Work ( N.O.W.) section highlights independent filmmakers who create original, short form and episodic work specifically for the online exhibition space. This year's slate includes episodic, short form and documentary work from up-and-coming and seasoned filmmakers.
PILOT SEASON
Tribeca continued its tradition of opening submissions to independently produced TV pilots in 2020. The following group of filmmakers participating in the virtual N.O.W. Creators Market were to debut their pilots as part of the 2020 Tribeca TV Pilot Season program.
INDUSTRY EXTRANET
Tribeca Extranet, the festival's online resource hub for industry, will launch as planned, providing accredited industry with resources on the 2020 program including rights availability, delegate directory, and sales contacts.
JURIED AWARDS
The Tribeca Film Festival is moving forward with announcing the 2020 jury members who will select the winners in the film competition sections for the 2020 program. For further information on participating Jurors and Award Categories, visit tribecafilm.com/festival/jurors2020
To view an online gallery of artwork and artists bios, visit tribecafilm.com/festival/art2020
TRIBECA X
The Tribeca Film Festival will continue Tribeca X, it's competition to celebrate the intersection of advertising and entertainment. The 5th annual Tribeca X Award will honor the best brand and filmmaker collaborations of the year and recognize best in class branded content told through the lens of storytelling. The selected finalists can be viewed at: tribecafilm.com/festival/tribecax2020
About the Tribeca Film Festival:
The Tribeca Film Festival brings visionaries and diverse audiences together to celebrate storytelling in all its forms, including film, TV, VR, gaming, music, and online work. With strong roots in independent film, Tribeca is a platform for creative expression and immersive entertainment. The Festival champions emerging and established voices; discovers award-winning filmmakers and creators; curates innovative experiences; and introduces new technology and ideas through premieres, exhibitions, talks, and live performances.
The Festival was founded by Robert De Niro, Jane Rosenthal, and Craig Hatkoff in 2001 to spur the economic and cultural revitalization of lower Manhattan following the attacks on the World Trade Center. Now in its 19th year, the Festival has evolved into a destination for creativity that reimagines the cinematic experience and explores how art can unite communities.
Website:  tribecafilm.com/festival
Twitter: @Tribeca
Instagram: @tribeca
Facebook: facebook.com/Tribeca
(Mabel Pais writes on The Arts and Entertainment, Social Issues, Health & Wellness, and Spirituality)