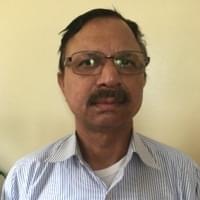 I never ever dreamed of losing my friend and fellow journalist Brahm  Kanchibhotla the way he has been snatched from us.
I recall vividly my first meeting with him in New York. Shri  Atal Behari Vajpayee ji was on his maiden visit as PM to  New York. Media was invited in strength. I was new to the place. Just did not know any journalist. I heard my neighbor say, "what newspaper are you representing?". I looked him , gave a smile and said, "Shaan-e-Panjab".
"Punjabi paper?" , he asked. "Yes", I said. This man I came to know was Brahm Kanchibhotla, a senior journalist.
We did not meet for some time. But soon we bumped into each other at events and press conferences. He did not drive. So, at times, I will give him a ride.
I discovered he was a very conscientious journalist, having worked long with well-known newspapers in New York, which included India Abroad, the number one newspaper at that time. I admired him for his professionalism.  Later, he worked for the well-known new agency UNI.
We met and exchanged views , and I have reason to believe that despite of my being a bohemian he enjoyed being with me as much as I did. We had another common friend, Parveen Chopra,  who is currently Managing editor of a local newspaper. We both enjoyed our drinks and light gossip but Brahm was a serious kind of a guy. We loved him for his simplicity and total absence of affectation.
I sometimes asked  him to contribute to The Indian Panorama which he graciously did. I knew I could never adequately compensate him for his work which was immaculate. As I said, he was thoroughly professional. It is very difficult to find one like him  in the present times of pseudo journalists all around, with publications being managed by people who have no idea of journalism.
I was happy when he told me he had a cushy job with Wall Street Journal. His job kept him very busy. I stopped asking him for his articles. We hardly ever met or communicated, except when he was buying a house and informed me he was moving near our place in Long Island. I invited him over and he said he will after he had  moved.
We came across each other one day , may be, 4 months ago, at a grocery store in Hicksville. He was with his wife. I invited the couple over to my place , and, Brahm promised to visit us soon.
And then, on April  3,  Parveen Chopra informed me Brahm was tested positive with Coronavirus.  I was shocked. I was terribly shaken. The scenes from my first meeting with him  to subsequent times flashed across my mind. I prayed for him. But, sorry, my prayer was not granted. My friend succumbed to Coronavirus, as many in the world have. He died April6.
Later, I learnt that he showed  symptoms of Covid-19 on March 23 and was admitted to a hospital in Long Island on March 28 after his condition began to worsen. He was put on a ventilator on March 31.
Prime Minister Narendra Modi in his condolence message said  he was "deeply anguished" by the news. "He (Brahm) will be remembered for his fine work and efforts to bring India and USA closer. Condolences to his family and friends. Om Shanti," Modi tweeted.
    — Narendra Modi (@narendramodi) April 8, 2020
I have no words to condole his sad demise. I am at a loss of words to express my grief and console his bereaved family. I can only pray to God to grant eternal peace to my dear departed friend, Brahm Kanchibhotla. May the Merciful God grant his bereaved family strength enough to bear the irreparable loss, and be always Gracious, Kind and Merciful to the family!
RIP Brahm ji!
In Grief
Prof. Indrajit S Saluja  & The Indian Panorama