Seton Hall University (shu.edu) hosts the 10th Annual New Jersey Big Data Alliance (NJBDA; njbda.org) Symposium, the state's "premier conference for big data and advanced computing". This year's symposium will be held in person on May 9, 8:30 a.m. – 3:30 p.m. at Seton Hall in the University Center. The NJBDA is an alliance of 18 higher education institutions, as well as industry and government members, that catalyzes collaboration in advanced computing and data analytics research, education and technology. The event theme this year, "Big Data in FinTech," focuses on the opportunities in new development in the financial industry created by big data and financial technology.
The venue rotates among the partners in the NJBDA; previous hosts include New Jersey Institute of Technology, Princeton University, Kean University, New Jersey City University, The College of New Jersey, Montclair State University, Rowan University, and Rutgers University.
REGISTRATION & TICKETS
Registration for the symposium is necessary and can be accessed at njbda.org/2023symposium
For the Symposium Schedule, visit njbda.org/2023symposium, and for Tickets, visit eventbrite.com/e/2023-njbda-symposium-tickets-558984296077?aff=ebdssbdestsearch
 Manfred Minimair, professor in the department of Mathematics and Computer Science at Seton Hall, is chairperson of the 2023 NJBDA Symposium. "The annual symposium typically attracts a large number of attendees. We expect more than 150 people are expected to attend, including business professionals, New Jersey government representatives focused on economic development, and professors, students and staff from NJ colleges and universities," he said.
The symposium will feature high-profile keynote speakers: George Calhoun, professor, founding director of the Quantitative Finance Program and executive director of the Hanlon Financial Systems Center at Stevens Institute of Technology; Kjersten Moody, chief data officer at Prudential Financial; and Stephen Ward, Cybersecurity expert and managing director at Insight Partners.
Additional sessions will cover a variety of interesting topics ranging from artificial intelligence and machine learning applications, workforce skills, regulatory issues to Cybersecurity.
"The symposium provides an excellent forum for professionals and students for networking and learning about the latest developments in Big Data and FinTech," said Minimair.
ATTENDEES will have the opportunity to 
Explore education and training of a Big Data Workforce with a focus on Big Data in FinTech.
Gain insights on cutting-edge research at New Jersey's premier academic institutions.
Participate in relevant and valuable workshops. 
Network with industry, government, academic leaders, and New Jersey Big Data Alliance members.
FACTS
NJBDA started 10 years ago.
NJBDA encompasses every 4-year university in NJ, and is expanding to community colleges
A growing number of corporate and government partners have come to rely on the NJBDA for research support, new ideas and help in workforce development and training.
NJBDA has been recognized and financially supported by the state of New Jersey for its efforts and leadership in the "big data" space.
NJ, with the right training programs and economic infrastructure, can become a nationwide and global leader in a wide area of high-end computing fields, including; Artificial Intelligence, Cyber Security, Machine Learning, Data Science, Data Driven Financial Services, and even Electronic Gaming.
SETON HALL UNIVERSITY
Learn more at shu.edu.
————————————–
NEXT TO MOM'S HOME-COOKING, SATISFYING EACH ONE'S PALATE?
By Mabel Pais
Give mama a break for Mother's Day Weekend, if you're attending the events at NJPAC, and take her and the entire family to a one-stop mama's-like kitchen where each member of the family can celebrate Mother's Day with a freshly-prepared, healthy, affordable, individualized meal served in a few minutes!
Welcome to The Salad House of Newark, New Jersey!
At The Salad House, there is a delicious, made-to-order menu item for everyone.
OWNERS & STAFF
You will be welcomed, on entering The Salad House, by the very friendly, courteous, attentive Mateo G. Muriel, Business Partner & Operational Director who in essence runs the restaurant. Mateo, 26, started his interest in the food business a little over a decade ago when he worked in a pizzeria kitchen with his buddy. His position in The Salad House "is to ensure the restaurant is running: the kitchen runs smoothly, protecting the investment by way of selling and marketing and satisfying" the palates of "his customers." With his ability "to self-motivate and learn different kitchen skills, he was soon able to move from one task station to another and therefore learned the workings of the entire kitchen." At The Salad House, he has the enjoyable and fulfilling responsibility of working with the kitchen staff, the customer-area and the overall operations of this fast-casual restaurant.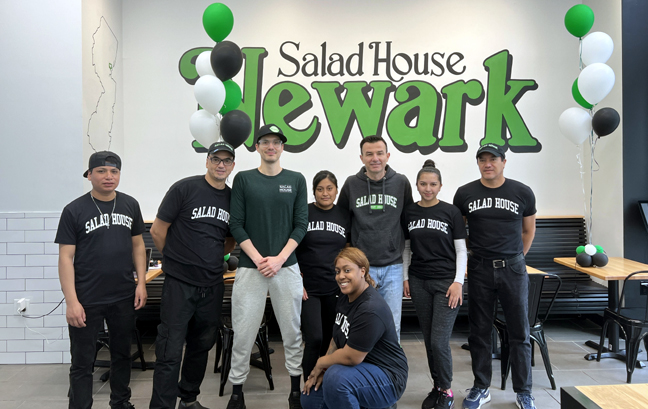 This Newark franchise of The Salad House is owned by Erkan Okyar, 47, and his son Berkay Okyar, 19. Erkan has been in the USA for over two decades and has been an investor and worked in hospitality management before owning The Salad House. Berkay has always loved food from a young age having a mother who is a chef-par-excellence in Turkish Mediterranean cuisine, baking and more. Both father and son share the philosophy that "every human deserves courtesy and respect." Their mission in The Salad House is to treat people, whether staff or customers, as they themselves would want to be treated. They opened The Salad House Newark about 3 weeks ago.
THE SALAD HOUSE: FAST-CASUAL CUISINE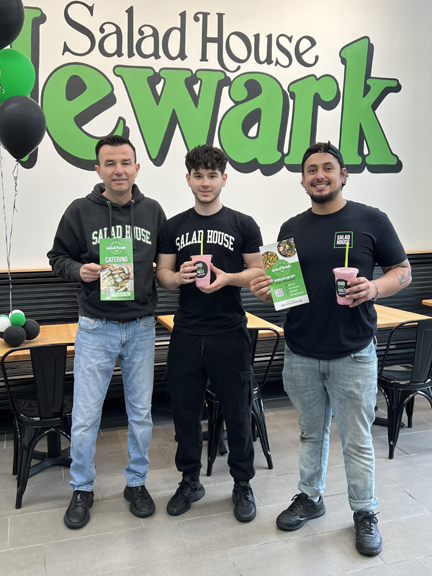 The Salad House is not your typical fast-casual dining restaurant. With locations across New Jersey and soon-to-be in New York that serve up customizable salads, wraps, soups, and more, The Salad House offers a wide variety of fast and fresh options for everyone. At The Salad House, each and every dish is handmade to order.
The menu at The Salad House has a wide range of options, extending way beyond their amazingly delicious salads. From soups and sandwiches to grain bowls, wraps, smoothies, and more, they have something for everyone. They also specialize in accommodating customers with dietary restrictions or allergies. So, whether you are gluten-free, paleo, vegetarian, vegan, or have a food allergy, they can ensure your health-safety and enjoyment.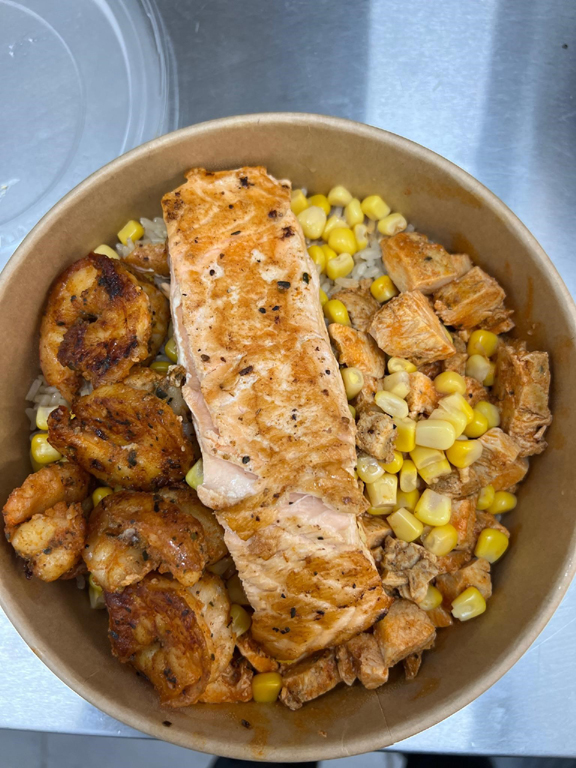 Their signature items are 'Black & Bleu' and 'Reel Love.' Vegan options include a Beyond Meat California wrap, vegetarian offerings include the Greek Out salad, and gluten-free items like the Apple Waldy, Fiesta Chx or the Fit and Fueled salad, which provides a nutritionally balanced meal that has been curated by a Registered Dietitian. At The Salad House, there is a delicious, made-to-order menu item for everyone.
CUSTOMER POTENTIAL
Their potential patrons are The New Jersey Performing Arts Center (NJPAC), the New Jersey Symphony (NJS), the surrounding hospital staff and student population navigating their staggering class schedule and the local residents. Some of the neighboring universities in Newark are The New Jersey Institute of Technology (NJIT), Rutgers – The State University of New Jersey, St. Michael's Medical Center (SMMC), several local non-profit organizations and a number of businesses that are on the increase.
THE SALAD HOUSE
To learn more about The Salad House or if interested in the business opportunity, visit thesaladhouse.com.
HOURS, LOCATION & CONTACT 
On observation, you will notice a steady stream of customers walking in 7 days a week to order eat-in or take-out meals. Unlike some of the neighboring quick service or fast casual eating places that close their doors early on weekdays and are closed on Sundays, the late weekday evening hours of Newark's Salad House opens its doors 7 days a week with late hours on weekdays.
542 Broad Street, Newark, NJ 07102
862-872-7900; newark@thesaladhouse.com
Monday-Friday: 10:00 AM – 9:00 PM
Saturday:        11:00 AM – 7:30 PM
Sunday:          11:00 AM – 4:00 PM
(Mabel Pais writes on Cuisine, Health & Wellness, Education, The Arts and Entertainment, Social Issues, and Spirituality)