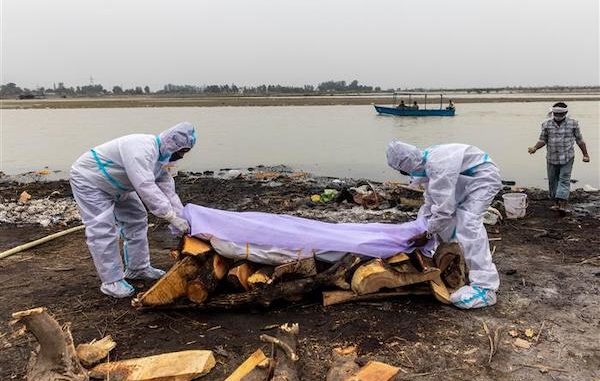 Visuals of Buxar and Ghazipur expose bogey of a new India
Covid seems to have taken us back to the colonial times of pestilence and famines, when the poor just floated their dead down the nearest river. All the tall claims of a new India have washed up on the banks of the holy Ganga in Buxar in Bihar. Some say 48, others claim to have counted 150 bodies of suspected Covid victims on the Ganga at Chausa block in Buxar bordering Uttar Pradesh. The gruesome visuals leave us in no doubt, unless UP Chief Minister Yogi Adityanath disputes it to lock up those who have caught the corpses on camera. The officials on either side of the river are only trying to disown the corpses. Bihar's officials believe that these bodies must have drifted downstream from neighboring Ghazipur or further up, Varanasi. Tuesday's sighting of bodies at Ghazipur in UP leaves no doubt that villagers upstream are throwing their dead in the river, unable to afford their last rites.
This is the story of Covid hitting the Hindi heartland, particularly UP, which has lost four ruling party MLAs to the pandemic. Union Minister Santosh Gangwar had last week written an angry letter to Adityanath pointing out the glaring lapses, apathy of medical officers and hoarding of oxygen cylinders. UP Minister and Lucknow MLA Brajesh Pathak, Bareilly MLA Kesar Singh (who later died), Mohanlalganj MP Kaushal Kishore, Basti MP Harish Dwivedi, Bhadohi MLA Dinanath Bhaskar, Kanpur MP Satyadev Pachauri and others have written similar letters expressing their inability to help their constituents. Jasrana MLA Pappu Lodhi released a video on social media of his wife lying on the floor of a Covid ward.
There are BJP MLAs who have no qualms about blaming UP's aggravated second surge on the state's panchayat polls and the Kumbh Mela. While they claim that things are getting better, there is no denying that the situation is dismal in UP. This is the real India of mindless politico-religious priorities with no health infrastructure, no advance planning for a known disease, no treatment and finally, no dignity for its dead.
(Tribune, India)