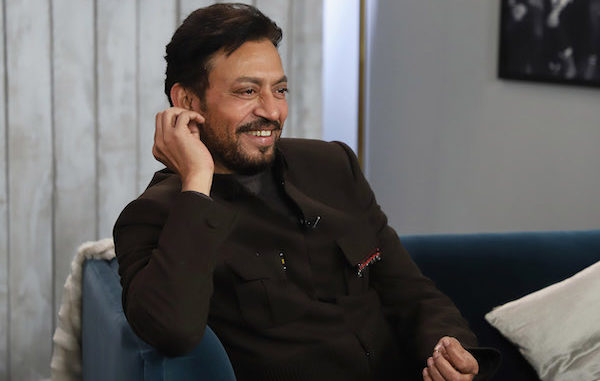 In 1986, when  director Mira Nair was scouting for her film Salaam Bombay! at the National School of Drama in New Delhi, she fixed her gaze on a young man from Jaipur. "I noticed his focus, his intensity, his very remarkable look—his hooded eyes," she later recalled of seeing Irrfan Khan. Though she cast him, she soon decided that he was too towering at more than six feet, that he seemed too well fed to convincingly play a malnourished child. To Khan's dismay, Nair pared his role down to scraps. "I remember sobbing all night when Mira told me that my part was reduced to merely nothing," the actor told the Indian magazine Open in 2015. "But it changed something within me. I was prepared for anything after that."
The actor died Wednesday in Mumbai, two years after being diagnosed with neuroendocrine cancer. On Wednesday when Irrfan breathed his last, his last words reflected how much he missed his mother. "See, amma has come. She is sitting next to me. Amma has come to take me," was Irrfan Khan's last words. He then adds, "But what is the choice apart from being positive in tough situations. We have made this film with the same positivity. And I hope this film will teach you, make you laugh, make you cry and then make you laugh again. Enjoy the trailer and be kind to each other…And yes wait for me".
Khan's final movie, Angrezi Medium, was the last Bollywood film released in theaters before the COVID-19 pandemic resulted in a nationwide lockdown. Irrfan recorded an audio message for his fans during the trailer release of Angrezi Medium. His last message played along with a promotional clip of his film. "There is a saying… 'When life gives you lemons, you make lemonades out of it. It sounds good. But when life actually puts lemon in your hands, it becomes really tough to make lemonade," Irrfan says.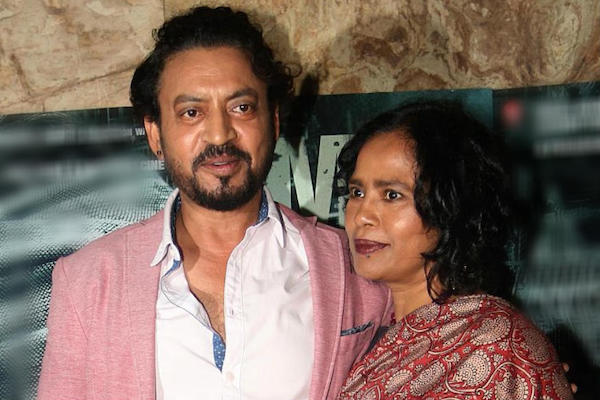 The film ended up being the bookend to a singular body of work that had begun in 1988 with Salaam Bombay! After that movie, Khan spent more than a decade appearing in television serials and supporting roles on film, before breaking through with his dynamic lead performance as a feudal soldier in Asif Kapadia's The Warrior (2001). That performance kick-started a career that has no precedent in Indian film history.
Khan's featherlight touch made the job look simple, distracting you from the fact that acting is, at its core, work. He could play the romantic lead with flushed ardor, as he did in Shoojit Sircar's Piku (2015), but he knew how to cede the spotlight as a supporting player too. His style was free of the vanity or self-consciousness that could've made him seem larger than life. As his fame grew, he retained the essential quality that endeared him to viewers: a sense of relatability. Khan was an everyman who, improbably, became a star.
He was born Sahabzade Irfan Ali Khan—just one R—to a middle-class Muslim family in the city of Jaipur, Rajasthan, in 1967. A shy and gentle kid, he'd wanted to be an actor since he was small, according to a recent biography by the writer Aseem Chhabra. Khan's immediate family didn't watch many movies, though, forcing him to nurture his dreams in secret. He understood that his physical attributes, including his darker complexion, could be professional limitations, but he went on to attend the National School of Drama, where he arrived as a bundle of raw potential.
On-screen, Khan's most vital instrument may have been that pair of soulful eyes that captured Nair's imagination three decades ago. They could exude menace or innocence, depending on the role. His eyes helped him bring sensual urgency to his early performance as Rahul, a young musician who has an affair with a married woman named Sandhya (played by Dimple Kapadia) in Govind Nihalani's Drishti (1990). When the two lovers lock gazes, whatever's transpiring between them feels electric. The film offers Khan just a few short scenes before he more or less evaporates from the narrative, yet the memory of his character lingers long after he's gone. That role was just a preview of the great work Khan would deliver after the turn of the millennium. Trying to pick highlights from this era is a fool's errand. He shone in bigger releases such as Vishal Bhardwaj's Maqbool (2003), a riff on Macbeth set in the Mumbai underworld, and Anurag Basu's Life in a Metro (2007), a collage of intersecting tales.
 When it comes to independent cinema, Ritesh Batra's The Lunchbox (2013) features one of his most moving performances. The film, which documents an epistolary bond between two lonely souls, gives Khan a role that bears amusing parallels to his Salaam Bombay! character. He plays a widower named Saajan who marches through each day listlessly. Yet he forges a connection with a stranger, an equally forlorn housewife named Ila (Nimrat Kaur), when they begin exchanging letters by accident. The correspondence seems to awaken Saajan, and Khan makes the character's decision to gradually let his guard down feel organic. Much of the performance depends on voice-over, and Khan was blessed with a honeyed voice that recalls the tired maxim about an actor being able to recite the phone book without sacrificing a viewer's attention.
His talents would ferry him to American and British cinema in the late aughts. These films mostly cast Khan in supporting roles, such as his wordless cameo as a villager in Wes Anderson's The Darjeeling Limited (2007) or his part as a scientist in The Amazing Spider-Man (2012), that only suggested the depth of his talent. (Television, in contrast, gave him a rich showcase in Season 3 of HBO's In Treatment, where he once again played a widower, this time an immigrant from Kolkata.) These movies didn't deserve him, but Khan dignified them with his presence, refusing to sink with the flimsy material he was given.
Unlike those works, Nair's The Namesake, a 2006 film adaptation of Jhumpa Lahiri's novel of the same name, gave his skills more breathing room. As the professor Ashoke Ganguli, Khan embodies an ideal of the Bengali immigrant father in the eyes of his son, Gogol (Kal Penn). He is at once a figment of memory and a person whose struggles and desires feel achingly real. Ashoke is a specific kind of person, a Bengali intellectual who adapts to life in America after a rough period of adjustment. The eventual tragedy at the heart of the narrative—Ashoke's sudden death—is piercing because of how vividly Khan portrays this man.
Who could've predicted that Khan would, like his character in that film, leave us young and without much warning? It's tempting to wonder what characters Khan would've introduced us to as he eased into old age, as his hair began to gray. That viewers are deprived of knowing feels like theft. Among The Namesake's most arresting moments is a scene in which Ashoke narrates the story of how he named his son. The sequence plays on Khan's strongest devices: You see those eyes glimmer with pain and pride, and Khan's voice shepherds you through this man's past. His is a love you recognize as human, but Khan expresses the sentiment with restraint. It's a kind of beauty, in other words, that you only see in movies.
The Bollywood superstar wrote this open letter that was published by Times of India before starting his treatment for cancer in 2018.
"It's been quite some time now since I have been diagnosed with a high-grade neuroendocrine cancer. This new name in my vocabulary, I got to know, was rare, and due to fewer study cases, and less information comparatively, the unpredictability of the treatment was more. I was part of a trial-and-error game.
I had been in a different game, I was travelling on a speedy train ride, had dreams, plans, aspirations, goals, was fully engaged in them. And suddenly someone taps on my shoulder and I turn to see. It's the TC: "Your destination is about to come. Please get down." I am confused: No, no. My destination hasn't come. No, this is it. This is how it is sometimes.
The suddenness made me realise how you are just a cork floating in the ocean with unpredictable currents! And you are desperately trying to control it.
In this chaos, shocked, afraid and in panic, while on one of the terrifying hospital visits, I blabber to my son, 'The only thing I expect from ME is not to face this crisis in this present state. I desperately need my feet. Fear and panic should not overrule me and make me miserable'.
That was my intention. And then the pain hit. As if all this while, you were just getting to know pain, and now you know his nature and his intensity. Nothing was working; no consolation, no motivation."
Irrfan also wrote about finding peace during  this painful time and said the only thing certain is the uncertainty.
"As I was entering the hospital, drained, exhausted, listless, I hardly realised my hospital was on the opposite side of Lord's, the stadium. The Mecca of my childhood dream. Amidst the pain, I saw a poster of a smiling Vivian Richards. Nothing happened, as if that world didn't ever belong to me.
This hospital also had a coma ward right above me. Once, while standing on the balcony of my hospital room, the peculiarity jolted me. Between the game of life and the game of death, there is just a road. On one side, a hospital, on the other, a stadium. As if one isn't part of anything which might claim certainty – neither the hospital, nor the stadium. That hit me hard.
I was left with this immense effect of the enormous power and intelligence of the cosmos. The peculiarity of MY hospital's location – it HIT me. The only thing certain was the uncertainty. All I could do was to realise my strength and play my game better.
This realisation made me submit, surrender and trust, irrespective of the outcome, irrespective of where this takes me, eight months from now, or four months from now, or two years. The concerns took a back seat and started to fade and kind of went out of my mind space.
For the first time, I felt what 'freedom' truly means. It felt like an accomplishment. As if I was tasting life for the first time, the magical side of it. My confidence in the intelligence of the cosmos became absolute. I feel as if it has entered every cell of mine.
Time will tell if it stays, but that is how I feel as of now."
Irrfan also talked about his well-wishers and those praying for him across the world.
"Throughout my journey, people have been wishing me well, praying for me, from all over the world. People I know, people I don't even know. They were praying from different places, different time zones, and I feel all their prayers become ONE. One big force, like a force of current, which got inside me through the end of my spine and has germinated through the crown of my head.
It's germinating – sometimes a bud, a leaf, a twig, a shoot. I keep relishing and looking at it. Each flower, each twig, each leaf which has come from the cumulative prayers, each fills me with wonder, happiness and curiosity. A realisation that the cork doesn't need to control the current. That you are being gently rocked in the cradle of nature."
In his recent interview to Mumbai Mirror, Irrfan said "It's been a roller-coaster ride, a memorable one. Happy moments were underlined because of the inherent uncertainty. We cried a little and laughed a lot. We became one huge body," he said.
Khan went on to talk about how crucial it was for him keep his thoughts from wandering. "You screen out noises. You are selective about what you want to filter in. I have gone through tremendous anxiety but have somehow managed to control it, then, let go. You are playing hopscotch all the time," he said.
On the subject of his wife Sutapa, Khan called her "the reason" he's still able to power through. "What to say about Sutapa (wife)? She is there 24/7. She has evolved in care-giving and if I get to live, I want to live for her. She is the reason for me to keep at it still," he said.
Sutapa had previously written a post on Facebook where she discussed the family's year long struggle with Khan's cancer.  "Longest year of our life . Time was never measured with pain and hope at the same time ever. While we take our baby steps back to work, to life I am submerged in prayers wishes and faith from friends ,relatives,  strangers and a connection with universe which gives us a small chance for this new start."
She added, "It seems unbelievable never ever I realized the meaning of the word unpredictable so well never ever I could feel peoples wishes on my bones my breath my heartbeat which helped me to stay focused and kicking.. I can't take names because there are names and there are names I don't even know who played angels. Sorry for not been able to answer individually but I know what you mean to us."
He leaves behind a wife and two children.
The whole world, it appears, is mourning the loss of Irrfan Khan. In New York, many, already cooped  in their homes because of lockdown, watched Irrfan's movies over and over again, as if they wanted neve to be separated from the man.
"Irrfan Khan's demise is a loss to the world of cinema and theatre," tweeted Indian Prime Minister Narendra Modi. "He will be remembered for his versatile performances across different mediums. My thoughts are with his family, friends and admirers."
Other prominent politicians, like Home Minister Amit Shah and former Maharashtra Chief Minister Devendra Fadnavis, also shared their condolences online.
"The charisma you brought to everything you did was pure magic," tweeted Indian actor and model Priyanka Chopra Jonas.
 Award-winning filmmaker Shoojit Sircar also posted a tribute on Twitter, writing, "You fought and fought and fought. I will always be proud of you.. we shall meet again."
Amitabh Bachchan, another Bollywood  icon, said in a tweet that Khan's death created "a huge vacuum." 
"An incredible talent, a gracious colleague, a prolific contributor to the World of Cinema … left us too soon," Bachchan tweeted.
Alvida Irrfan!! Cinema won't be the same without you!