BY MABEL PAIS
Celebrate the continuation of Spring in NYC with the Tribeca Film Festival, June 7-18!
Screening World Premieres:
INDIA'S big-budgeted visual feast ADIPURUSH
Director OM RAUT with Actors PRABHAS & KRITI SANON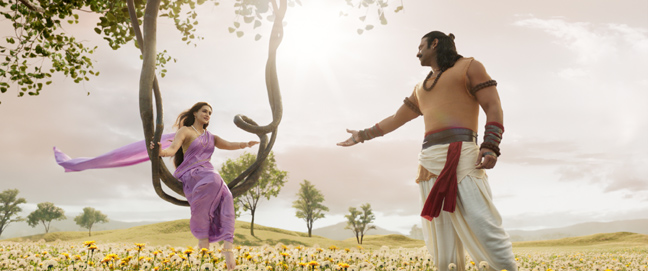 In the ESCAPE FROM TRIBECA Section
Co-Director VISHAVJIT SINGH's AMERICAN SIKH
Among ANIMATED SHORTS
South Asian House showcases  the Indian diaspora varied artistic talents
And many more
The 2023 Tribeca Festival, presented by OKX, gives us feature narrative, documentary, and animated films. The Festival, takes place June 7-18, showcases the best emerging talent from across the globe alongside established household names. Once again, movie fans can enjoy selections from the Tribeca Festival from the comfort of their homes immediately following the Festival, from June 19 through July 2, via the "Tribeca at Home" online platform: tribecafilm.com.
The 2023 features program includes 109 feature films from 127 filmmakers across 36 countries. The lineup includes 93 world premieres, one international premiere, eight North American premieres, one U.S. premiere, and six New York premieres. There are 43 first-time directors and 29 directors returning to Tribeca with their latest projects. 41% (45) of all feature films are directed by women and, for the first time, more than half of competition feature films are directed by women at 68% (19). Additionally, 36% (39) of feature films are directed by BIPOC filmmakers, including two indigenous filmmakers.
For the third year, the Tribeca Festival continues its commemoration of Juneteenth through the "Expressions of Black Freedom" program which includes a festival-wide celebration of the 50th anniversary of hip-hop.
"The Tribeca Festival is a celebratory event that honors artists and uplifts attendees, and this year is no exception with a lineup of 109 feature films from 127 filmmakers. Over the course of 12 thrilling days, we invite audiences to explore the magic of storytelling as a powerful tool of democracy, activism, and social awareness," says Tribeca Festival Co-Founder and Tribeca Enterprises CEO Jane Rosenthal. "We're also proud to highlight the 50th anniversary of hip-hop as a culture-defining genre that originated right here in New York City, with insightful world premieres about beat-boxing legends and live performances from today's top-charting musicians."
This year's Festival commences on Wednesday, June 7 with the North American premiere of 'Kiss the Future,' a stirring documentary that follows the story of a community of underground musicians and creatives throughout the nearly four-year-long siege of Sarajevo, as well as the 1997 U2 concert celebrating the liberation of the Bosnian capital. The film serves as a testament to art's enduring ability to cast light even in the darkest of circumstances and reflects Tribeca's founding mission of utilizing the power of storytelling to heal communities. 'Kiss the Future,' produced by Matt Damon, Ben Affleck, and Sarah Anthony, and featuring U2's Bono, The Edge, and Adam Clayton, officially opens the 12-day festival and sets Tribeca's tone with its theme of artists-activists.
To close the Festival, Tribeca is commemorating the 30th anniversary of A Bronx Tale with a special screening of the classic film on Saturday, June 17. After the movie, the film's director and star Robert De Niro, producer Jane Rosenthal, and writer and co-star Chazz Palminteri are participating in a live conversation with the editor of The New Yorker David Remnick.
"A Bronx Tale is a very personal project that marked my directorial debut," said De Niro. "I'm pleased to celebrate its 30th anniversary at Tribeca with my longtime producing partner and Festival co-founder Jane Rosenthal, the wonderful Chazz Palminteri, and a live New York audience at the iconic Beacon Theatre."
 This year's Centerpiece Gala is the New York premiere of Disney and Pixar's 'Elemental.' Set in Element City, where fire-, water-, earth- and air-residents live together, the film is about Ember, a fiery young woman, whose friendship with water-guy Wade challenges her beliefs about the world they live in and the person she wants to be. Directed by Peter Sohn, 'Elemental' is voiced by Catherine O'Hara, Leah Lewis, and Mamoudou Athie.
The remaining Gala selections include the world premieres of music documentaries about Grammy-winning artists Carlos Santana, Cyndi Lauper, and French Montana with dedicated performances by each artist after the screenings. Additionally, Grammy-winning Megan Thee Stallion is participating in a live conversation. The Gala events take place at the Beacon Theatre on Manhattan's Upper West Side.
"Music is an instrumental form of storytelling, and the Tribeca Festival is thrilled to weave dynamic performances into our Gala events. Our lineup features the best of soul, rock & roll, pop, and hip-hop," said Tribeca Festival Director and VP of Programming Cara Cusuamno. "We are bringing to New York eye-popping 3D films and rousing music docs, white-knuckle thrillers and knee-slapping comedies, independent edge and old Hollywood glamour. And as potent as the work is on-screen, we are equally excited to 'plus up' the moviegoing experience off-screen with an incredible lineup of live experiences in 'Spotlight+'." "We hope our audiences are inspired by activism in art and riled up by the electrifying acts paired with the screenings."
 2023 TRIBECA FESTIVAL FEATURE FILM LINEUP
U.S. NARRATIVE COMPETITION
Discover breakout independent voices from around the country as these extraordinary world premieres compete for honors in Tribeca's U.S. Narrative Competition.
Eight US films world premiere at the festival.
INTERNATIONAL NARRATIVE COMPETITION
The New-York based Festival breaks its geographical boundaries with the International Narrative Competition, welcoming filmmakers from abroad to join a global platform for contemporary world cinema.
Eight films from around the world premiere at Tribeca.
DOCUMENTARY COMPETITION
Experience the cinema of reality with these remarkable non-fiction premieres sure to make waves in the coming year.
Twelve films premiere here.
SPOTLIGHT NARRATIVE
A launching pad for the most buzzworthy new films, Tribeca's Spotlight section brings audiences anticipated premieres from acclaimed filmmakers and star performers.
Twenty four films premiere here.
>> SPOTLIGHT DOCUMENTARY
Both onscreen and behind the camera, Spotlight Documentary films represent the most noteworthy names in nonfiction premiering high profile new work. 
Twenty six films premiere here.
>> SPOTLIGHT+
Tribeca's unique Spotlight+ events bring the film experience off the screen with live events, performances, and conversations after each screening.
Eight films premiere here.
>> VIEWPOINTS
Tribeca's home for distinct points of view and bold directorial visions, Viewpoints discovers the most boundary-pushing, rule-breaking new voices in independent film.
Twelve films premiere here. 
>> MIDNIGHT
Surprising, shocking, frightening, and thrilling, Tribeca Midnight is the destination for the best in horror and more for late night audiences.
Four films premiere here.
>> ESCAPE FROM TRIBECA
Our Psychotronic Sidebar presenting genre movies from around the globe, giveaways, and special events sure to please even the rowdiest movie lovers.
Six films premiere here.
2023 TRIBECA FESTIVAL SHORT FILMS
There are 76 SHORT FILMS FROM 91 FILMMAKERS ACROSS 25 COUNTRIES, INCLUDING 48 WORLD PREMIERES 
>> NARRATIVE SHORTS
Forty two films are presented in this category.
>> DOCUMENTARY SHORTS
Eighteen films are in this category. 
>> ANIMATED SHORTS
Tribeca's unique Spotlight+ events bring the film experience off the screen with live events, performances, and conversations after each screening.
Eight films are presented here.
>> MUSIC VIDEOS
Eight music videos are featured in this category.
TALKS, REUNIONS & MASTERCLASS LINEUPS 
"We are thrilled to unveil this year's dynamic lineup of Tribeca Festival's Talks, Reunions, and Master Classes from some of the most talented and celebrated voices in the entertainment industry," said Meredith Mohr, Tribeca's Vice President of Artist Relations. "We hope the extraordinary stories and valuable insights of these distinguished cultural icons will inspire and empower the next generation of creators and artists." 
For information & updates, visit tribecafilm.com/festival
TRIBECA FESTIVAL DIRECTORS SERIES
Learn more at tribecafilm.com/festival.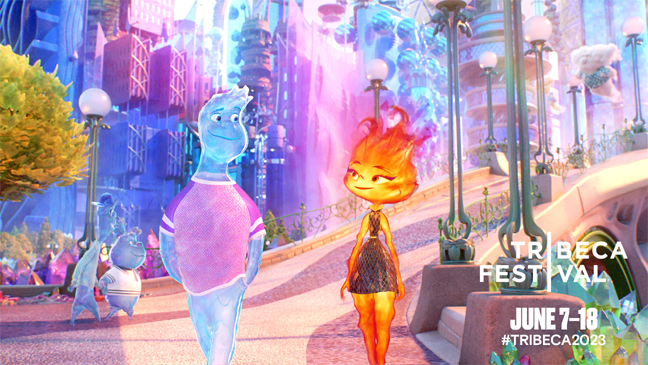 ANNIVERSARY SCREENING
Festival-goers are also invited to a 50th anniversary screening of the global phenomenon Enter the Dragon followed by a talk with co-star Angela Mao and producer Andre Morgan about superstar performer and choreographer Bruce Lee and the production of the film.
SPECIAL AWARD
The Tribeca Festival is also proud to announce that the second annual Human/Nature Award, a prize established to amplify a film that best exemplifies solution-oriented environmental storytelling, goes to Common Ground, directed by Rebecca and Josh Tickell, and will world premiere at the Festival.
THE HARRY BELAFONTE VOICES FOR SOCIAL JUSTICE AWARD
 "As an artist, Harry Belafonte captivated audiences with his talent, but it was his work as an activist and mentor that truly set him apart," said Paula Weinstein, Tribeca's Chief Content Officer. "Harry inspired countless artists to use their fame and talent in the name of justice. He led by example and was a fearless warrior for civil rights. Jane Fonda, this year's recipient of the Harry Belafonte Voices for Social Justice Award, shares Harry's indefatigable commitment to activism. We are honored to have established this award in Harry's name to honor his ongoing legacy."
 TICKETS
For more information, updates & individual tickets, passes & packages, visit tribecafilm.com/festival.
Follow @Tribeca and #Tribeca2023 on Twitter, Instagram, Facebook, and LinkedIn.
The Tribeca Festival
The Tribeca Festival, presented by OKX, brings artists and diverse audiences together to celebrate storytelling in all its forms, including film, TV, music, audio storytelling, games, and XR. With strong roots in independent film, Tribeca is synonymous with creative expression and entertainment. Tribeca champions emerging and established voices, discovers award-winning talent, curates innovative experiences, and introduces new ideas through exclusive premieres, exhibitions, conversations, and live performances.
The Festival was founded by Robert De Niro, Jane Rosenthal, and Craig Hatkoff in 2001 to spur the economic and cultural revitalization of lower Manhattan following the attacks on the World Trade Center.
In 2019, James Murdoch's Lupa Systems bought a majority stake in Tribeca Enterprises, bringing together Rosenthal, De Niro, and Murdoch to grow the enterprise.
(Mabel Pais writes on The Arts and Entertainment, Social Issues, Spirituality, Health & Wellness, Cuisine and more)