By Ajay Banerjee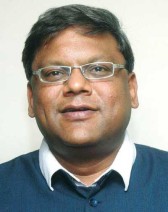 Despite various govts going slow on hi-tech defence acquisitions, it now emerges that India is the largest weapons importer. This is 'inglorious' in the face of stridency over 'desi' production. And as we struggle, our neighbors find ways to forge ahead with new defence partners, a fact we can ignore to our peril.
Buying weapons to protect over 1.34 billion people and secure borders with seven nations — with a land frontier of over 15,000 km and a coastline extending to over 7,500 km — is a good idea. But the thought to be dependent on foreign defense supplies (India imports some 70 per cent of its equipment) is unsettling, self-defeating even.
Accessing national data as to how we acquire the high-tech weapons and meet our defense needs could be a daunting task, given veils of secrecy. Yet an international resource on global security, the Stockholm International Peace Research Institute (SIPRI), regularly comes out with general figures indicating, among others, the scale to which our defense import has risen. On March 12, SIPRI released its data, reconfirming that India, yet again emerged as the biggest importer of weapons in the world. Clearly, there is a lack of 'strategic autonomy' ideally desired by a nuclear armed nation with the third largest armed forces.
The SIPRI's annual report 'Trends in international arms transfers' makes an assessment for a five-year block (2013-2017). It said: "India was the largest importer of major arms and accounted for 12 per cent of the global total." SIPRI has been studying the conflict and arms sales for over 50 years. It compared this five-year block with the previous 2008-2012's to conclude: "India's imports increased by 24 per cent".
That means New Delhi was importing 24 per cent more military equipment, pointing at the sluggish 'Make in India' besides the failure to make its own cutting-edge weapons, equipment and war-fighting arsenal.
For defense experts, that foreign component accretion over the decade is 'inglorious.' Amit Cowshish, former financial advisor, Ministry of Defense, says "It will keep on happening till India can have its own capacity to produce equipment."
Ambitious plans & realities
On March 22, the Ministry of Defense laid out a draft defense production policy. It is ambitious at its best as it talks about making India among the top five countries in aerospace and defense industry.
It also talks about self-reliance in key technologies by 2025 and puts India on the exporter-track. It sets a target of Rs 1,70,000-crore ($26 billion approx) turnover in defense goods and services involving additional investment of nearly Rs 70,000 crore (US $10 billion approx). It looks at achieving exports of Rs 35,000 crore (US $5 billion approx) by 2025. Commodore C Uday Bhaskar (retd), now director, Society for Policy Studies, terms this plan as "incongruous," saying "India is living in a make-believe world."
Domestic defense production for 2016-17 stands at Rs 55, 894 crore, up from the Rs 43,746 crore in 2013-14. Efforts, so far, to make a military-industrial base have remained sluggish, hampered by budgets and a lack of cutting-edge technology. Lt Gen KJ Singh (retd), a former Western Army Commander avers: "It appears everyone has good intentions, sadly, that is not translating into action."
Successes & ironies – There are a few, take a look:
Nuclear submarines of the Arihant class, made from scratch, in India; or the Scorpene class submarines made at Mazagon Docks Limited Mumbai.
Supersonic BrahMos, Agni, Akash or the Prithvi missiles.
Strangely, the country is struggling to produce a good rifle. Some 11 lakh of various types are needed for which Indian private companies have been allowed to have a tie-up with foreign partners and put up their proposals. Light combat aircraft Tejas faces delays and slow production rates (Only 6-8 planes are produced per annum, the need is for 16-20).
Artillery guns produced jointly by the Defence Research and Development Organization and private companies — Tata Power SED and Bharat Forge — have been a success.
The next version of the Arjun tank needs modifications, but the delay is due to the Army frequently changing the requirements.
The Dhruv helicopter and its variants have finally been accepted as 'superb' machines.
Budget pains
In a report on March 13, a parliamentary panel said the defence budget for the year 2018-2019 was 'inadequate' and 'barely enough' to cater for inflation. Maj Gen BC Khanduri (retd), a BJP MP from Uttarakhand, heads the panel. "Capital budget allocation for the Army had dashed hopes as it was barely enough to cater to the rise in expenses on account of inflation, and did not even cater for the taxes," the Vice Chief of the Army told the panel.
For 2018-19, the Army projected a need for Rs 44,572 crore, it got Rs 26,815 crore. The Navy wanted Rs 35,695 crore but got only Rs 20,003 crore. The IAF is managing with Rs 35,770 crore against its need for Rs 77,694 crore.
The Army today has 68 per cent of equipment in the 'vintage category.' Around 25 projects identified under Make in India may be foreclosed due to inadequate budget, the report said.
"For a country that seeks strategic autonomy, the tag for being the largest importer of weapons and equipment is a contradiction," says Commodore Bhaskar.
The government has lined up a mix of private-public sectors. The hint lies in the numbers and the expansion of the nine defence public sector undertakings (DPSUs). In the financial year ending March 31, 2017 these companies collectively made a profit of Rs 5,482 crore. A report of the parliamentary panel says, "no budgetary support is being given to the DPSUs." These nine companies are being modernized.
"The best way to break the mould is to move away from the existing procedures of acquisition," says Lt Gen KJ Singh
Private sector potential
To give a hint at the potential, the hull of the nuclear submarines series is being made by L&T. Amit Cowshish, former financial advisor, Ministry of Defence, has a word of caution: "The new draft production policy merely talks about private and public participation. In reality, it could take years for it to get rolling."
The Modi government has liberalized FDI and touted it as a major policy-shift to okay up to 49 per cent stake for foreign companies when partnering Indian companies. Now another tweak to the FDI is coming up. The Draft DPP-2018 says: "FDI regime in defence will be further liberalized. The FDI up to 74% under automatic route will be allowed in niche technology areas."
India needs…
400 fighter jets
1,700 tanks
800 helicopters
18 more
Indigenously produced
Tejas: HAL is making the first 40 Tejas. Upgraded 83 Tejas too will come. Another 201 Tejas Mark II are on the drawing board
Artillery guns: The Dhanush gun is a copy of the Bofors gun, will go for final user trials in May. Both will fill the need for more than 2,700 guns over the next decade
Copters: The biggest success story. Forces need some 800 copters. Some 200, Advance Light
Helicopters, the Dhruv, are flying
Arjun Mark-II: Two regiments of Arjun tanks were inducted. The Army wanted 93 improvements. Arjun Mark II is an improved version
Aircraft carrier Vikrant: It is set to be commissioned 2020. The making of the ship takes the country into an exclusive league of nations
BrahMos/Agni: The BrahMos is an Indo-Russian venture that adorns lead warships of the Navy. It's deployed along Pak border. N-tipped Agni missiles have propelled India into the exclusive club of countries — US, UK, Russia, France & China.