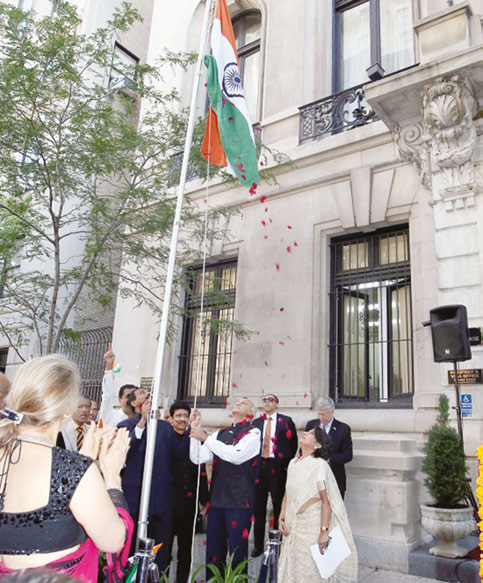 NEW YORK CITY (TIP): The 70th Independence Day of India was celebrated with great enthusiasm with parades, flag hoisting and music concerts at a number of places all over the Tri-State area of New York, New Jersey and Connecticut. It became almost difficult to keep the count of celebrations. For journalists, it has been a hectic period, running from one event to the other. For publications the task became more daunting as they had to make a mention of as many of these celebrations as possible in the limited pages available with them. However, we will try to recognize as many as we can in this edition.
India's Minister of State for External Affairs of, Mr. M.J. Akbar hoisted the Indian National Flag at the Indian Consulate on August 15th in the presence of the Consulate staff and members of the community. Also present were a few elected representatives from New York City Council and Assemblymen from New Jersey.
It was the first time that the Consulate held the Independence Day celebration out in the street in the open.
Consul General Riva Ganguly Das read out the President of India's address to the nation on the eve of Independence Day. The President in his speech appreciated the spirit of cooperation and understanding among all political parties in passing the GST Bill in the Parliament. However, he expressed his concern at the growing intolerance in the nation.
Minister M. J. Akbar who was on his first visit to New York after assuming charge as Minister of State for External Affairs unfurled the Indian National Flag. He greeted Indian Americans on this auspicious and historic occasion. He congratulated the large Indian community gathered at the Consulate for their many achievements and thanked them for their support in strengthening India-US relations and partnering with India as "we march ahead to growth and prosperity for all".
Reports of Flag hoisting have come from various places in the Tri-States of New York, New Jersey and Connecticut.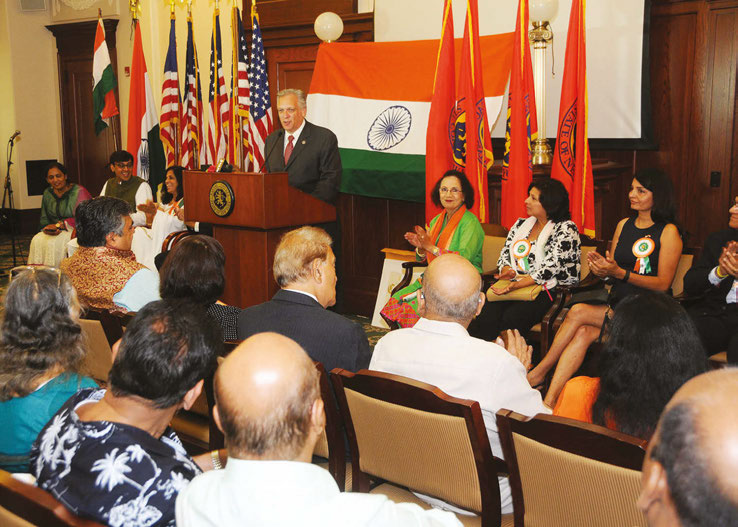 In Nassau County which is house to a large number of Indian Americans, the national flag was unfurled in the County Executive building. The County Executive Edward P. Mangano unfurled the national flag of India -the Tricolor- on August 15, in the presence of a large number of the Indian American community, elected officials and politicians.
The County Executive honored some community members on the occasion. The honorees included Dr Dattatreryudu Nori, an internationally renowned Oncologist,Dr Vijay Shah, Vice Chairman of Friends for Good Health, Penny K Sandhu, Founder of Jus Punjabi TV channel, Dr Manjul Bhargava, the Brandon Fradd Professor of Mathematics at Princeton University, Dr Dipali Pandya, Pediatrician, Mrs. Bina Sabapathy, a popular community activist, and Vimal Goyal, Treasurer of India Association of Long Island, well known business man, known for his community services and philanthropy.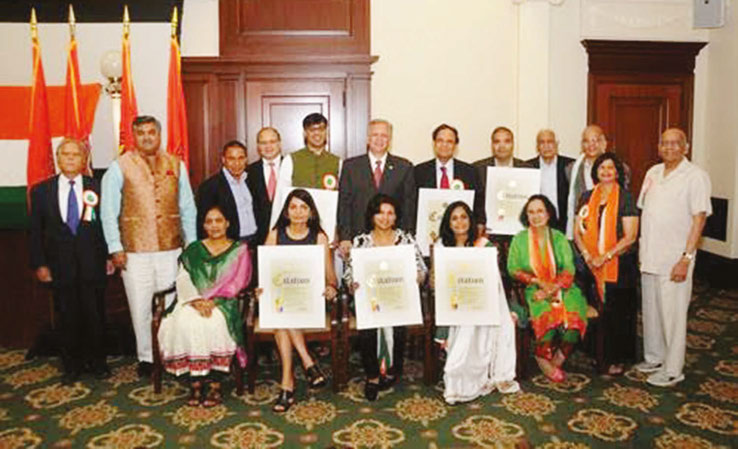 Indian American Merchants" Association of Jackson Heights celebrated India's Independence with flag hoisting on August 15, 2016. It was the first time that the association organized a flag hoisting ceremony on India's Independence Day. The veteran Merchants Leader Shiv Dass who is President of the association and Mohinder Verma, General Secretary told The Indian Panorama that they had decided a little late in the day to organize the flag hoisting event and did not have enough time to send out the information but would be organizing the event on amuch larger scale next year.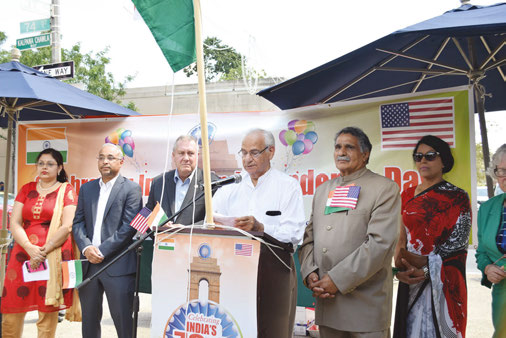 Assemblyman Jose Peralta, Council Member Daniel Dromm and H.S. Toor, representing Assemblyman David Weprin were among the guests who spoke on the occasion. They greeted Indian Americans on the 70th Independence Day of India and spoke highly of the community's contribution to America.
The gathering was treated to a lunch.
The Tri-State area of New York, New Jersey and Connecticut has the distinction of a number of parades on the occasion at which Indian Americans and their friends turn up in thousands.
The IDP USA parade in Hicksville, Long Island celebrated the Independence Day with a parade followed by a variety entertainment program for the fifth year in a row on August 15. Bollywood actor Bobby Deol was the Grand Marshall.
For whatever reason, the starting point as also the route of the parade were changed this year. The parade, with much fewer number of participants started from Apna Bazar where the County Executive Ed Mangano, Comptroller George Maragos and a number of other elected officials, judges included and politicians joined the parade. Some addressed the gathering. The IDP USA parade President Beena Kothari and the founder of Parade Bobby Kalotee, Secretary Flora Parikh, Media Secretary Ajay Batra and other officials of parade were also present.
Indubitably, a leaner parade passed through the inner roads to the destination opposite Asa Mai Hindu Temple where the variety entertainment program was organized. As usual, there was an air of a fair with a number of eating stalls and other booths selling different kind of wares.
One got reminded of a famous quote:"sound and fury, signifying nothing". So it was with the parade this year. So much effort and so little output. One of the officials of the parade, on condition of anonymity, confidedthat the expenses were much in excess of revenue generated.
Among the saving graces of the parade was participation by young kids.I was very pleased to see the zeal of small girl scouts who were a part of the parade.
2016 witnessed emergence of a new India Day parade. Indian American residents on the border of Long Island and Queens along Hillside Avenue and Union Turnpike have been thinking for some time to organize India day parade. They felt the City where the FIA organizes a parade too far off. Also, Hicksville seemed to be far. This year some enthusiastic residents of Floral Park and Bellerose neighborhoods got together and decided to organize a parade. Cooperation came from all quarters, according to principal organizers, Kirpal Singh who is chairman, Subhash Kapadia who is President, V.M. Chackoo who is Board of Director and Hemant Shah who is Secretary and Program manager.
Their untiring efforts bore tangible fruit when on August 13, they were rewarded with the enthusiastic presence of hundreds who marched in the parade in 105 degree temperature a stretch of a mile from 268thStreet to 235th Street along Hillside Avenue. According to the parade organizers, there were anywhere between 1500 to 1700 people belonging to 30 organizations who marched. In the parade. There were 4 decorated floats.
The Parade was led by NYPD band followed by NYPD personnel. Marching band included Tappan zee Bridge Band, Jai Bharat Dhol Tasha Pathak, Punjabi Dhol, Gujarati Dhol, Chenda and band of dancers from Kerala. Parade was attended by Bollywood celebrities Manish Paul and Madalsa Sharma. Political dignitaries included Congresswoman Grace Meng, State Senators Jack Martins and Leroy Comri, Comptroller George Maragos of Nassau County and Councilman Barry Grodenchik..
Post termination, all assembled in Padavan-Preller field No. 1 for cultural program. The Cultural Mela commenced with US and India's National Anthems followed by very colorful and traditional performances by children of all ages.
It included songs presentation in various Indian Languages. Song " God Bless America " by 2 singers drew special attention from the attendees.
On the sidelines there were 20 booths for vendors. Free food and water was distributed by Neelkanth Dham Temple.
Another New York parade is scheduled to be taken out on August 21 in Manhattan. Controlled by a handful people from one community and one State of India, living in close proximity in New Jersey, the organizers, over the years, have successful pushed out many to secure a stranglehold control over the management of the parade. This newspaper has been advising them to democratize and make its working and financial management transparent but in view of the Indian American community's indifference to the goings and a mysteriously studied silence, the coterie has assumed a despotic attitude. With most of the funds coming from government of India outlets it is expected of government of India that it would exercise influence over donor agencies and advise them not to sponsor until democratization of FIA is carried out. One expects from the US administration that its departments would insist on strict compliance of rules governing a not-for-profit corporation.
Let us have a look at New Jersey.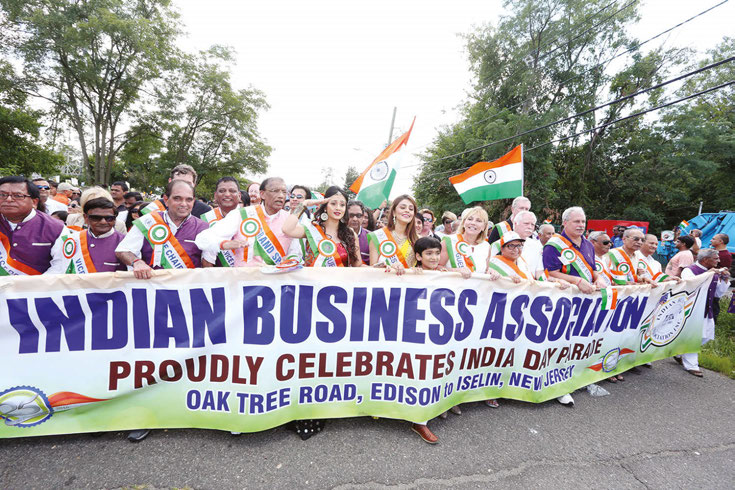 On Sunday, Aug. 14 thousands of people flooded the streets of Edison, New Jersey to celebrate Indian Business Association's 12th annual India Day Parade. The parade, which began on Oak Tree Road in the township and concluded in the Iselin section of Woodbridge, took off under hot weather, with American and Indian music, traditional dances, and cries of "Jai Hind!"
More than 100 New Jersey-based community, professional, business and religious organizations participated and supported the parade. According to a statement from the Indian Business Association (IBA), this year's parade was the largest in the history of the event.
The event drew 24 floats from various organizations including BCB Community Bank float, the Investor's Bank float, Accurate Diagnostics float, and Air India float, which was occupied by an entire flight crew with pilots in uniform waving to the crowd.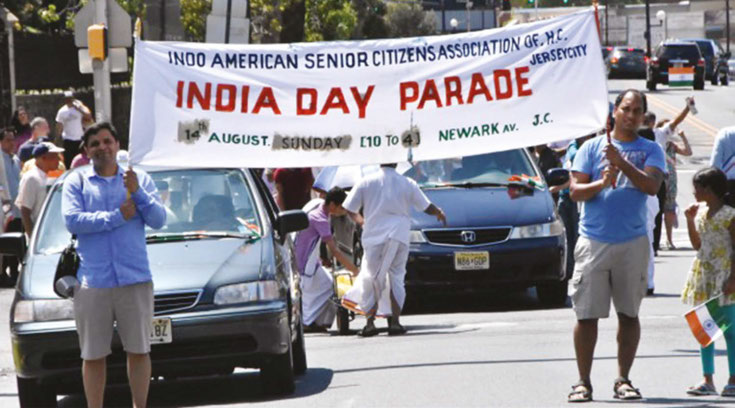 Variety of state and local elected officials from across the state, attended the event including U.S. Rep. Frank Pallone, D-6th District, and state Sen. Sam Thompson, R-12th District, as well as New Jersey Lt. Gov. Kim Guadagno, Democrat gubernatorial candidate and former ambassador to Germany Phil Murphy, Jersey City Mayor Steve Fullop and former New Jersey Bernie Sanders Chairman Assemblyman John Wisniewski, D-19th District.
A cultural program followed the parade with Bollywood celebrities Harshika Poonacha, Aarti Chhabria and Varenyam Pandya.
On the same day, Indo American Senior Citizens Association of Hudson County hosted another parade in Jersey City that started at Newark Avenue and concluded at Leonard Gordon Park on Kennedy Boulevard.