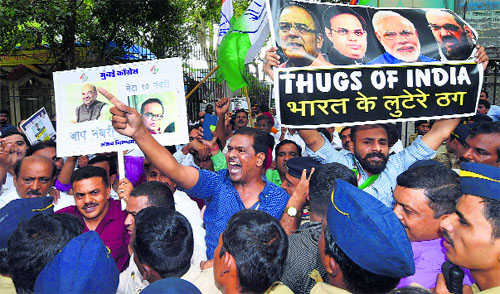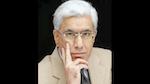 "If the PM raised a finger at Vadra's wealth having increased due to the suspicion that his mother-in-law is Congress President, shouldn't he question if Jay Shah's sudden rise in fortune is connected to his father's position as BJP President?", says the author.
One of the themes in the Prime Minister's campaign speeches and rallies during his early years in office that struck an immediate chord with the country was his comments on how the relatives of powerful politicians grow rich after their parents reach high office. This was, of course, something the Indian people knew to be a fact, but Mr Modi was the first senior politician to speak about it, freely, frankly and frequently.
As far back as August 2013, in Bhuj, Mr Modi said: "Bhai-Bhateejavad purane dino ke dharavahikon mien bharastachar ke mool mein hua karta tha. Samay ke saath isme badlav aaya hai. Bharastachar mein ek naya dharavahik mama-bhanja aaya aur ab yeh saas, bahu aur damad ki aur badh gaya hai."
Twenty five months later, speaking in San Jose in September 2015, he was more explicit: "Hamare desh mein rajnetaon par kuch hi samay mein aarop lag jate hain. Usne 50 crore banaya, usne 100 crore banaya. Bete ne 250 crore banaya. Beti ne 500 crore banaya. Damad ne 1000 crore banaya. Chachere bhai ne contract le liya…ye sunne ko milta hai ki nahi milta hai? Mere deshvasiyon, main aaj aapke beech mein khada hoon, hai koi aarop mujh pe?"
At the time the case that seemed to best illustrate Mr Modi's rhetoric was that of Robert Vadra. The Hindu and the Business Standard, in a series of reports, alleged his companies' fortunes had jumped from Rs 50 lakh to over Rs 300 crore in just six years. The issue most referred to was the purchase of 3.5 acres by Vadra's Skylight Hospitality in Manesar in February in 2007. Reports said that 24 hours after Vadra bought the land, it was mutated in his name. Six weeks later, the Haryana government gave permission for commercial use, thus dramatically increasing its value. Sixty-five days later, the land Vadra bought for Rs 7.5 crore was sold to DLF for Rs 50 crore, a profit of 770 per cent.
Yet at the time Skylight Hospitality bought the land, its total assets were Rs 1 lakh and the payment for the land was shown as a book overdraft. The newspapers suspected that the money was advanced by DLF because they knew Vadra would be able to get the land use changed and then they could buy it from him, with both parties benefiting. In other words, it was a sweetheart deal. This impression was apparently corroborated by the fact that when Ashok Khemka, the Inspector-General of Registration, started an inquiry into Vadra's land dealings, he was immediately transferred, even though it was 11 at night.
Many people believe that recent reports by NDTV and TheWire.in about Amit Shah's son Jay Shah's companies bear an uncanny resemblance to the Vadra saga. The points made by the two media organizations are claimed to be factually correct and haven't been disputed though, like the Vadra case, the inferences or conclusions are said to be defamatory.
TheWire.in reports that the turnover of one of Jay Shah's companies "increased 16,000 times over in the year following the election of Narendra Modi as Prime Minister". NDTV adds that in the same year loans to 2 of Jay Shah's companies "rose to 53.4 crore, a jump of 4,000 per cent" compared to a total of 1.3 crore up to 2013-14. Going into further detail, the two media houses say one of the companies, Temple Enterprises, received an unsecured loan of 15.76 crore even though it had a 10 year "unimpressive track record". A second company, Kusum Finserve, incorporated in 2012 and with meagre profits of 1.73 crore after a first year loss, received a line of credit of 25 crore. NDTV even questions if it was entitled to this credit. TheWire adds Kusum Finserve, despite no experience in the energy or infrastructure sectors, received a 10.35 crore loan from a public sector enterprise IREDA to set up "a 2.1 MW wind energy plant".
All of this leads NDTV to comment: "Whether he (Jay Shah) was deserving, or benefited from a famous surname, can only be established by an inquiry". Separately, TheWire has reported that Tushar Mehta, Additional Solicitor-General, secured permission to represent Jay Shah in court, even though government law officers can only represent private parties in exceptional circumstances. The website also claims this was granted on the 6th though its story on Shah, which was the first to appear, was only published on the 8th.
Several questions are now likely to come to the mind of the voter. If the Shah story is reminiscent of the Vadra episode, don't the PM's comments in 2013 and 2015 apply as much to the former as they do to the latter? If one was an example of Bhai-Bhateejavad isn't that also true of the other? If Vadra's good fortune creates suspicion because his mother-in-law is Congress President, are we not entitled to ask whether Shah's luck is connected to his father's position as BJP President? In Vadra's case, nothing criminal has so far been found — and that's also true of Jay Shah — but that didn't stop the Opposition and media raising doubts, so now if the Opposition and media are doing the same to Shah, is it unprecedentedly awful and unwarranted? Indeed, isn't it the duty of the two to raise questions in the interest of democracy even if, occasionally or more often, they turn out to be misplaced?
Both as a candidate and in office, the PM had a lot to say about Robert Vadra. It was, of course, mainly based on suspicion, but the people applauded him for it. Today, he's silent. So, don't we have the right to ask why a man who loves to speak suddenly has nothing to say?
(The author is a senior journalist and TV commentator)